ServiceNow FAQs
A broader implementation of ServiceNow, our common service management platform, went live on July 9, 2016. You can access the latest implementation of ServiceNow at http://uofu.service-now.com.
You will need to authenticate by logging in with your uNID and CIS password to access ServiceNow.
Below are some of the most common issues users have been experiencing as they work within the new platform. This list will be updated as issues are resolved or arise.
If you are having difficulty viewing your tickets in ServiceNow, make sure that you have accessed the live site, not the staging site. Please update your bookmarks as necessary.
Incident tickets in ServiceDesk that were open and active in the last three weeks have been migrated into ServiceNow. All new incidents, problems, and changes need to be entered into the new version of ServiceNow.
If you are not seeing an incident you expect to see in ServiceNow, please contact:
Requests for Change (RFCs) were not moved over. All current RFCs will remain and can be managed in the previous tool.
IMPORTANT: ServiceDesk tickets that used the "Request" type were not copied into the new system. If you can complete those requests before the end of July, you can manage and complete those tickets inside ServiceDesk. Otherwise, use the "General Request" form to recreate the request inside ServiceNow.
Many of the group names have changed. Contact your designated Help Desk if you are not seeing a group or have questions about a group name.
You may not see your incident ticket(s) because your view is incorrect.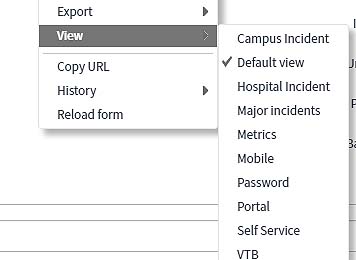 Some fields like Assignment Group and Assigned To do not show up in views other than the Default view.
Catalog fields and order details have now been successfully imported for all orders created since July 1, 2015. Prior orders will be imported over the next week. Should you encounter any record that is missing order details, please contact your respective help desk.
You may notice that order form fields are not showing up in email notifications. This issue is being investigated with ServiceNow support.
Some account requestors have reported not being able to log into the system. This has been resolved. Please report any issues to your designated Help Desk.
Yes. It is critical that all managers validate the membership of their groups in ServiceNow.
Search for Group in the filter Navigator and select Group Management. This will allow you to see the groups you manage.


Group managers can directly add and remove group members as needed.

In addition, please make sure:
A group email is listed if your team has a common email address

A group manager is listed, if needed

The correct group managers are listed

If any of the above items is missing or incorrect, please contact your designated Help Desk to request corrections.
The reports and dashboard functions available in the former iteration of ServiceNow are being updated and will soon be accessible in ServiceNow.
You can create a general service request ticket using one of these two methods:
Log in to access the general request form directly OR
Log into ServiceNow. In the left-hand navigator, under Self Service, select "Create New Requested Item." Alternatively, search for New Request in the left-hand navigator