Note: This column is part of a semi-regular feature "PMO News," which highlights current events in UIT's Project Management Office.
PMO News: All U employees using Duo 2FA, new staff introductions
As of February 28, 2018, all university employees have been successfully migrated from RSA SecureID to Duo Security for two-factor authentication (2FA). Duo is now the U's single 2FA method for Central Authentication Services (CAS)-Web, the portal used to securely access online applications like Box, Kronos, and Campus Information Services (CIS). Also on 2/28, ePrescribe – a secure method of electronically generating and sending prescriptions – was switched from RSA to Duo.
On Wednesday, March 28, 2018, RSA will be removed as an option for remote Virtual Private Network (VPN) access. Back-end servers used by clinical IT system administrators are still in the process of being converted. Lastly, the IAM Team is looking at a May or June 2018 deadline for transitioning offshore vendors to Duo.
If you have any questions, please email Senior IT Project Manager Rachael Sheedy at Rachael.Sheedy@utah.edu.
---
We're excited to introduce Kevin Buchan and David Craig, our newest project managers.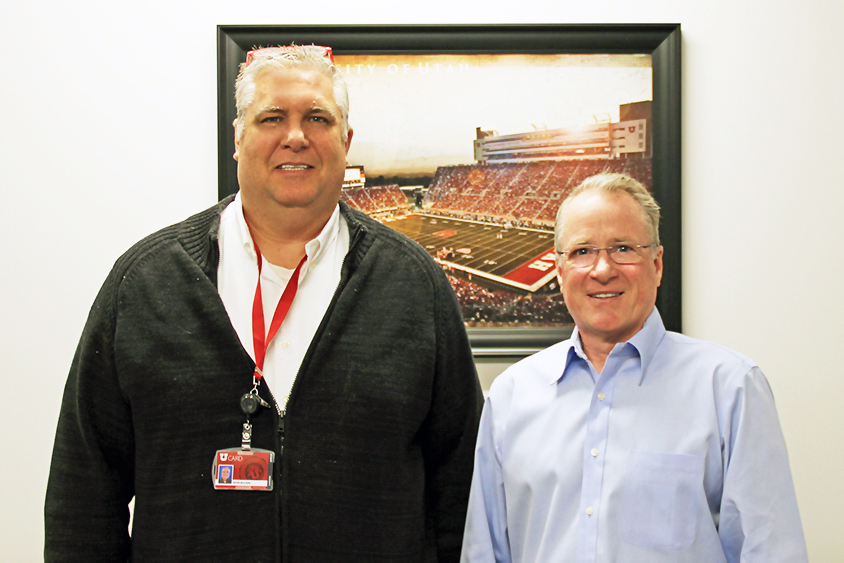 Kevin has worked in IT project management for the past two decades, most recently with Adobe, where he specialized in Agile methodology and business change management. He was responsible for migrating an out-of-compliance web platform to Adobe Experience Manager, and integrating the platform with six external databases. Kevin's background includes network and voice infrastructure, having worked at Cisco Systems for 16 years. At Cisco, he managed the global conversion from traditional voice (PBX) to voice-over-IP (VoIP). In addition, Kevin oversaw network and systems integration of newly-acquired companies.
He has a host of hobbies – from quilting to bee-keeping – and over the Easter holiday, is planning a four-day support mountain bike trip in Moab to ride the White Rim.
David comes to the PMO with more than 20 years of project management experience, including 10 years supporting the University of Utah and U of U Health. Prior to that, his career took him across the eastern and southern United States in support of various energy conservation HVAC projects and programs. He served as Honeywell's southern district manager in their Home and Building Control division where he identified, bid, and managed energy conservation projects for utility companies in Ohio, Kentucky, Indiana, Maryland, and Texas. Criss-crossing the eastern and central U.S., David supported all aspects of contract and project management for commercial and residential building retrofits, including infrastructure design, development, and implementations.
In his free time, he enjoys skiing and fly fishing, and is an avid whitewater enthusiast.
Please join us in welcoming Kevin and David!
---
Did you know?
The UIT PMO is staffed with project managers who have the necessary skills and understand the processes of both IT and business. This provides the PMO the ability to manage projects undertaken by both the IT organization and campus organizations. For more information, please visit our website.
Node 4
Our monthly newsletter includes news from UIT and other campus/ University of Utah Health IT organizations, features about UIT employees, IT governance news, and various announcements and updates.
Categories