UIT Leadership Spotlight: Jill Brinton, Associate Director, Project Management Office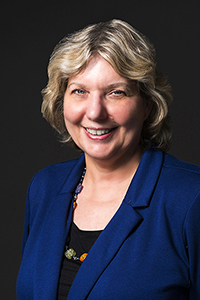 Where are you from originally?
I grew up in Bountiful, Utah.
What post-secondary degree(s) do you have, in what subjects, and from which school(s)?
I have an associate degree in medical technology from Weber State University.
What led you to the University of Utah?
I was working at a Silicon Valley startup when my good friend Paula Millington started a job at KUED at the University of Utah. She had an open position and asked if I was interested. I said yes, and the rest is history.
Can you describe the path you took to IT leadership?
I started in UIT in the former Media Solutions group, where I worked for 15 years to develop websites and applications for clients across campus and held a management position. I then worked for the Strategic Planning and Process Team, later serving as associate director for Customer Solutions before the Project Management Office (PMO) was created. When UIT leaders decided to establish a PMO, I became associate director of the team and joined the UIT Leadership Team, since PMO crosses all areas of UIT and works primarily on strategic projects, a viewpoint and information that's useful to our leadership.
How would you describe your leadership style and/or philosophy?
I believe a manager's job is to provide resources and remove obstacles for one's team members so they can successfully complete their assignments. People should be empowered to be the best they can be, and a manager should support them in that effort.
What do you enjoy most about your role at the U? 
The PMO is great because I work on so many types of projects and with so many different people at the university. 
What do you find most challenging about your job?
UIT is not a project-based organization but is organized by function, so people in different departments often work on operational issues and projects at the same time. You can develop detailed plans and schedules only to be derailed by operational issues that arise. This is something the PMO must constantly juggle within the organization.
What are some of your hobbies?
I like to garden, but I'm far from an expert at it. I mostly like to hang out with friends or my sisters, and go shopping, out to a restaurant, or to a movie. 
Is there a fun fact about yourself that you'd like to share?
I'm really into March Madness. I have attended the first round of the NCAA basketball tournament since 1988. I've traveled to many cities across the country to attend — New Orleans, Pittsburg, Orlando, Seattle, Portland, Boise, to name a few. Some people think it's crazy to watch four games in one day, but I think it's a blast!
Is there anything else that you think our readers would like to know about you?
I am one of 10 children in my family. My parents had seven girls in a row (I am No. 4) and kept going until they got some boys (Nos. 8-10). Growing up in a big family makes you independent and a fighter, which are good traits for a project manager.
---
Two recent UIT Leadership Spotlights: Cassandra Van Buren and Paula Millington.
Node 4
Our monthly newsletter includes news from UIT and other campus/ University of Utah Health IT organizations, features about UIT employees, IT governance news, and various announcements and updates.
Categories