UIT Leadership Spotlight: Paula Millington, Ph.D., Director of the Strategic Planning and Process Team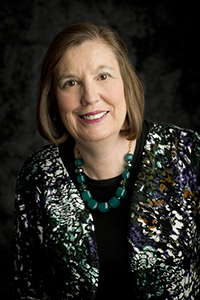 Where are you from originally?
I grew up in southeastern Idaho. I moved to Utah to go to college and have been here ever since.
What post-secondary degree(s) do you have, in what subjects, and from which schools?
I have a bachelor's degree in chemistry and microbiology from BYU, a master's in education from the U (one of my professors was Dr. Stephen Hess), and a Ph.D. from the U in business administration, graduating summa cum laude and receiving a nomination to Phi Kappa Phi.
What led you to the University of Utah?
After I earned my Ph.D., I interviewed for faculty positions at Pepperdine and Cal Poly San Luis Obispo but felt like industry was a better fit for me. I appreciated how the discipline of the market kept ideas fresh and real. I missed teaching college students, though, and was always looking for something on the academic side that would also demand entrepreneurship.
I heard about the job opening for director of Media Solutions at KUED and applied. I interviewed with Paul Burrows and Gordon Jones on my birthday, and they endorsed me as a finalist for Fred Esplin to interview. Fred's first question was about a reference letter advising him not to worry about my Ph.D. and assuring him that I was irreverent and would be a great employee. I thought, "Hmmm … if I don't get this job, I better figure out how to get that letter out of my file." Fred took a risk and hired someone from industry to run Media Solutions, a small break-even business providing instructional design, video and website production, and all kinds of projects transferring content from one medium to another and serving it up to consumers. We grew the business and added brilliant individuals to our team. It was a memorable and satisfying time.
I was drawn to the business school at the University of Utah and worked with some of the most renowned academics in the field. I received an adjunct appointment in the management department at the Eccles School of Business.
In short, I was living the dream.
Can you describe the path you took to IT leadership?
Path description: circuitous. Frankly, it's not very glamorous; it was kind of political. When Bernie Machen became president of the university, he wanted to cut all non-academic departments (like KUED) so I changed reporting lines from Fred to Steve Hess, reporting to the senior vice president of Academic Affairs.
I've been in professional leadership positions for 35 years, constantly immersed in the intersection of leadership and technology. I feel like I was always trying to figure out how to make meaningful contributions and realized how many smart people it took to do that. It was important to me that those smart people have the support and resources they need to make the world a better place.
How would you describe your leadership style and/or philosophy?
Oh really, I don't think you want to ask a person who has a Ph.D. in leadership to answer the question, but since you asked ...
I love to work FOR my people, share in team accomplishments, and deliver great products and services to clients. I believe the key to great leadership is having great people. I do! My colleagues have been so inspiring to me and haven't been timid about making suggestions to help me become a better leader. I subscribe to a classic definition of leadership that characterizes it as a relationship — an art and a science that has to be practiced (Kouzes & Posner, 1995). I'm far from perfect, but as a leader, the things I constantly aspire to in my practice include:
Model the way for how people should be treated and goals that should be pursued. Our ecosystem is so complex that we have to plan for small wins; leaders need to unravel bureaucracy.
Inspire a shared vision and enlist others to see themselves in a doable and engaging future. Our work is so important and appreciated by our clients that it is just natural to have a bright future.
Challenge the process and make it better. It's okay to take risks, and you need to accept disappointments occasionally and learn from them.
Enable others to act by fostering and promoting mutual respect and human dignity. People need to feel like they are capable and have the power to make meaningful contributions. They need to experience their "personal best" often.
Encourage the heart by recognizing the accomplishments of individuals and teams and the efforts and risks involved in achieving them. Celebrate early and often and be sincere. Keep hope and determination alive. Humor is a must (but not at others' expense).
What do you enjoy most about your role at the U?
The people I work with — so smart, dedicated, clever, and thoroughly entertaining. They are always challenging me to be a little better than yesterday. I never know what to expect when I get to work each morning. I have some general ideas of what is due and what needs to be done, but interesting and challenging things pop up every day. I love the interaction I have with my team, my boss, UIT leadership, employees, and our clients. I get a lot of satisfaction out of getting things done when all odds seem to be against us.
What do you find most challenging about your job?
Probably just having to navigate all of the silos to get things done. It's totally possible, but some days I have to dig deep to muster the patience necessary to be effective.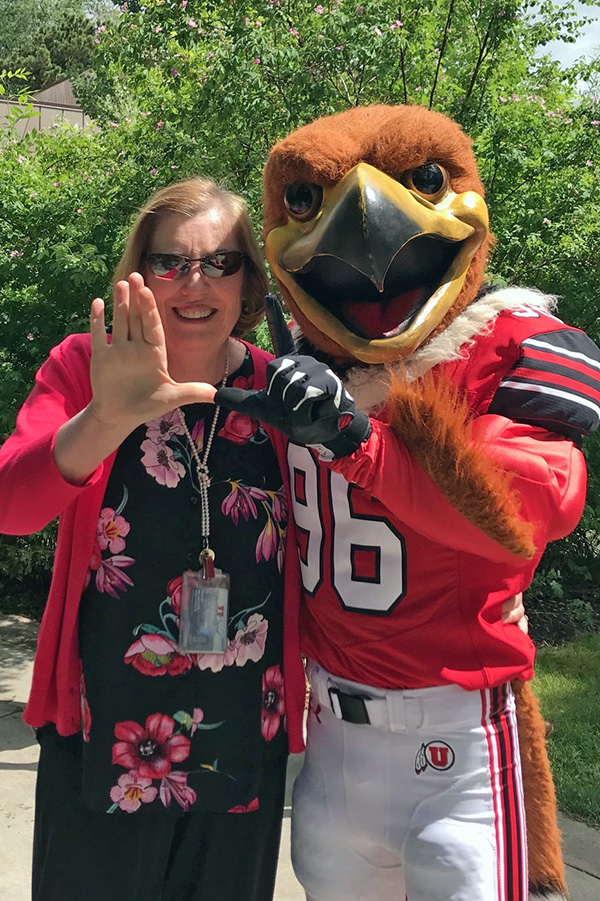 What are some of your hobbies?
Work is pretty consuming, but I enjoy hanging out with family and friends, going to Broadway plays, working on jigsaw puzzles, walking, reading, cooking, and traveling.
I'm part of a select group of hoop heads who have gone to the first and second rounds of the NCAA men's basketball tournament for the past 33 years; we started back when tickets were $60 and we rotated among Boise State, Weber State, and the University of Utah. We have been to St. Louis, Lexington, Anaheim, Portland, Denver, Albuquerque, Pittsburgh, Tucson, Orlando, and New Orleans. One year, we went to four games in Salt Lake on Thursday, then flew to Boise on Friday for four games, then back to Utah for two games on Saturday. Sadly, March Madness is big business now, with the ticket prices increased tenfold, so maybe I should switch to soccer on television and the FIFA World Cup. Or go see a match in Barclay's Premier League.
I love working on my family history. My dad's parents were from Croatia — two small villages in the mountains (Dinaric Alps) on the border of Slovenia: Gorenci and Mrkopalj. We've been able to visit three times on amazing trips. I met a cousin my age who is a professor of architecture at Zagreb University. Our Croatian cousins have had such a different life under communism (the Turks, the Romans, the Venetians all occupied them over the years). I learned that our Croatian "country cousins" who ran a vineyard, winery and lumber mill had a different life than the "city cousins" who were architects and builders in Zagreb.
I've been poring over Roman Catholic records of births, deaths, and marriages back to the 1700s. Thank goodness for Google Translate — although the handwriting of certain priests doesn't help. Not all of the records survived throughout the years, so you have to build theories and test them against the data you can pull from the records to fill in the gaps. You make these small discoveries and just can't wait to get back and find more. Our family has identified nearly 2,500 relatives descended from Martini Crnković and his brother Casperini (the priests wrote the records in Latin, Italian, Croatian — so the names reflect what the priest preferred). The other side of my dad's family (Palijan-Krizmanić) owned and operated a winery and lumber mill and sold products throughout the Austria-Hungary empire. They were able to keep their property during the communist rule.
Is there anything else that you think our readers would like to know about you?
I have learned an important truth: Chocolate will never disappoint you.
---
Two recent UIT Leadership Spotlights: Mike Ekstrom and Dave Huth.
Node 4
Our monthly newsletter includes news from UIT and other campus/ University of Utah Health IT organizations, features about UIT employees, IT governance news, and various announcements and updates.
Categories