UIT Leadership Spotlight: Mike Ekstrom, Network and Communications Infrastructure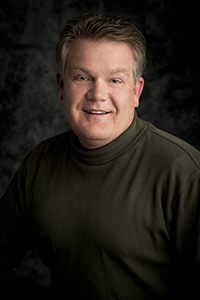 Where are you from originally?
I grew up south of the Fashion Place mall in a community called Union. That area by Murray — near 68th South and 5th East — is now part of Midvale. My parents owned a home there for about 65 years.
What post-secondary degree(s) do you have, in what subjects, and from which schools?
I have a bachelor's degree in computer science, cum laude, from Brigham Young University.
What led you to the University of Utah?
In the late 1980s and early '90s, the School of Medicine at the University of Utah was a pioneer in computerized health care and one of the only places in the country that offered a master's or Ph.D. in medical informatics (now called biomedical informatics). The program focused on computerized diagnosis and medical records — basically anything in IT that could improve patient care and outcomes. I felt that was an exciting future career, because health care, in my mind, was underserved by IT at the time.
One of my committee advisors was Homer R. Warner, who received the first National Institutes of Health (NIH) grant for computerization and analysis of cardiology/lab results in the late 1950s and created the Department of Biomedical Informatics in 1962. After he became CIO for the University of Utah Hospital, Homer recruited me for full-time position to manage documents for ACIS, the advanced clinical information system.
Can you describe the path you took to IT leadership?
Originally, under Homer, I was a software engineer, then under Helmuth Orthner, Jim Livingston, and Pierre Pincetl I became a principal engineer, database administrator (DBA), and principal DBA. As things evolved, I managed the DBAs and other back-end infrastructure as an associate director for the hospital.
I realized in the early 2000s that there seemed to be two tracks technical people could take. One focused on the technology and how to use it effectively (i.e., technology expert). The other focused on helping organizations, people, and technology align. I found some of my greatest satisfaction came from helping others understand how to be more successful in the ways they used technology as IT users and IT implementors. I made the conscientious decision with my wife that IT leadership, for me, was going to be helping other people and the university be successful. People find happiness when their goals and their organization's goals align and when they feel they're being supported and productive. I try very hard to make sure people always feel valued, respected, and cared for in a very legitimate way.
In 2013, Eric Denna hired me to be the director of Common Infrastructure Services, which I served as until Jim Livingston asked me in 2016 to become the director of Network and Communications Infrastructure (NCI).
How would you describe your leadership style and/or philosophy?
A great leader cares. They care about the organization they work for. They care about the people they work with. They work to help both people and organizations be successful by aligning their goals for mutual success and satisfaction.
What do you enjoy most about your role at the U?
I love the people. I love the culture. I love the academic and medical center environment. It's incredibly complex and challenging but very satisfying because nowhere else could I have worked as a DBA and in a sense felt like I had a part of a Nobel Prize. When Mario Capecchi won his Nobel, I had been managing and running the underlying database infrastructure for his research on mouse genomes. That's the kind of value you get out of working at a university that you just won't get anywhere else.
What do you find most challenging about your job?
All the fundamental technologies the NCI team delivers are essential, and so we often need to find creative ways to meet simultaneous high-priority efforts, and that's a challenge. But that's why we're here: to try and make technology as unburdensome as we can. I feel like we're at our very best when people don't know we're even here.
What are some of your hobbies?
I love water — swimming, boating, skiing (water or snow), nature, rivers — really any body of water is attractive to me.
My family and I love to travel.
My wife and I bought an RV in 2003 to encourage family time together. My father had always wanted to drive the Alaska-Canadian Highway, so, for my father's 80th birthday, we took a trip to Alaska for five weeks. We drove a total of 10,000 miles and were actually within 30 miles of the Arctic Circle before we turned around and headed back south.
Spontaneity is a good thing in life. On Christmas day, we normally go skiing, but one year it was minus 20 and bad weather. As we reached the time we would normally head out, I looked at my wife and it was almost like we read each other's minds. Within a couple of hours, we hit the road in our RV and headed south. We ended up stopping an hour south of Palm Springs, Calif., and spent a week there. We have since repeated that trip a number of times when winter is getting too much.
Is there a fun fact about yourself that you'd like to share?
I learned to program C code at age 12. When I was 15, my oldest brother, who was getting his Ph.D. in computer science, asked me to develop a run length encoding compression algorithm. In the 1980s, compression was a "big deal" because computers had such limited space. At the time, my brother patented a compression technology he had developed and decided to try to show that all the hype around compression was silly. I don't want to go in to the details, but patents must show the concepts are not common knowledge or prior art. My brother used me to develop a compression algorithm without any special tools or knowledge to drive home a point. That was kind of a funny way to start out my IT career, but that compression algorithm and all of its work about data retrieval ended up leading me to databases and database programming.
In college, I did ballroom dancing. My wife and I liked to help those learning to ballroom dance on Friday nights at the Apollo Dance Hall in American Fork. The Apollo has since closed, but it had a rare spring dance floor modeled after the Blackpool Tower Ballroom.
Is there anything else that you think our readers would like to know about you?
I'm on a campaign to have people take care of their sleep apnea. People talk about high blood pressure being the silent killer. I think sleep apnea is just as bad — in fact, it is a major cause of high blood pressure. It's one of those things, from a health perspective, that I think people ignore too much. If people have abnormally high heart rates at night and are waking up more tired than when they went to bed, I encourage them to seek some medical exploration of the root cause.
In my case, I reached a point with my obstructive sleep apnea, where at night I would start finally feeling good about an hour or two before I went to bed, and then I'd go to bed and I would suffocate all night and my body couldn't recover. The impacts of nontreatment can include serious heart and brain problems. I'm lucky I finally realized and diagnosed the problem before it had a serious impact. I chuckle as I say this, but please take breathing seriously!
---
Two recent UIT Leadership Spotlights: Dave Huth and Jim Livingston.
Node 4
Our monthly newsletter includes news from UIT and other campus/ University of Utah Health IT organizations, features about UIT employees, IT governance news, and various announcements and updates.
Categories