UIT Leadership Spotlight: Chris Stucker, Associate Director, Identity & Access Management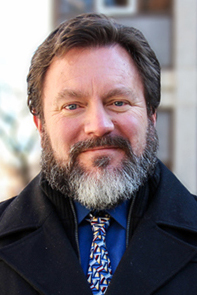 Where are you from originally?
I was born in Denver, Colorado, and mostly lived in this region during my early years.
What post-secondary degree(s) do you have, in what subject(s), and from what university(ies)?
I have a Bachelor of Arts in business administration from Southern Utah University (SUU). I'm currently in SUU's Master of Science program for Cyber Security and Information Assurance, which I will finish in a few months.
What led you to the University of Utah?
My wife and I have family in Utah — we have a daughter and her family, our parents, and siblings. I'd casually watched for opportunities in Utah for a while, but nothing ever caught my interest. One day, I saw a post looking for an IT person for the U's Facilities Management. I applied, was interviewed by Deputy CIO Ken Pink and others, and was lucky enough to be offered the position.
Can you describe the path you took to IT leadership?
After college, I went (back) into the military as an Army officer. The Army focuses a lot of time, effort, and resources on teaching young service members — enlisted and officer — to lead. It's a really interesting environment in which to learn, a true melting pot, and an environment in which the stakes can be very small or immense. My career field, intelligence, was becoming very interested and invested in computing and networking. I had a lot of opportunities for technical training and putting those new skills to work, as a technician and learning to lead and work with technical people. Eventually, I decided that it was time for a change and applied that training and experience to move to the civilian world, and have been doing IT and security stuff since.
How would you describe your leadership style and/or philosophy?
My overall philosophy would be that my style doesn't matter, and that it's not about me. I try to figure out what a team or individual needs, what will help her or him or them be successful, what will help ensure the success of a mission, and match my style to that. There are some traits and values that don't bend, things that I think leaders need to do or be always, but otherwise my style varies a lot from team to team, day to day, situation to situation. Some overall values would include empowerment, decentralization of control, loyalty, integrity, trust (in motives, if not necessarily outcomes), fairness, humility, dependability, and followership. There are many more, and I frequently fail at any/all of them, but those are some of the goals in my personal sights.
What do you enjoy most about your role at the U?
I love the teams and people around me. The U has a lot of really great people who are smart, passionate, and dedicated professionals. I love the challenge of trying to keep up, trying to add value rather than just slow them down. With ISO, that's a significant challenge — ISO is stacked with powerhouses. It's really a pleasure and a humility-booster to work with a team like that. From a "mission" part of my role, I love the challenge of trying to find better ways to do things and to improve the environment so it can enable those kinds of wins. It's fun to watch IAM meet with people, offer them solutions to the challenges they face, and deliver results. It's fun to see people react to those kinds of wins. We have a lot of obstacles to overcome, but every time we clear one or knock one down, that's pretty satisfying. Sometimes it seems glacial, but we're making real progress, and that feels great. As a leader, the best part is watching people grow, learn, find new things they love, and occasionally getting to show someone else how good they are. The "lightbulb moments," when someone gets something new, that's also a great moment to watch. I love watching people try things, stumble, and improve from them, and I love watching people succeed and take a victory lap — both are very rewarding to me.
What do you find most challenging about your job?
There's an old saying that I used to see a lot on shirts and coffee mugs — something like "I must hurry and catch up with the others, for I am their leader." I've always been very fortunate in being able to be surrounded by people who made me struggle every day to keep up and to find a way to add value. This IAM team and the larger ISO team are making my hair go gray even faster trying to keep up (when I came here, my beard was mostly brown). Other interesting challenges include trying to meet unlimited demand with limited resources, trying to persuade busy people to give us time to try to help them, trying to make data-driven decisions with data that doesn't always facilitate that goal, and the relentless, overwhelming, and absolutely amazing challenge of cybersecurity in 2020. It's fascinating, it drives us all to learn and improve every single day, and it never takes a day off.
What are some of your hobbies?
In 1988, I met this phenomenal woman, carried her to a little bench, and gave an impromptu class on the night sky and how to navigate by the stars. Since then, my No. 1 hobby has been trying to keep her navigating back to me and from regretting that she didn't just run away from the crazy star guy that night. Some other hobbies are Jeeping, stand-up paddle boarding, lifting heavy things, reading, music, and solving mental puzzles. We still enjoy looking at the night sky, preferably somewhere very dark and very away.
Is there anything else that you think our readers would like to know about you?
Probably not, I think they all fell asleep after about a paragraph. I'm a grandpa of five granddaughters and one grandson. Be kind to grandpas.
Node 4
Our monthly newsletter includes news from UIT and other campus/ University of Utah Health IT organizations, features about UIT employees, IT governance news, and various announcements and updates.
Categories