UIT Leadership Spotlight: Rachael Sheedy, Associate Director, USS Product Management and Student Systems
Where are you from originally?
Henrieville, Utah. It's a teeny tiny town in southern Utah, next to Bryce Canyon National Park.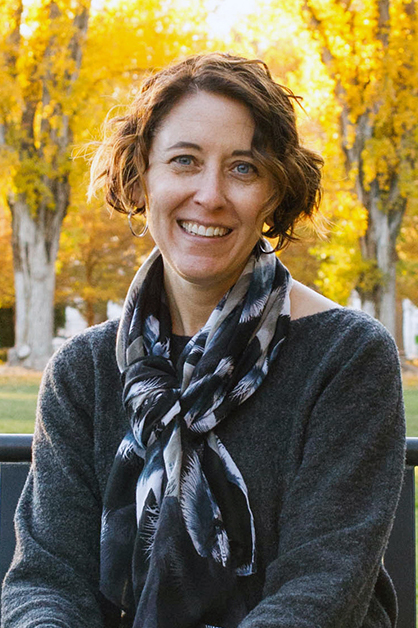 What post-secondary degree(s) do you have, in what subject(s), and from what university(ies)?
I received a bachelor's degree in psychology from Southern Utah University and a master of business administration with an emphasis in information systems from Ashford University. I actually did all of the coursework and started my thesis for a master's in psychology at Brigham Young University, but my thesis chair had to abandon the project. At that point, I was living in Salt Lake City and working in IT, so I made the difficult decision to discontinue the program.
What led you to the University of Utah?
I was living and working in San Diego, and decided it was time to move back home. I started looking for jobs in Salt Lake City, and applied for several. I had accepted a position at a different company when I got the phone call from the U, offering to fly me in for interviews. I was excited about the opportunity to work at the U, and went with its offer instead.
Can you describe the path you took to IT leadership?
I think it was largely happenstance. I worked on the Identity & Access Management team when I first joined the U, and then moved over to the UIT Project Management Office, where I mostly worked on IAM projects. When the product manager for student systems position became available, I jumped at the chance to return to the student IT world. This is the world I am most familiar with, and with my prior experience as a registrar and working with student information systems, I hoped to share some of my knowledge and insights. I also recognize that I still have a lot to learn about the systems and integrations at the U, so my work is cut out for me.
How would you describe your leadership style and/or philosophy?
I think people should be able to play to their strengths, and I'm here to support them with everything else. I believe in learning by doing, and that some of our greatest moments of growth come by making mistakes.
What do you enjoy most about your role at the U?
I work with some of the most talented people I've ever known. I love learning new things, and I love being able to bring people together to solve problems. So many times, the answers can be found just by bringing the right people together. I love being part of an academic institution, helping to improve the systems and processes that ultimately help students on their educational pathway.
What do you find most challenging about your job?
The complexity of the systems and the department silos make for an interesting and challenging dynamic. Navigating these waters can be difficult and is often akin to detective work. Thankfully, there are many knowledgeable people on the student team who do an amazing job supporting me through this process.
What are some of your hobbies?
I'm an avid reader and set a reading goal every year. This year, my goal is to read 100 books by December 31. I've read 70 so far, so wish me luck! I also love to knit and cook.
Is there a fun fact about yourself that you'd like to share?
I've taught a number of college courses. I taught general psychology and abnormal psychology at Provo College, and general psychology, human lifespan development, and sex and gender at BYU. One of my general psychology classes at BYU had 200 students, which is more than the population of my hometown.
Is there anything else that you think our readers would like to know about you?
I'm happy to be part of the University of Utah, and I'm excited about the projects we have in the works. I'm looking forward to seeing what we can accomplish in the next few years and working together to make things happen.
Node 4
Our monthly newsletter includes news from UIT and other campus/ University of Utah Health IT organizations, features about UIT employees, IT governance news, and various announcements and updates.
Categories