UIT Leadership Spotlight: Douglas Fidler, Manager, Service Management, Platform Services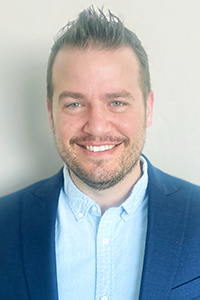 Where are you from originally?
Morgantown, West Virginia
What post-secondary degree(s) do you have, in what subjects, and from which school(s)?
A Bachelor of Arts in communication studies with a double minor in advertising and entrepreneurship, and a Master of Business Administration, both from West Virginia University
What led you to the University of Utah?
I had the opportunity to do some joint work with employees at the U and really enjoyed it. I felt the direction and opportunities that the U provided also matched well with my professional goals.
Can you describe the path you took to IT leadership?
At a younger age, I found I really enjoyed managing teams and accomplishing goals that impacted the lives of others. Before and during college, I managed a baseball park and several fast-food restaurants. After graduating college, I found I really had no idea what I wanted to do. I asked my dad for some advice, and he said, "Well, there's a lot of money in finance."
So, I started my career working for Wells Fargo. After a few years, I was ready to move into the stockbroker world and applied to work at Fidelity Investments. I worked in several positions throughout the years, from being a trader to a college planning specialist, and then in branch office roles. After being promoted to a branch manager, I knew I needed a stronger understanding of the business world if I was going to continue down that career path. I went back to grad school on nights and weekends, and finished my MBA program two years later.
During that time, I started to enjoy working with technology. Fidelity Investments had also just launched a massive initiative to move away from paper and replace it with technology. So, when I graduated, I made the leap from financial management to IT management. I've loved every minute of it. I hope moving forward I'll be able to better serve translating technology for business people and business for technology people.
How would you describe your leadership style and/or philosophy?
Authorship equals ownership. I'm an avid believer in utilizing everyone's strengths and abilities to help us make the best decisions we can for the organization.
The foundational principles I teach my team:
Customer-first service — remember our why. We're helping serve people — everything we do should have them in mind. Help make their lives better. It doesn't mean they're always right.
Foundation building. Study, learn, and take the time to shore up the foundation of what we know we'll need in the future. If you see a crack in a process, product, or team, it's worth the investment to fix it now. We have to build on solid ground.
Tenacious action chasing. When it's time to do work, do work. Have an immovable, constant drive to move forward. I can't make you run, you have to do that. And I don't care if you run in the wrong direction as long as you're running — it's my job to help steer us in the right direction.
Incremental improvements. Be better today than you were yesterday. It doesn't mean you ran 1 mile today so run 80 miles tomorrow. Run 1.1 miles. You owe it to yourself in work and in life to become better. If something needs to improve, improve it.
Blameless accountability. There is no finger pointing. We're a team — we owe it to each other to help one another, and we must own our mistakes. We can own our successes, but we have to own our mistakes, too. I don't care if you make mistakes; everyone makes mistakes. I care more in how you own them and resolve them. That also means not blaming yourself.
What do you enjoy most about your role at the U?
ServiceNow touches so many different teams and individuals at the university. Helping others be successful is an amazing feeling. There are so many teams and people here doing great things! It's amazing!
What do you find most challenging about your job?
There are so many important things that need to be done. So many things I wish we could do for so many teams and different people. But we have set priorities. It's hard having to tell someone no.
What are some of your hobbies?
Kayaking with the family, riding my motorcycle, metal detecting, watching the Science Channel, golfing, and playing pickleball.
Is there a fun fact about yourself that you'd like to share?
I love learning. I'll dive into anything that sparks my interest or catches my attention.
Node 4
Our monthly newsletter includes news from UIT and other campus/ University of Utah Health IT organizations, features about UIT employees, IT governance news, and various announcements and updates.
Categories