Kevin Taylor Memorial Service Award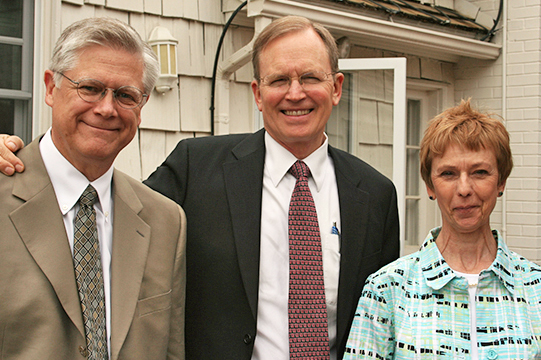 The UIT Kevin Taylor Memorial Service Award program was established in 2014 to recognize superior service and ongoing contributions by University Information Technology (UIT) employees. The award is given annually to the UIT staff member who best demonstrates the collaborative spirit and intrinsic service orientation of UIT Director Kevin Taylor (b. 1950, d. 2014) in support of UIT and the University of Utah.
Nominees for the 2022-23 award:
Rob Birkinshaw, Software Platform Services
Brandon Gresham, University Support Services

Josh Grey, Software Platform Services
Ryan Hines, Strategic Planning and Process Team
Beth Sallay, University Campus Computer Support
Dan Thornley, University Support Services
And the winner is icon ... Rob Birkinshaw!
Read more about the nominees and winner.
---
Nominee eligibility
Must be employed full time or part time in UIT for the past year (365 days) as of the nomination deadline.

Must be a current full- or part-time UIT employee in good standing.

May be a regular or student UIT employee.

Any current University of Utah or University of Utah Health employee may nominate a UIT employee for the award.

Ineligible for nomination:

Taylor Award committee members (Kariann Hibbard, Trevor Long, Jason Moeller, Bryan Morris, Dustin Udy)

Previous Taylor Award winners (Shellie Eide, Corey Hayes, Roger Kowallis, Jason Moeller)
Award criteria
This award recognizes superior performance in the following areas: Service excellence, legacy of Kevin Taylor, and commitment to UIT and the university.
In your nomination letter, please describe how your nominee demonstrates these qualities:
1. Service excellence
Demonstrates exceptional ability in the following work-related areas:
Quality of work
Proficiency
Initiative
People skills
Dependability
Ongoing desire for improvement
Positive attitude
Collaboration & teamwork across UIT units and with service partners
Knowledge and understanding of the University and its functions
Record of mentoring others
2. Legacy of Kevin Taylor
Demonstrates exceptional levels of the following work-related qualities that Kevin Taylor embodied:
Inclusivity
Creative problem-solving
Humility
Empathy, compassion, and kindness
Open to discussing a wide range of topics and issues with others
3. Commitment to UIT and the University of Utah
Service to the University and UIT demonstrates continual commitment to assist staff, faculty, and students in fulfilling the institution's missions
Work-related contributions have long-term benefits to the U community
Supports and participates in UIT and/or University initiatives
Past winners and nominees
Your contribution matters
UIT has established a memorial fund in Kevin's honor. Proceeds are used to award a small honorarium and a plaque to the award winner each year. UIT sincerely appreciates your generosity.
Kevin's birthday falls on August 13. Please consider honoring the day with a contribution in his memory.
2022-23 committee
Kariann Hibbard
Trevor Long
Jason Moeller
Bryan Morris
Dustin Udy