Tech Fair roundup and photos
By Emily Rushton
On Wednesday, September 23, the University of Utah Campus Store sponsored its biennial Tech Fair in the Union Ballroom. The event boasted a number of participating vendors, including Microsoft, Adobe, Dell, Parallels, and many others. UIT's Office of Software Licensing (OSL) also participated in the event.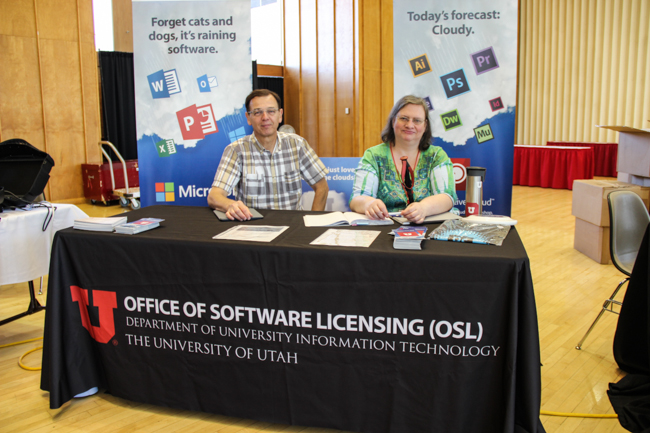 "We were trying to make students, staff, and faculty more aware of OSL," said Bill Lutz, vendor manager for OSL. "We're here to support them and their software needs."
The Tech Fair offered numerous vendor booths, demonstrations, freebies, and giveaways. Adobe sponsored lunch for the event and offered various free workshops for guests to attend, as well.
Margaret Witbeck, software licensing coordinator for OSL, was excited for OSL to take part in the event. "I would like to see us participate in more events like Tech Fair," she said.
The University of Utah offers access to many popular software packages, such as Adobe Creative Cloud and Microsoft Office products, all of which are managed by Lutz and Witbeck.
"OSL touches literally thousands of people," said Lutz. "So it was nice to meet them in person [at Tech Fair]."
"I know a lot of people by name, but I don't always know them face-to-face," Witbeck agreed.
If you have questions about software, Lutz and Witbeck are happy to help -- simply send an email to software@utah.edu.
Photos from the event are below.