UIT student interns tackle real projects, not coffee orders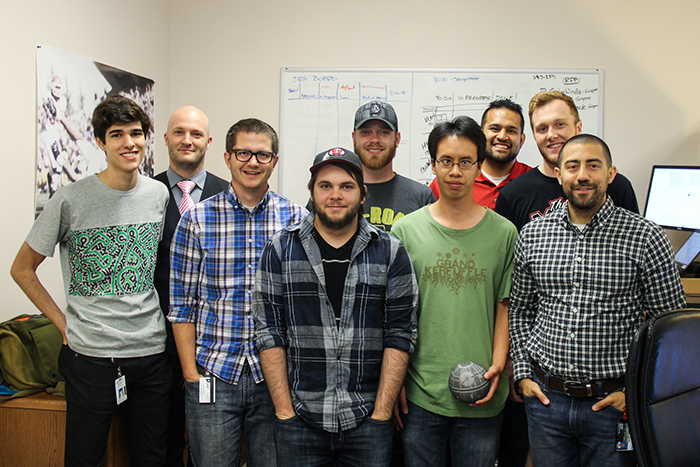 By Emily Rushton
The word "intern" generally conjures up visions of boring busy work and endless orders of coffee. But for UIT Common Infrastructure Services (CIS) student interns, it means quite a bit more.
"They work on real life projects," said Elliot Fenech, manager for the CIS monitoring group. "They get their hands on developing new solutions, which is really cool."
Fenech manages a team of close to 20 student interns – the bulk of which work closely with the monitoring staff, while a few work with the network engineering staff. Each student is paired up with a mentor – a full-time CIS employee – who assigns projects and goals for the student to work on.
The one-to-one mentoring is a win for everyone – students get exclusive training and instruction from an expert, and full-time employees get help with lower priority tasks that occasionally get pushed to the bottom of the to-do list.
"For instance, I might need somebody to help me comb through some logs to find an error," said Fenech. "And lo and behold, the student who has had time to dedicate to it finds the issue – and can then help rectify the problem."
Each month, Fenech will meet with the intern and his or her mentor to see what projects they're working on and set new goals for the next month. Over time, interns who have met or exceeded expectations can be eligible for a $0.50 raise.
"There's something riding on it for the student," said Fenech. "It's not just a mundane, arbitrary monthly meeting. They could get a raise out of this."
Perhaps the most notable evidence of the program's success is found when looking at pay differences. While UIT is the second-highest-paying department on campus for student jobs, IT companies in the valley generally pay interns a higher hourly rate.
"In IT, our interns can go work elsewhere and get paid a lot more," said Fenech. "But [our interns] say they work here because of the environment, the people, and the experience that they're getting."
Additionally, interns can influence what they'd like to work on, with opportunities to move into a new area or work on a project completely different than anything they've done before.
"We like to encourage that," said Fenech. "This is to help [students] make an educated decision with the rest of their lives. If they tell us what their interests are, we'll give them exposure to it."
The uniqueness of the program allows students to work on real solutions that will be used by UIT staff in the future.
Ricky Mejias, lead student intern, recently developed a powerful budget-tracking spreadsheet that allows Fenech to monitor each intern's hours and the remaining yearly budget – a cumbersome process turned virtually painless, thanks to Mejias' hard work.
"The spreadsheet metrics are really cool," said Fenech. "We know how much we're paying each student and how financially viable they are."
Mejias was just recently accepted into the U's Master of Science in Information Systems program, and he appreciates the hands-on experience that the internship has provided.
"It's been a really good learning experience," Mejias said. "I've been enjoying it so far."
When his friends find out he's an intern, their first reaction is to apologize – but Mejias is quick to correct them.
"I ask them, why are you sorry? My job is awesome!" he said. "I have a very, very different experience of what most interns have. I like getting up every morning and going to work."
"The people I've hired have created a hard-working, well-oiled machine. That's the biggest thing I can't stress enough," said Fenech. "We wouldn't have this type of environment if it weren't for the students that are working here, how they interact and communicate with each other, and how easily they get along."