UIT has strong presence during HRE Move-in Days
By Calli Peterson and Emily Rushton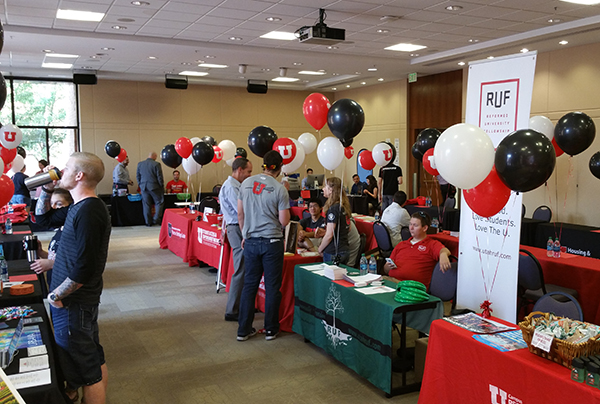 Technology is an absolute necessity for today's college student, especially for those that live on campus. That's why UIT makes sure to participate each year at the U's Housing & Residential Education (HRE) Move-in Days event.
This year, the event ran from Thursday, August 20 to Sunday, August 23. UIT employees from both the Campus Help Desk as well as Unified Communications (UC) were on-site each day to answer questions and provide helpful information to new residents.
"Cody Exon and Chris Moore were there to field any and all types of UIT Help Desk queries," said John Wardle, product manager for UC. "And UC staff were happy to talk to the students living in HRE resident halls and introduce them to the exciting products we have available." (UC employees included Eric Haskell, Calli Peterson, and Wardle.)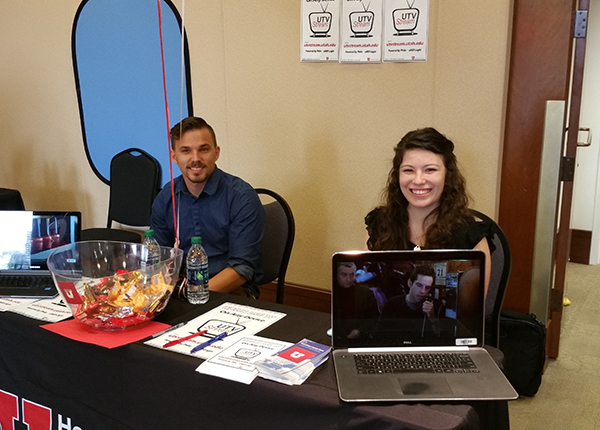 Box, the University's online cloud storage and collaboration tool, along with the newly launched UTVStream service were among the most popular topics discussed at the UIT booth. UC and Help Desk employees were also able to answer students' questions about installation of Adobe products, UMail setup, and general IT connectivity.
"UIT staff members were there at each move-in day to ensure that new students get that mighty U student experience right from day one," said Wardle.
HRE holds this event every year to help new residents adjust to living on their own for the first time. Knowing how to access your TV channels, connect to Wi-Fi, and where to go if you need help can make all the difference to a new student on campus.