New USS Director
Rakhsha named permanent USS Director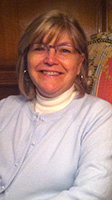 UIT is pleased to announce that Debbie Rakhsha has accepted the permanent position as Director of the University Support Services (USS) unit within University Information Technology (UIT), effective immediately. Since assuming the interim role replacing Joe Taylor almost four months ago, Debbie has done a superb job in working with both campus partners and staff to align the unit's efforts with campus priorities. In her past role as a USS Associate Director, she completed many projects successfully and led the establishment of the Content & Usability team, which focuses on content management, design, and user experience for colleges, departments, and programs on campus. Prior to joining USS she worked in Media Solutions for a year as the Web Solutions Manager, leading her team's efforts to migrate more than 100 websites into the OmniUpdate content management system. The migration enabled the strategic retirement of Vignette, HumIS, and other systems to consolidate and share resources.
Before joining UIT, Debbie was Department Head of Application Development in IT Services at the Marriott Library. During her 11 years at Marriott she worked in a variety of roles, including as the programming lead for database, desktop, and web applications, developing original code and JSP web apps. When she was promoted to Department Head, she became responsible for website and application development groups for the library and digital collections. She led an integrated library system migration project that combined the catalog database records, image collections, and online journal subscriptions for all four of the University of Utah libraries into one system with a single interface.
Originally from Philadelphia, Debbie earned a BS in Education from Shippensburg University in Pennsylvania, a Master of Public Administration degree from the University of Utah, and an Associate of Applied Science degree in Information Systems from Salt Lake Community College. In addition, she earned a Certified Usability Analyst certification from Human Factors International and is ITIL Foundation-certified.