Technology helps Facilities Management save electricity
Motion-sensor-enabled outlets turn off unneeded items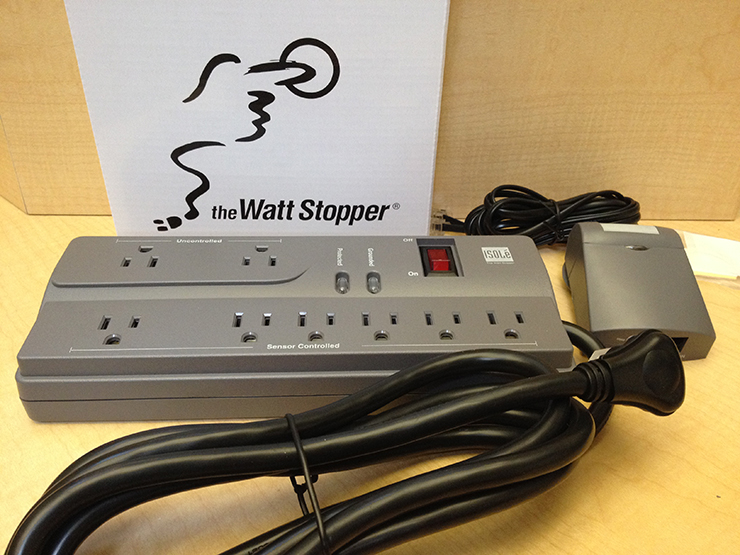 By Scott Sherman
When Facilities Management challenged its departments to save energy, it asked each department how they could conserve within their own areas. But there was one way to help the entire team dial back the electricity consumption without employees even thinking about it: motion sensors.
Facilities Management installed 200 Watt Stopper Isolé IDP-3050s at workstations to automatically turn off monitors, task lighting, and other equipment often left on long after someone leaves.
The sensor looks like a regular power strip, with six sensor-controlled outlets and two always-on outlets. When the Watt Stopper device senses motion, it turns on the switched outlets. When it has not sensed motion for a specified time (from 30 seconds to 30 minutes), it switches off those outlets.
"We found that they save about 25 percent energy from normal usage, which is great news for energy savings," said Stephanie Dolmat-Connell, a senior research analyst in Facilities Management.
Those savings are even more noticeable when work areas utilize space heaters in the winter, she said.
For most users, the Isolé accomplishes the goal of conserving electricity, but the University's current rate for electricity is so low that it will take many years for that power savings to translate into fiscal savings.
Rocky Mountain Power offers a $15 rebate on the device, Dolmat-Connell said, putting the cost at about $38 per unit when purchased on a state contract.
For those looking to save electricity in other ways, Dolmat-Connell offers these tips:
1. Turn off computers, monitors, task lighting, and computer accessories (printers, speakers, etc.) when not in use. Don't forget to turn everything off when you leave at night and for the weekend. Unplug chargers for computers and phones when not in use, too.
2. Bundle up instead of using a space heater. Space heaters are a huge energy hog. Consider wearing a jacket or bringing in a blanket to keep warm.
3. Purchase Energy Star electronics and appliances, such as computers, computer monitors, refrigerators, and TVs for both work and home.