Multi-talented Burrows wins Staff Excellence Award
August's Node 4 newsletter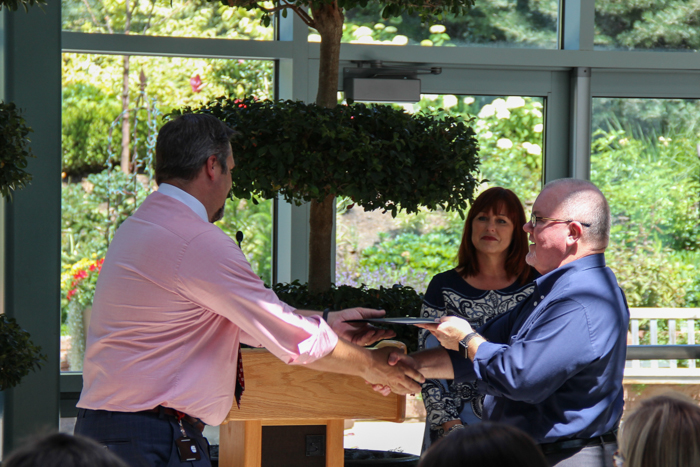 By Emily Rushton
When colleagues are asked to describe Paul Burrows, their responses always share a common theme: he is constantly helping other people.
"He gets stuff done and he helps other people get stuff done," summarized Alec Sharp, business process consultant for the University of Utah who's known and worked with Burrows for the past two and a half years.
Burrows, platforms architect for Teaching and Learning Technologies (TLT), has spent the past 34 years at the U accomplishing more than seems possible for one person – so it's no surprise that he was selected to win a district-level University staff excellence award this year. Burrows accepted the award at a ceremony hosted in July.
"He's not just provided excellent service to the University. He's provided services throughout the U.S., and in some cases, the world," said Jan Lovett, IT product manager for University Support Services and member of the staff excellence award selection committee.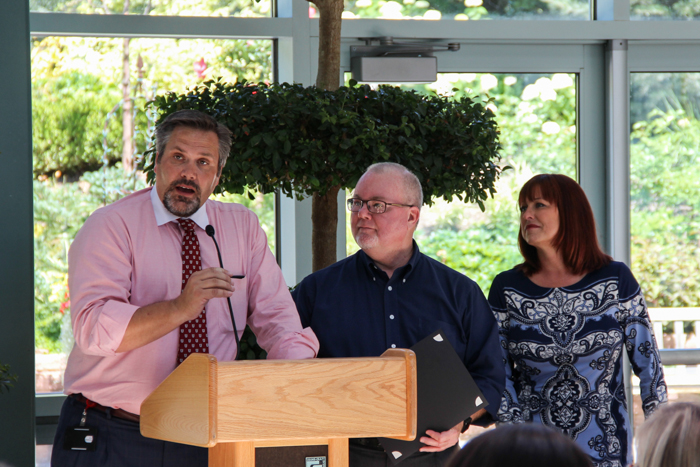 Burrows pioneered a particularly noteworthy project involving media indexing for the entire public broadcasting service in the United States. PBS, CPB, and NPR have all adopted his metadata standards for describing, indexing and finding media online.
"I think it's super important and really worth noting what his work here has done, and how it's helped the University and then beyond," said Lovett. "I think that's what makes him very exceptional."
Burrows also developed the Process Landscape of the University (PLU) [BROKEN LINK], an in-depth, high-level view of everything the U does and the various processes involved and services offered.
"I've never seen anywhere else where somebody has presented this kind of material and this sort of artifact in as creative a way as Paul did," said Sharp. "I've shown some samples at conferences of the work Paul has done and people are very impressed indeed."
A natural team leader, Burrows has been extremely effective in earning the trust of his co-workers, leadership and customers, and retaining those relationships over long periods of time.
Dr. Suzanne Stensaas, Professor Emeritus for the University of Utah School of Medicine, is one such client who's known and worked with Burrows for over 25 years.
"He directly contributed to my professional success and advancement by encouraging, coaching and leading me into the world of multimedia," she said. "He has always been on the cutting edge of what's new and useful."
Burrows began working for the University of Utah as a video producer and director in 1980. His career has since moved through variations of video, interactive media, metadata, online tutorials and information architecture.
"It's always been about discovering information, interpreting it, and mixing it back together again so that people could understand it, and more importantly, re-use it," he said. "I think that was the theme that kept running through everything I did."
Burrows finds motivation in sorting through the ambiguity of projects and finding ways to make them clearer and more concrete.
"I get a lot of satisfaction out of that synthesis. I find that fun," he said. "I just love making sense of all that stuff, and that keeps me going."
"He can spot patterns and pull things together," said Sharp. "He can take the detail and synthesize it up into something meaningful."
Burrows – who was a scuba instructor for over 10 years and more recently enjoys setting up his new townhome and watching Netflix – was surprised when he found out he had won the award.
"I was actually speechless," he said. "I'm truly humbled by it."