U brings back former CIO to lead huge Procure to Pay project
By Emily Rushton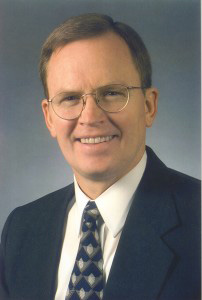 Steve Hess is coming out of retirement to help the University of Utah with one of its biggest initiatives yet: moving its procurement processes online.
Hess – founding director of the Utah Education Network (UEN) and two-time CIO – retired from University Information Technology (UIT) in 2011 after nearly 38 years of service, but returned in August of this year to work in a new role under Chief Business Officer John Nixon.
"I love to work, especially at a university and in IT related issues," said Hess. "So I decided to come back."
Hess has had a longstanding career focused on media and technology in higher education. He first saw the need for technology in the classroom when he was student teaching at Riverview Jr. High School and was surprised by the lack of educational and technology materials available to teachers at the time.
"When we went to teach the Civil War, there'd be no films or materials available," he said. "The textbooks didn't seem to inspire students."
Hess devoted a large part of his career to making educational resources accessible online. During his time at the U he also led the development of UEN, helped get the Eccles Broadcast Center built, consolidated and reorganized all central information technology services, and laid the groundwork for what was to become the new downtown data center.
Steve Corbató, Interim CIO, is one of many who's glad to have Hess back at the U.
"When I think of long-time campus administrators who have made the U and the state a better place, I naturally think of Steve and his many contributions," said Corbató. "His founding leadership of UEN helped make it one of the best and most durable advanced regional networks in the country."
In his new role, Hess will lead the Procure to Pay (P2P) initiative, a substantial project with the goal of moving the U's accounts payable, purchasing, and contract processes online.
"It's primarily a paper process right now," said Hess. "When you put a process like this online, you get all the benefits of automation, reduced cycle time, and you also get reporting because you can gather data."
P2P currently has a completion goal of 44 weeks and will use an Agile project management process.
"It's fun to get to work into the grassroots of a project," said Hess.
Two major milestones of the project include automating and moving the purchasing and accounts payable processes online (with the result being faster transaction speeds), as well as moving buyers to purchase from more contracted vendors.
Hess estimates a projected savings of $7.5 million annually once the project is completed.
"There's good administrative support," he said. "The accounts payable and purchasing staff are willing to work hard, which in combination makes for a very successful project."
In addition to P2P, Hess will also serve as interim director for the new process improvement and project management team.
"The process group is designed to improve processes for greater efficiency with the use of technology," he said. "We're currently working on some projects, and one of them is Procure to Pay."
A history buff, Hess enjoys gardening, reading biographies, and watching college football and baseball. He also likes helping people get to where they want to be in their careers, something he has worked on throughout his career.
"I've always enjoyed organizing and getting people focused in the right seats and on the right bus," he said. "I've found that when you do that, people are much more motivated to do their work."
Hess stressed that leadership is more than just getting the task done – that it's also about motivating your employees.
"I love my current job, and it's easy to get up in the morning and go to work," he said. "Everybody ought to have that privilege."