Project Management Office (PMO)
The PMO is here to help you manage strategic, tactical or operational projects.
Our project managers will:
Manage your endeavor through the project lifecycle
Apply project management best practices
Assist you with project status reports
Engage with customer end user, vendor and sponsor
Oversee project communication, among other processes
If you would like project management assistance, or have questions regarding an active or closed project, please email PMO Associate Director John Penrose.
Access the UIT Business Case Template.
Project Management Dashboard
Keep up-to-date on active PMO projects by visiting the Project Management Dashboard (authentication required).
The purpose of the dashboard is to provide the status of a particular project or overall projects managed by University IT in ServiceNow, UIT's service management platform. You can see which project manager is overseeing a project, and hover over the project name, overall health, schedule, scope, budget, etc. to view a quick summary.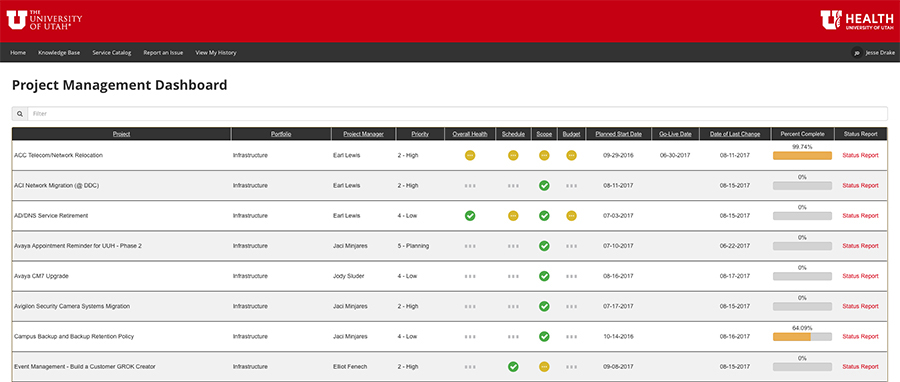 ---
News and updates
Node 4: Solving a cabling conundrum in the West Village
Node 4: PMO Corner: Slate CRM to improve grad school application process
Node 4: PMO news: UIT helps U Athletics transition to digital ticket system
Helpful links