Front Desk notes:
The 102 Tower Front Desk is not currently staffed. An announcement will be sent when the Front Desk resumes normal operations.
Mail and packages delivered to 102 Tower are sorted once a week and placed in mail folders. Package recipients will be notified.
Front Desk staff are not available to check in visitors or validate parking.
Please direct parking garage questions and concerns to SP+ Parking: Glenda Mathews, gmathews@spplus.com, 801-521-0945.
For questions about the Front Desk, please email 102tower-frontdesk@utah.edu.
Building features
Shipping/mailing address
The shipping and mailing address for all University of Utah departments at 102 Tower is:
University of Utah
102 South 200 East STE ---*
Salt Lake City UT 84111
* Suite:
Enterprise Data Warehouse: 110
Information Technology Services: 110
U of U Health Strategy: 110
University Information Technology: 110
University Medical Billing: 200
Notes:
Packages that are missing suite numbers or contain other delivery address errors will be returned. When arranging for packages and other mail to be delivered to 102 Tower, please make sure to use the correct delivery address.
Departments by floor
1. University Support Services
2. University Medical Billing
3. Information Technology Services
4. University Information Technology/Information Technology Services
5. University Information Technology/Information Technology Services and Service Management
6. Information Technology Services
7. Enterprise Data Warehouse and U of U Health Strategy
Front desk and mail room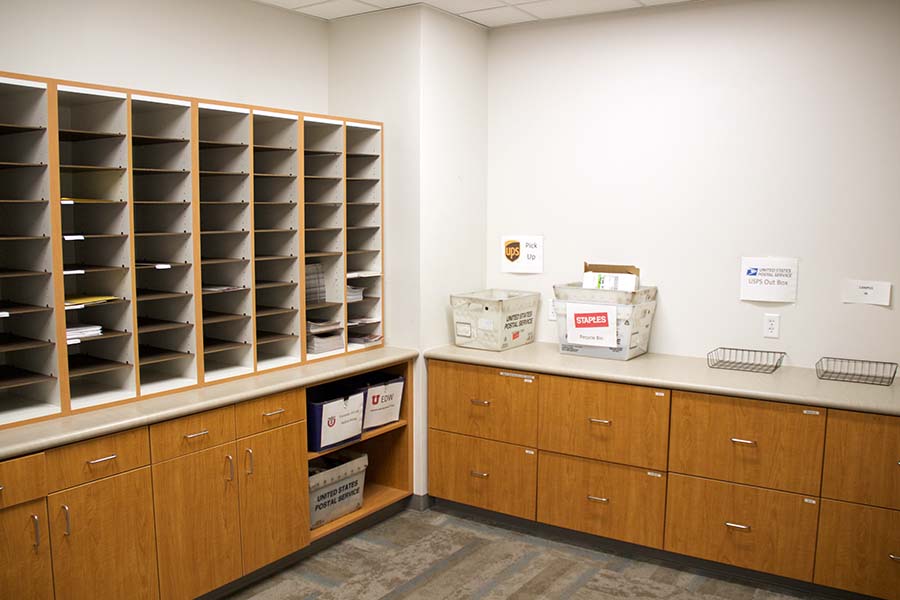 Front Desk staff are not currently available to check in visitors. When the Front Desk resumes normal operations, guests without a U photo ID will be required to sign in at the Front Desk in the main lobby to receive a temporary ID badge. Second floor guests are asked to proceed to the second floor to check in and receive a temporary ID badge.
Phone: 801-213-3355
Email: 102tower-frontdesk@utah.edu
The mail room is located on the 1st floor adjacent to the Front Desk. UIT and ITS employees at 102 Tower have individual mail folders, found in the drawers on the west side of the room. Most mail will be placed in your folder for self-service pick-up.
Packages and checks are safeguarded in the secured Front Desk work area. Bulk mail items, such as Continuum magazines, are available on mail room shelves.
Email notifications will not be sent to employees when letters, postcards, flyers, etc. are delivered. Once full staffing resumes, employees will receive email notifications when packages and checks are delivered in their name.
Please check your mail folder weekly, and promptly pick up packages/checks when notified.
Interdepartmental/campus mail that has not been retrieved within seven days will be returned to sender.
Packages that have not been retrieved within three weeks of delivery will be returned to sender.
Package pickup
All packages — FedEx, FedEx Express, UPS, and USPS — should be brought to the 102 Tower mailroom on the first floor and placed in the appropriate bin. Drivers cannot pickup packages at your desk as each floor has restricted access.
FedEx Ground, UPS, and USPS collect packages daily. However, if you need to send a package immediately, you can schedule pickup through FedEx Ground or FedEx Express online or by phone and then bring those items to the mailroom for pickup.
Lost and found
If you find an item at 102 Tower and can't locate the owner, please turn the item in at the Front Desk. Likewise, if you have misplaced something, please contact the Front Desk staff to ask if the item has been turned in.

Front desk phone: 801-213-3355
Email: 102tower-frontdesk@utah.edu
Note: This procedure will resume when the Front Desk returns to normal operations.
HR analyst
HR analyst for campus employees: Elena Sharma
Phone: 801-213-1395
Email: elena.sharma@utah.edu
Please contact Sharma to schedule office hours.
Meeting spaces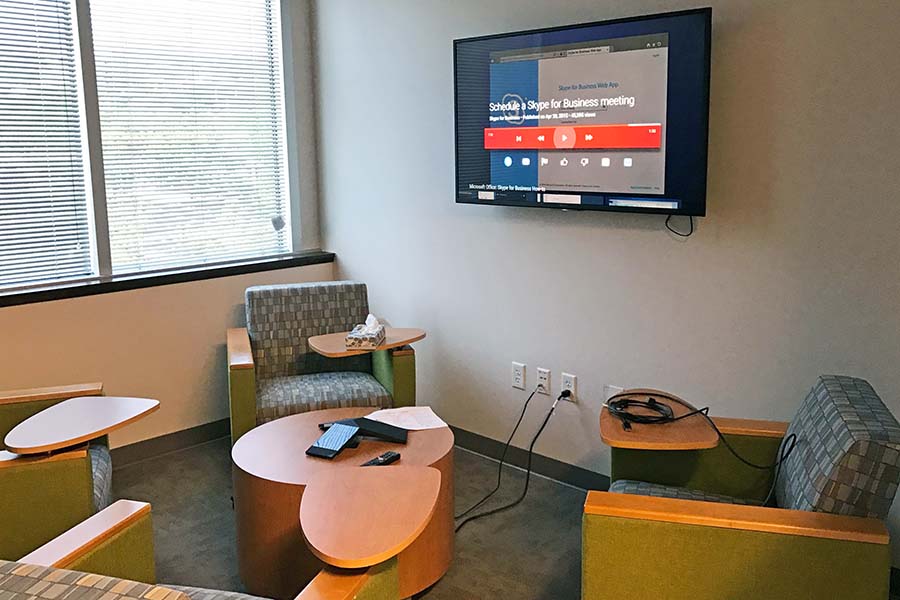 The building contains 43 conference rooms. Some are small and accomodate 3-4 people, while others are large enough for 50-60 people. There are also multiple open collaboration spaces.
Each conference room has a wall-mounted monitor and is Microsoft Teams-enabled. View the Sony TV screen-sharing and network connection guide.
How to reserve the conference rooms:

All the rooms will be in Outlook. Schedule them the same as current rooms.
Room names will be as follows:

102 Tower – Rm number – Room name (room number will start with floor number)
Rooms are named after national parks
Open collaboration spaces are designed for quick, impromptu meetings, and are not reserved. Please use common courtesy as these areas are immediately adjacent to employee work spaces. Collaboration spaces have wall-mounted monitors.
The 102 Tower conference room guide is online. If you have any questions please contact 102-Tower-Conference-Room-Administrators@umail.utah.edu.
Meeting etiquette
Be on time
Make introductions (don't assume everyone knows each other)
Be careful not to push chairs into walls where they could cause damage
Be courteous and attentive

Please remain respectful and sensitive regarding individual decisions on remote meeting attendance, mask wearing, and social distancing
After your meeting
Push your chair under the table
Remove handouts, personal items, and containers
Remove any food items, clean the tables, and put away unused plates, cups, etc.
If you rearranged tables and chairs, return them to the standard configuration
If you borrowed chairs from another room, return them
Turn off all audio/visual and computer equipment you used
Reset A/V equipment to its pre-meeting state, such as resetting the TV's input selection, etc.
If you use the whiteboard during, please erase it
Turn out the lights
Office supplies
Supply areas vary by floor and department. Please ask your manager for more information. Generally speaking, paper is stored near printer/copier machines on all floors.
Lactation spaces
There are three rooms at 102 Tower designated for nursing mothers using breast pumps.
Floor 2: Room 2118
Floor 3: Room 3418
Floor 5: Room 5417
Notary services (temporarily unavailable)
Manzel Templeton, University Medical Billing, Floor 2
801-587-1920
102 Tower email list (optional)
The 102 Tower email list is 102-tower-extra@lists.utah.edu. The list is meant for collegial and informal sharing of general interest "extra-curricular" information. Examples of possible topics include restaurant/food truck tips, events of interest nearby, "for sale" and "looking for" posts, carpooling and other commuting queries, tips re: mass transit, goods and services recommendation requests, etc. To join an opt-in email list for/by 102 Tower U employees, send an email to the Sympa system with the subject line SUBSCRIBE 102-TOWER-EXTRA.
Building contact
Please direct general building questions to the U's Department of Real Estate Administration at 801-587-8750 or RE.Admin@utah.edu.