Kudos & Congratulations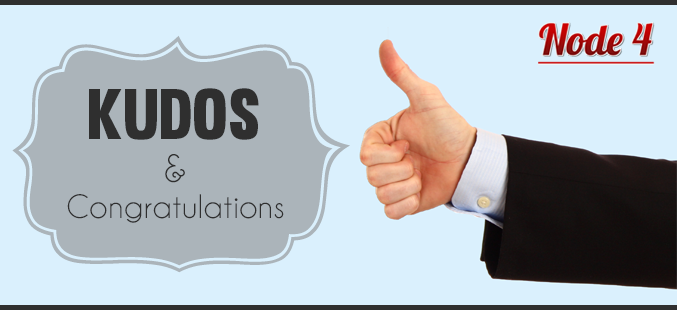 Congratulations to Jayci Minjares (PMO) and Matt Munro (NCI) for winning last month's prize drawing!
---
UIT staff recognized for their excellent work
At the risk of sounding like I'm accepting an Oscar — Big thanks to Trevor Long, Peter Panos and Brent Elieson for putting in several hours and lots of brain power for a just-before-the-holidays presentation. Thanks to Bill Lutz for working with me before, during, and after the holiday break to get a difficult contract squared away. Last, but not least, I appreciate Rachael Sheedy's help and guidance in navigating the finer points of the IAM project.
~ Scott Sherman, Office of the CIO
---
I appreciate the prompt, thorough, and friendly help that Service Management team member Jasmine Haywood provides to us all when UIT packages are delivered to 102 Tower. She is fantastic at notifying us promptly when we have a delivery to pick up. She always has a kind word and a can-do, positive professional attitude for everything she does for UIT. Thank you Jasmine!
~ Cassandra Van Buren, UIT Strategic Communication
---
CHPC would like to highlight the contributions made by two staff members, Wim Cardoen and Martin Cuma, who both have the primary role of facilitating research utilizing CHPC resources. As part of the User Services team, both install software and work directly with our user community, interacting on questions from our help desk and meeting one-on-one with users to help them with the use of our systems. Both hold PhDs, have used High Performance Computing in their own research, and each have specific expertise valued by our user community.
Wim Cardoen is our expert on Python including NumPy and SciPy, and he teaches our short courses on these topics. Recently, he trained himself on the use of R, and although he does not consider himself an expert, he developed a presentation on the use of R on the CHPC systems. Together with Martin Cuma, he is developing a new presentation on the use of OSG (Open Science Grid), a national high throughput computing infrastructure, which will be presented this spring. CHPC really appreciates Wim's constant desire to improve his expertise, and his role at CHPC is highly valued!
Martin Cuma serves as our expert in MPI (Message Passing Interface) and other parallel programming paradigms. He teaches our short courses such as Introduction to Parallel Programming, MPI, OpenMP, Debugging, and Profiling. He also facilitates our hosting of HPC Workshops put on by XSEDE (eXtreme Science and Engineering Discovery Environment) – a national supercomputing infrastructure. CHPC recognizes Martin's significant contribution to our operation!
~ Julia D. Harrison, Center for High Performance Computing
---
Adam Howsley (Service Management Platform Services) is consistently stepping up to find creative solutions within ServiceNow. Some recent examples: Working remotely, Adam instructed me on how to export a data set from the tool; he created custom reports for my colleague Emily Rushton; and developed back-end solutions to restore elements from a previous iteration of the UIT Knowledge Base. Thanks, sir! Your patience and guidance is always appreciated.
~ Jesse Drake, UIT Strategic Communication
Anyone can submit an item for Kudos & Congrats!
Simply email praise for your UIT colleagues to stratcomm@it.utah.edu. The people you recognize will be put into a drawing to win gift cards, event tickets, merchandise and more. Those who submit entries will also be put in a separate drawing for more prizes. (UITL members and associate/assistant directors not eligible for prizes.)
---
A special thank you to some exceptional campus organizations that, in the past, have donated tickets, merchandise, and gift cards to help recognize UIT employees: Athletics, Auxiliary Services, Dining Services, Kingsbury Hall, Pioneer Theatre Company, Red Butte Garden, UIT Leadership, and Utah Museum of Fine Art.
Node 4
Our monthly newsletter includes news from UIT and other campus/ University of Utah Health IT organizations, features about UIT employees, IT governance news, and various announcements and updates.
Categories