Fiber installation techs keep campus connected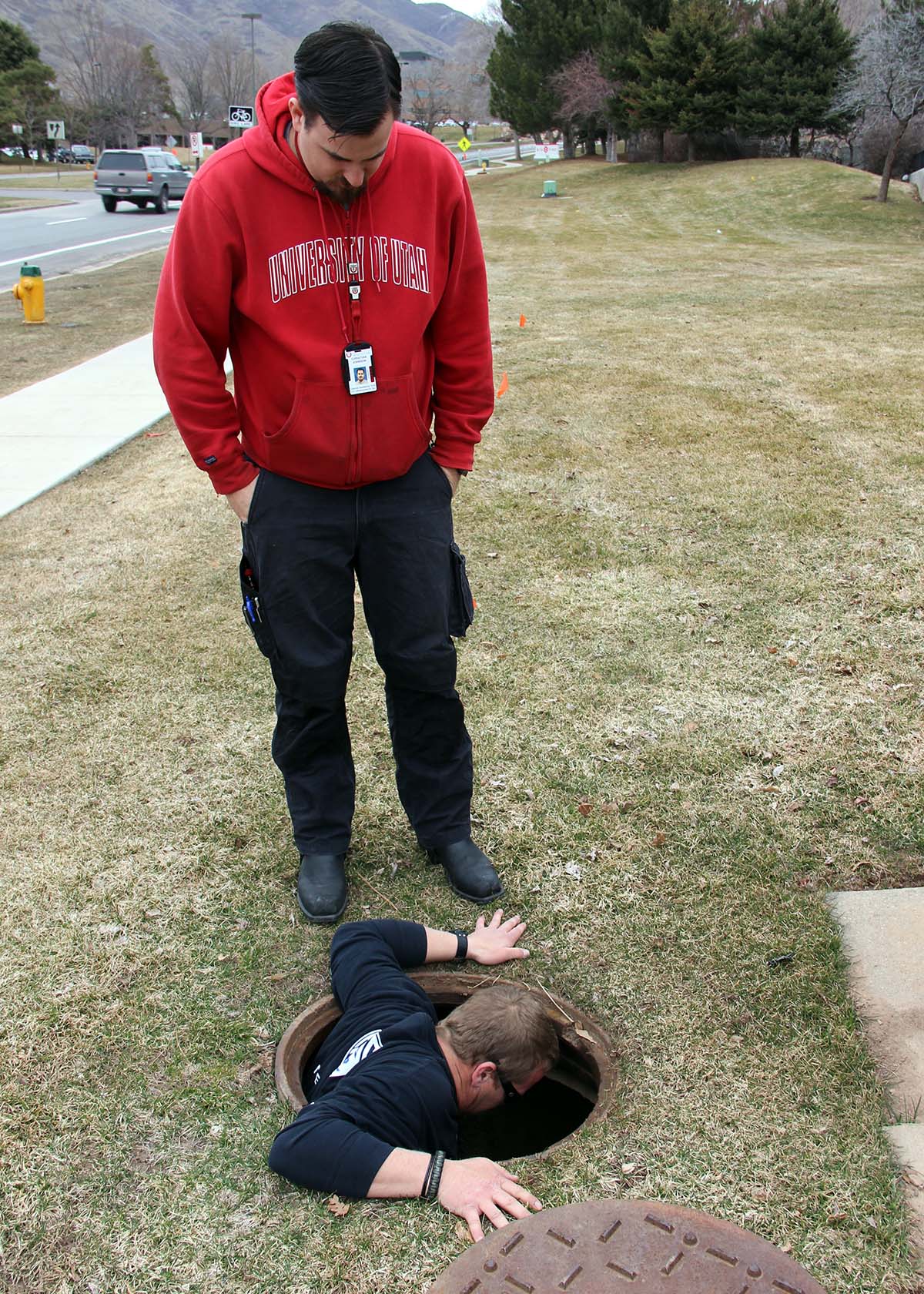 Most of us wake with the expectation that once we get to campus, our computers will power up, our devices will connect to the network and our phones will work.
We rarely consider the secret highway of fiber-optic cables – winding behind walls and snaking underground – but that's precisely where those expectations are met.
"In this day of expanding technology, everything runs off fiber," said Tim Goodale, senior product manager of Pathway Engineering in UIT Communications Infrastructure. "Fiber feeds the wireless access points that connect all of our smart devices to the internet and cloud, it connects all of the wired ports we plug our phones, computers, and TVs into. Fiber even connects elevators, time card machines, and fire alarms on campus. At the hospital, it connects patient monitoring equipment, life support systems, and data storage. In short, fiber provides all the technology connections that light up our lives."
Keeping the fiber highway humming over 1,535 acres are telecommunication installation techs Destry Mulleneaux and Christian Johnson, the U's fiber-optic cable experts.
"Destry and Christian are two of less than a handful of fiber technicians in the state of Utah who are trained and have experience installing the type of Air Blown Fiber (ABF) that's used on campus," Goodale said.
On the morning of March 1, the men are dispatched to north campus to install ABF from the Energy and Geoscience Institute to the Dumke Health Professions Education building, about 2,000 feet south on Wakara Way.
They cart in two 90-pound canisters of compressed nitrogen, each pressurized at 2,000 pound-force per square inch (psi), and a 5,000-feet bundle of FutureFLEX® ABF.
The job begins and ends in a room not much larger than a closet – site of the main distribution frame (MDF), a cable rack that interconnects and manages telecomm wiring.
ABF succeeds the old way of installing cable – pulling it with Muletape, a time- and labor-intensive process. According to the FutureFLEX website, with ABF, two people can install one mile of cable in 45 minutes. Using the conventional pulling method, it might take up to eight people two or more days to pull a single mile of cable.
Two modes of force are in play in ABF operations. The casing that sheaths the fiber bundle is dimpled like a golf ball, allowing it to catch the air and grip a spinning rubber drive wheel. The second force is the "air" itself (dry nitrogen in this case) which propels the fiber at speeds of 100 to 150 feet-per-minute, though Johnson dials it down to make the feed more gradual and reduce the risk of snagging.
Unfortunately, a half hour into the job, at about the 500-foot mark, the fiber gets caught up. Johnson tries a couple "bumps" – quick taps of air – to clear the obstruction before concluding: "We're stuck."
Johnson heads outside to the nearest manhole to meet up with Mulleneaux, who climbs down to get a closer look. No apparent blockage there, or at the next manhole, but they spot the problem at the third – the fiber is caught on a coupler.
Back in business, Johnson heads back while Mulleneaux continues on to the final destination. Once the fiber arrives, Mulleneaux calls Johnson to let him know.
All in all, a successful feed, but the men are just beginning the meticulous process of stripping, cleaning, cleaving and fusing the fibers – Johnson's "favorite part of the job."
Node 4
Our monthly newsletter includes news from UIT and other campus/ University of Utah Health IT organizations, features about UIT employees, IT governance news, and various announcements and updates.
Categories