Meet Your Colleagues: IT Service Management Process Support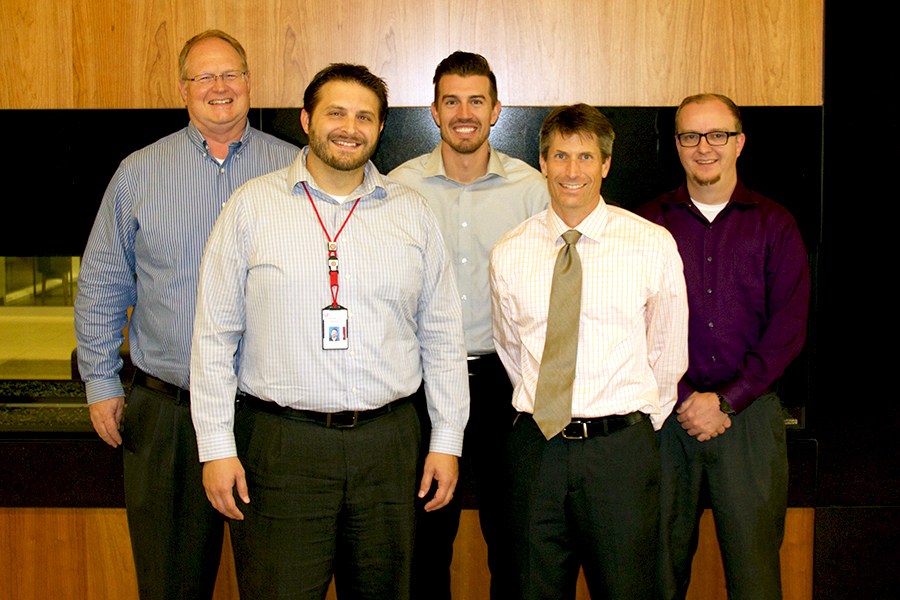 Maybe you've heard of ITSM and ITIL. But what are they – other than two more acronyms to remember – and how do they relate to how services are delivered and supported at the University of Utah?
ITSM is short for Information Technology Service Management. Broadly, ITSM is a strategic framework to ensure the right processes, people and technology are in place around an IT service – in other words, the art of making an IT organization run. ITIL is Information Technology Infrastructure Library, a library of service management best practices that provides a common language for IT organizations.
ITSM and ITIL have a symbiotic relationship and are inextricably intertwined. ITIL establishes rules that govern ITSM – the overarching goal being to deliver increasingly efficient and predictable service levels. Or as ITSM Process Support Manager Jeff Shuckra put it, making University Information Technology (UIT) and Information Technology Services (ITS) "a lean, mean operational machine."
ITSM Process Manager Craig Bennion in UIT works alongside the ITSM Process Support Team in ITS, which is composed of Shuckra and Process Analysts Riley Barlow, Brandon Morin, and Ben Poulson.
One of their central functions is supporting users of ServiceNow, the common service management platform management tools used by both organizations. One way to think of the ITSM team is the front face of ServiceNow. Whereas Service Management Platform Services is the tool's back-end support team, ITSM Process Support helps users manage ServiceNow tickets.
"When ServiceNow was first launched, we did a lot of super-user training on the tool," Barlow said. "Training allows everyone to follow the same processes. It's always rewarding to see people evolve with the tool [and] get to see that growth curve."
Their central role is helping to manage three distinct yet related processes.
"We're here to help the dozens of IT teams at the University follow the same processes and become more efficient at change, problem and incident management," Shuckra said.
Before getting to "change," a quick clarification on "problem" and "incident." A problem is the cause of an incident. To borrow a medical metaphor, the disease is the problem and the symptoms are the incidents. As a doctor uses symptoms to diagnose the disease, problem management uses incidents to diagnose the problem.
Resolving an IT problem involves running a root cause analysis, establishing a permanent solution, and proactively preventing new incidents while reducing or eliminating recurring events. The goal of incident management, meanwhile, is to restore IT services to normal operating levels as quickly as possible, minimize service disruption, and ensure that agreed-upon levels of service are maintained.
A change is simply any alteration to an IT product or system, such as installing new/retiring old hardware, updating software, or implementing a new service. Bennion and Shuckra's team facilitate a weekly Change Advisory Board (CAB) meeting at 102 Tower, during which proposed changes are considered. Changes are defined based on their necessity and risk: labeled "standard," "urgent," or "emergency." The board evaluates the business need of the change, risks and resources required, and avoids potential conflicts, like prohibiting non-standard changes during a change moratorium.
"We help people requesting a change understand the process, making sure that everything in a [change request] is filled out correctly, that they've thought the change through, reviewed blackout schedules, and classified it correctly," Poulson said.
Each member brings their unique talents and perspectives to the team.
Bennion has been an IT process manager at the U since 1981 and likes to "solve problems, and help my colleagues become responsive to the organization's needs." Bennion is also an accredited ITIL instructor who leads an ITIL Foundations certification program for IT staff. He will be joined this year by an additional instructor, ITS Service Desk Manager Michael Madsen, allowing for more training opportunities. Visit this webpage to review the ITIL course schedule, read an overview of the program, and register.
Shuckra was a change and release manager at the U prior to his current role. He sees his job as "meaningful work that helps improve efficiencies for the organization and keeps things safer, not only in terms of IT systems, but also patient care."
Barlow, formerly an IT manager for a Texas-based company, "just really likes working with the people."
Morin, who previously staffed the ITS Service Desk, echoed that sentiment.
"I like how we get to work with a lot of different groups," Morin said. "On the service desk, you're working with end users, but in this group you're able to have a lot more face-to-face with interactions with different IT groups."
Before joining the team, Poulson, who has an information systems degree from the Eccles School of Business, worked in a variety of system and fiscal analyst positions. His decision to serve the U Hospital and Clinics is a bit more personal.
When his brother was 3 years old, the toddler lost his leg after being run over by a lawnmower. Were it not for the heroics of hospital staff and surgeons, Poulson said it could have been much worse.
"I look at what I do as a way for me to give back to the hospital that saved my brother's life," he said.
Node 4
Our monthly newsletter includes news from UIT and other campus/ University of Utah Health IT organizations, features about UIT employees, IT governance news, and various announcements and updates.
Categories