Kudos & Congratulations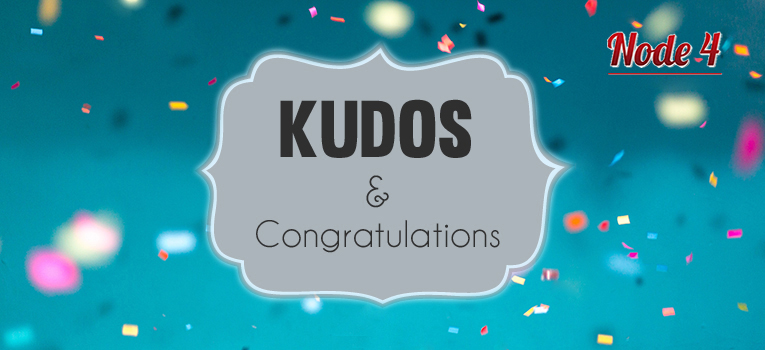 Congratulations to Tim Goodale and Tyler Sauer (Network and Communications Infrastructure) for winning the November 2017 prize drawing!
UIT staff recognized for their excellent work
---
I'd like to give a big thank you to everyone involved in the Call Recording Upgrade project. This project would not have been successful without the below individuals' help and support:
Darren Cole and William Gleich, Enterprise Server Management team
Steve Evertsen, Elvin Robertson and Brad Millett, Database Services team
Jake Johansen and Steve Bronze Adams, Security team
Corey Winn, UMail team
Daniel Thor, Backup Management Services team
Tyler Kanegae and Aaron Bailey, WFO QA team
Joshua Butterfield, Logan Steele, and Helga Rivetti, WFM team
Julia A. Harrison, Tony Jess, Doug Johnson, Brent Ridgeway, and Desirae Allen, Voice Systems team
Tyrel Marshall, Brad Zumbrunnen, and Ryan A. Millward, Network team
Stacey Wood, Matt Munro, and Peter Kulda, Desktop Support team
Brad Horrocks, Client Engineering team
PaulM Gentile, Monitoring team
Jody Sluder, Project Management Office
Syndi Haywood and Mike Ekstrom, Network and Communications Infrastructure, for their leadership
~ Vijay Kammili, Network and Communications Infrastructure
---
Major Kudos to Allan Hill, Garth Devries, Camille Wintch, and Pat Burton, as well as our amazing business partners Kariann Hibbard, Emily Johnson, and Amanda May for modernizing our DARS/uAchieve Suite systems to a "state of the art" advising and retention platform.
Thanks to this team's efforts, prospective and current students can see degree plans and how their previous coursework fulfills university requirements, track their progress towards their degree, and plan their next steps to graduation. This effort also provides a modern foundation for the University's Student Success efforts and prepares us for our upcoming Transfer Initiatives.
Thank you all!!!
~ Mark Simpson, University Support Services
---
Kudos to Kim Tanner, Thanh Nguyen, Kevin Cai, Brad Millet, Rob Birkenshaw, Matt Munro, and Josh Grey. When I had an after-hours issue with a server, I assigned Kim's people the ticket and they were on it within 10 minutes. I already gave them all merit badges, but I am so grateful for their hard work in quickly diagnosing the problem and resolving it to get them back up. Those guys are on top of everything. I can't say enough about how awesome they are.
~ Beth Sallay, Network and Communications Infrastructure
---
Kudos to Chris Livingston and Tyrel Marshall who prepared all of the cabling and installed a new Netscaler at the Tonaquint Data Center for the move from the hot site to the TDC. Big job. Very well done.
Kudos to Ryan Millward, Adam Hughes, and Tom Warnick who worked overnight from 1:00 a.m. to 3:00 a.m. to fix the clinical network. Thank you!
~ Trevor Long, Network & Communications Infrastructure
---
Thank you to Stacey Wood and her team (Campus Computer Support) that provides such excellent support to Facilities all year long. Mary Smithing, Eric Voldness, and Mike McCloskey are on the scene every day meeting the demands of a large group of particular customers, and they do a great job. We also get occasional glimpses at other helping behind the scenes like Monte Shaw and Matt Munro, and I know there are others who have just managed to remain more in the shadows supporting us. Thank you for all of your hard work for us.
We have the pleasure of dealing with a lot of UIT resources who are supporting us here in Facilities, and sincerely appreciate the help we get from all of you. One who really made an impression lately was Josh Grey. Josh was brought into a conversation, dug in, and put in the work to thoroughly understand the issue. He presented the information and advised us beautifully and inspired confidence in both his skills and in UIT's support as a whole. Truly excellent performance and representation. A huge thank you to Josh and those who were with him in this effort.
~ Chris Stucker, Facility Operations
---
I just want to say that it is especially rewarding to come to work when the people you work with are positive, engaged and eager to work toward making UIT a valuable and respected resource for the University. This is exactly the situation I find myself in, so thank you product managers - Caprice Post, Roger Sarkis, and Cindy Liao – and thank you architects - Andrew Reich, Clint Criddle, John Pickett, and Kailey Larsen. Each and every one of you demonstrate that working hard leads to good outcomes, that working together leads to better outcomes, and taking the time to know your colleagues then leads to the best outcomes. Happy New Year!
~ Dave Huth, Product Management (CTO)

Anyone at the U can submit an item for Kudos & Congrats!
Submit your kudos and the UIT employees you commend will be entered into a monthly prize drawing. UIT employees who submit entries will also be entered in a separate prize drawing.
UITL members, directors, and associate directors are not eligible for prizes.
Node 4
Our monthly newsletter includes news from UIT and other campus/ University of Utah Health IT organizations, features about UIT employees, IT governance news, and various announcements and updates.
Categories