Meet Your Colleagues: Database Management & Platform Support Services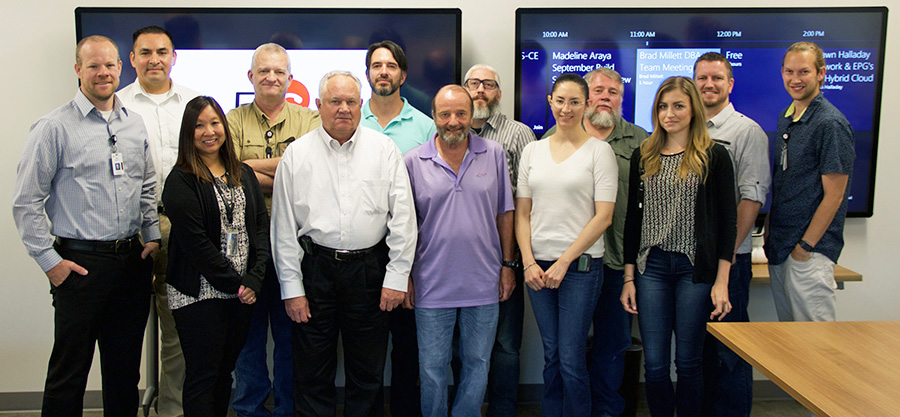 Infrastructure IT doesn't grab a lot of attention. Back-end services are invariably overshadowed by the user-facing applications they underpin.
But every high-profile technology owes its existence to lower-profile platforms. Take the database. Nothing would be on the internet without one, and without database management, University applications simply wouldn't exist.
"If the database management team goes, so goes every critical application," said Brad Millett, manager of the Data Management and Platform Support Services team. "Every enterprise application has to store its data. We provide the environment to do that."
Millett's 11-member team comprises staff from both Information Technology Services (ITS) and University Information Technology (UIT), an organizational change in place since January 2017, all reporting to Kim Tanner, associate director of Software Platform Services.
"On the hospital and campus sides, customers are different, funding is different, and some of underlying technologies are different," Millett said. "There are similarities and differences, but we're working towards coming together with a set of common standards."
The combined UIT/ITS team keeps pace with the product managers they support – for example, when UIT's University Support Services (USS) sets an aggressive timeline for an application release.
"We support the back-end of PeopleSoft, so whatever USS is up to, we're behind the scenes," said Technical Lead Rob Birskinshaw. "While we may not be the ones you typically hear about with all these upgrades, we're involved, playing a very central role."
Highly visible projects to which the team contributed include the recent Kronos migration, PeopleSoft 9.2 Financial Management System upgrade, the jump from the AIX operating system to Linux during the last fiscal year, an upgrade on two major versions of EPIC this past May, and consolidating Oracle's data warehouses and application databases at the hospital.
The team's overall technical focus is supporting and leveraging database management systems (DBMSs) like InterSystems Caché (hospital), Oracle, Microsoft SQL Server, and MySQL (campus). DBMSs are essentially the intermediary between the end user and underlying database, supporting campus- and hospital-side application development, research initiatives, and business processes. They run on everything from small Windows Virtual Machines to large "Big Iron" mainframes and broad Linux clusters – systems as small as 100MB to some as large as 35TB.
Data security is also a major component of DBMSs. Database management is at the front lines of cybersecurity – two disciplines no longer seen as mutually exclusive.
"Technology is always changing, the architecture changes, which affects how we do our jobs and how we respond to threats, too," said Technical Lead Dion Contreras. "It's challenging that way."
While there is no such thing as a "typical" work week, much of the team's activity centers around reviewing logs, emails, and alerts daily to ensure that systems are running correctly. Team members review tickets to make sure they're keeping up with service requests, in addition to working, collaborating, and mentoring with other team members to keep everyone current on different DB technologies. They also work on projects as assigned, as well as study, test, and investigate ways to improve internal systems, processes, and procedures.
In addition to technical leads Birskinshaw and Contreras, who act as supervisors between the management and technical teams, the rest of the team members are database administrators, levels 1-3. These designations are platform-agnostic; DBAs don't exclusively work with only Oracle or MySQL, rather, it's a title based on progression. DBA 1s are entry-level staff who focus on more operational tasks, while 2s and 3s act more independently, leading projects and representing the team. Certifications are always integral to advancement. Several members are certified in MSQL server, Oracle and EPIC, as well.
"As much as possible, we try to promote from within," Millett said. "Our goal is to hire high-performing individuals who have great talent, potential, personalities, work ethic, and character traits, then train them up on our database technologies, versus someone with years and years of database experience but we're not sure how well they'll blend with the team. In that regard, I can say we've truly been successful. I work with a great group of people."
Node 4
Our monthly newsletter includes news from UIT and other campus/ University of Utah Health IT organizations, features about UIT employees, IT governance news, and various announcements and updates.
Categories