Meet Your Colleagues: Service Management Platform Services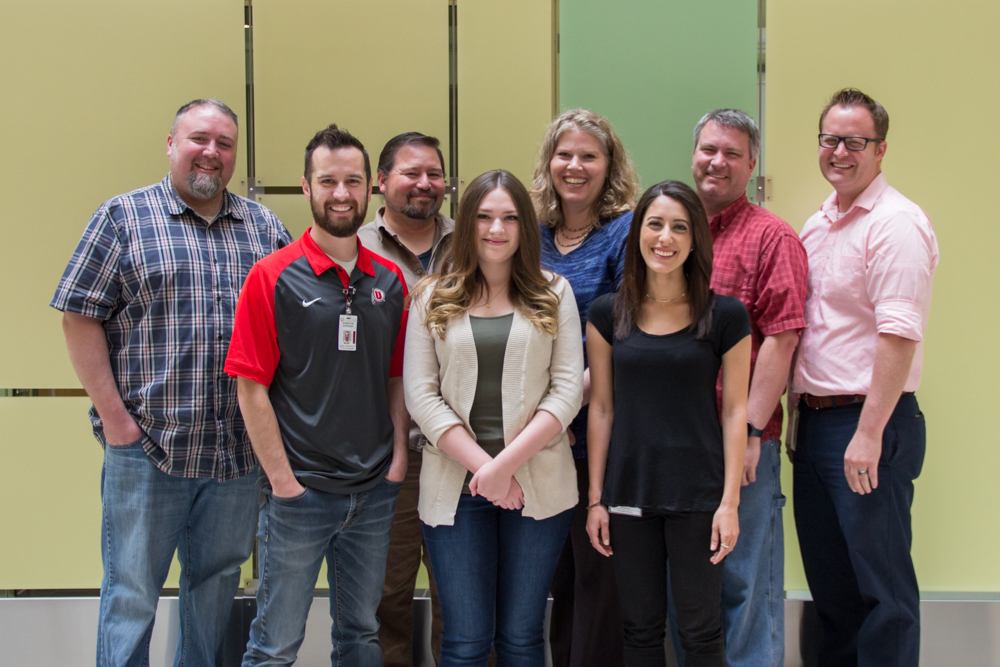 ServiceNow – the common service management platform used by University Information Technology (UIT) and Information Technology Services (ITS) – provides a number of critical services for the U campus and hospital, including the UIT Knowledge Base, the Service Catalog, IT trouble ticket submissions, work order requests, and ticket status dashboards.
And none of those services would be possible without the ServiceNow platform services team doing the work behind the scenes – most of which focuses on process improvement.
"On a typical day, we build processes that are requested through the system to help improve the work of the other teams throughout ITS and UIT," said Tracy McGee, application systems analyst.
Remington Sorenson, systems administrator, echoed McGee's comments.
"We do a lot of looking into other peoples' processes, so we get a chance to see a broad view of what everyone is doing across the University," he said. "It's fun for us to help them improve their processes, or make custom apps or requestable items that will make their lives easier."
One of the team's biggest objectives is to assist in the eventual collaboration across all UIT and ITS teams, so users can track tickets and processes, and be able to request help when needed.
The team also has a number of upcoming things they're excited about, including the potential to build custom apps using HTML5 and Angular, as well as creating responsive web applications. For now, though (and for the next 12-18 months), it's all about asset management and configuration management database, according to team manager Adam Howsley.
"That's our focus right now," said McGee. "That's all we're working on – trying to bring UIT and ITS asset management together into one, to get back into that idea of collaborating."
"This team is very collaborative in itself," he added. "We spend a lot of time talking about the processes and working together to make the best tool. And that often turns into a lot of fun and a lot of good conversations."
Spend any amount of time with the team, and it's easy to see how well everyone gets along from the sheer amount of laughter and jokes in the room. Collaboration is key in all aspects of working for a University, and the service management team leads by example.
"I like that our team is trying to do our best not to silo information. We're all experts on different things, but we all get to see what everybody else is doing and try to spread that expertise around," said Sorenson.
Kim Fuller, service management systems administrator, added, "There's always a new challenge or something unique around the corner. Our requests and things that we're building are as unique as the different teams themselves, so it's a lot of interesting and different work."
Node 4
Our monthly newsletter includes news from UIT and other campus/ University of Utah Health IT organizations, features about UIT employees, IT governance news, and various announcements and updates.
Categories