Photos: 102 Tower Halloween festivities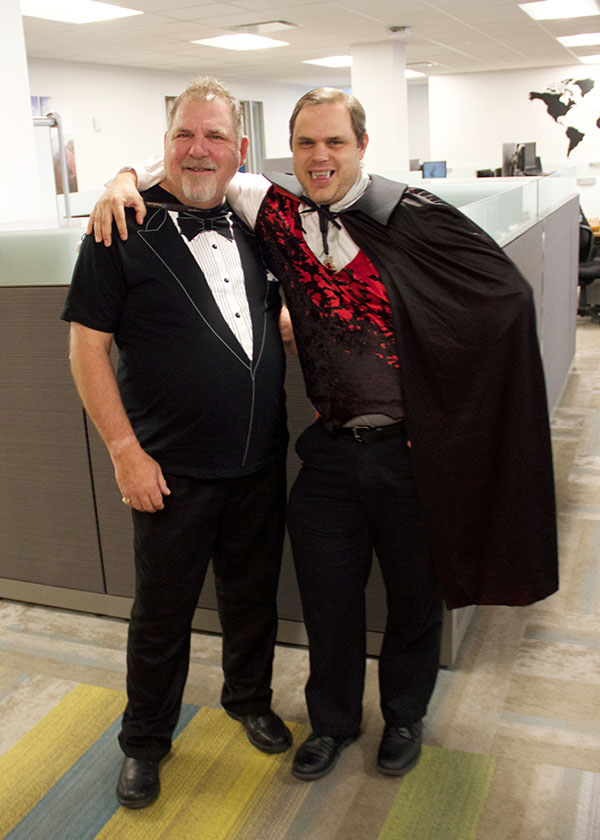 Rudolph's prospector pal Yukon Cornelius, the "Clue" crew, and holdouts from Jurassic Park could only mean one thing – creativity was on the loose October 27 at the inaugural Halloween event at 102 Tower.
Employees from University Information Technology (UIT), Information Technology Services (ITS), University Medical Billing (UMB) and Enterprise Data Warehouse (EDW) outdid themselves decorating cubicles and one-upping colleagues with fun and inventive costumes.
Festivities included spooky decorations, refreshments and Banbury Cross donuts on each floor, and parents bringing their little ones to the office for trick-or-treating.
Halloween events are a great way to make the workplace a little more lively (especially if you're undead), and we think this year bodes well for future Halloweens at 102 Tower.
Photos of the event are below:
And the winners are ...
Best themes
Best floor – UMB, 2nd floor (Jurassic Park, Ghostbusters,
Day of the Dead, etc.)
Best team effort – ITS Training Team (Clue), 3rd floor
Best costumes
Liz Peterson, 3rd floor
Hospital Financial Systems
Riley Barlow, 5th floor
ITIL Process Support
Todd Smith, 5th floor
UIT Account Executives
Best decorating
Best individual effort –
Liz Peterson, 3rd floor
Hospital Financial Systems
Best entry off elevator
UIT Voice Systems and Project Management Office, 5th floor
Best interactive – EDW maze,
7th floor
Node 4
Our monthly newsletter includes news from UIT and other campus/ University of Utah Health IT organizations, features about UIT employees, IT governance news, and various announcements and updates.
Categories