Meet Your Colleagues: Service Coordinators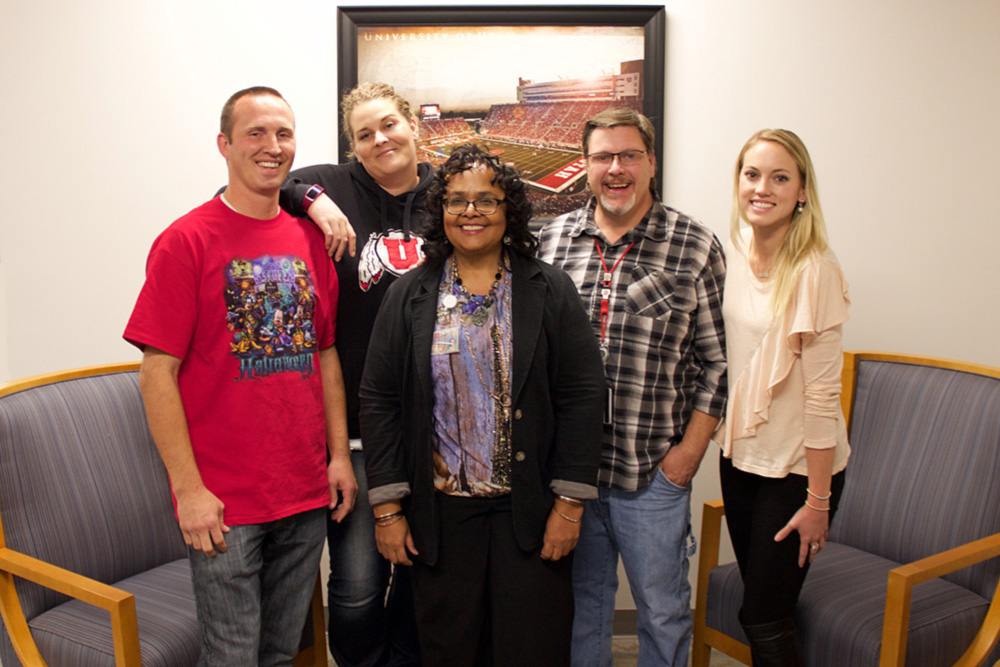 Being busy is bearable when you can lean on the people you work with. Nothing tamps down stress like a laugh.
Spend a little time with UIT's Service Coordinators in Network and Communications Infrastructure and it quickly becomes apparent that the recipe for their success includes a little levity and a lot of grace under pressure.
"We have a close relationship, and we have fun," said Lead Service Coordinator Eric Jensen.
"The décor is evidence of that," added Service Coordinator Cory Hale, referring to how the team has gone all out with Halloween decorations this year.
Working in concert with UIT account executives, the service coordinators schedule installs, changes, moves, and disconnects of every phone on campus and hospital (excluding Huntsman Cancer Institute). They coordinate between the vendor CenturyLink, UIT telephone installers, and end users to make sure phone/voice systems are programmed and working correctly, and also ensure accurate billing. On top of all that, they're a second-tier help desk, spending about half their time on the phone with internal customers.
"I still kind of get a charge when someone presents me with a problem that I can dig down and solve," Hale said.
In addition to problem-solving, the job requires patience.
"I can be dealing with something that's kind of upsetting, get done, then the phone rings. and I'm back to normal," Jensen said.
And then there's translating.
"There are a lot of things that people just expect us to know, and we have to dissect it," Jensen said. Hale agreed, adding, "You develop a kind of intuition for what people are asking for, regardless of how they articulate it."
All of the team members arrived with slightly different backgrounds – Samantha Lankford was an account executive; Hale worked a customer service position at University Print and Mail Services; Jensen was a network cable installer in UIT for 14 years, starting just out of high school. Ariel Baughman, who's concurrently pursuing a mathematics degree at U, is the newest addition. She previously staffed the front desk of 102 Tower, and has been busy training on the various voice platforms – Avaya, Skype for Business, Centrex and some legacy systems.
Part of the group dynamic is the kind of playful teasing you find in many tight-knit families.
"He's like the brother I never had," Lankford said of Jensen. "We pick on each other a lot."
Other than the camaraderie, what are their favorite parts of the job?
Lankford enjoys the programming aspect. Jensen, who Lankford jokingly chides as "Mr. Grumpy," defiantly said he's a people person.
"For me it's the people – the people I work with and the people we talk to," Jensen said. "For the most part, the people putting in the orders are always the same people, so you're talking to them all the time. So you can have a fun, snarky conversation, and it's okay because they know you and you've built a relationship."
"I really enjoy working with you guys," Baughman said, "and I especially like working for the school that I attend."
Syndi Haywood, associate director of Voice Systems and Business Administration, appreciates the team's dedication.
"I could not be more proud of them, from where they've come from, and the heart they put into their work," Haywood said.
Node 4
Our monthly newsletter includes news from UIT and other campus/ University of Utah Health IT organizations, features about UIT employees, IT governance news, and various announcements and updates.
Categories