Note: This column is part of a new semi-regular feature that highlights current events in UIT's network operations group.
Network News: ACC Project Part 2 – Pathway engineers work their magic
Surprise conduits give cable teams a chance to shine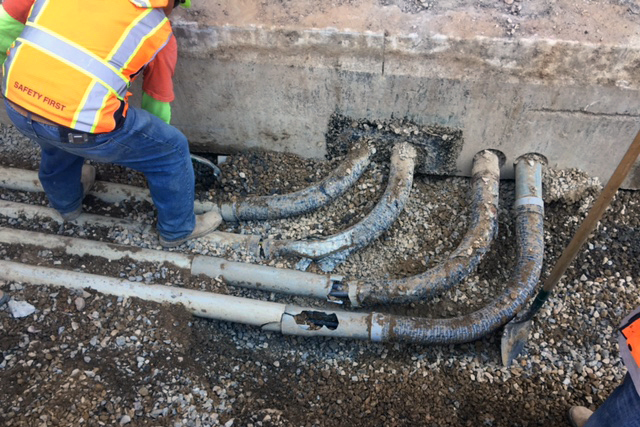 Excavating for the Ambulatory Care Complex (ACC) project, a Jacobsen Construction Co. employee dug in with his backhoe. He went in shallow, the teeth of the bucket cracking the casing but not damaging the contents of four conduits feeding into the University hospital. No one knew they existed.
The ACC – part of a larger plan to construct three new world-class facilities on the U's health sciences campus – sits directly over a major "backbone" of the U's fiber optic network infrastructure.
Two of the "surprise" conduits were main phone cables feeding into the West Pavilion, while the other two contained fiber that provided service for patient monitoring, the hospital network, and West Pavilion phone service.
Prior to the discovery, the ACC "east feed" project already included 15,000 to 17,000 connections (phone, fiber, etc.). As Tim Goodale, senior product manager in UIT Pathway Engineering, put it, "Basically, everything that was running through a manhole had to be moved to all new infrastructure."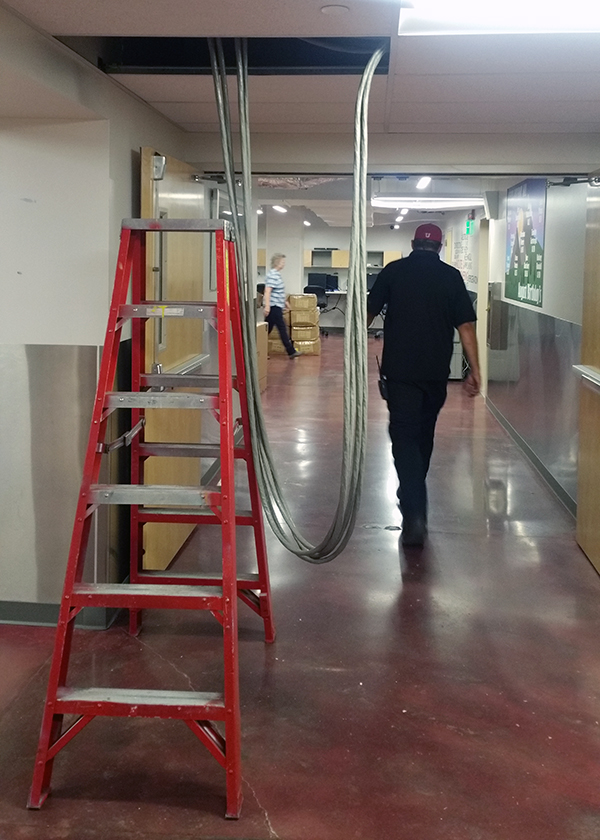 This feed had already demanded more than 500 hours of mapping and discovery work by Goodale's copper and fiber optic cable teams, but they handled the late addition with poise and professionalism. Snags are part of the job – often quite literally.
The feed progressed without causing any major delays to the construction company's schedule, nor was there any impact to indoor air quality or patient care – just the occasional ladder in a hallway and telephone cables hanging from the ceiling tiles (pictured at left). Air quality is an often overlooked aspect of a project like this, but it's an important consideration when you work in patient care areas with either positive or negative air pressure. Crews underwent special above-ceiling and barrier training.
"Nothing about this was easy," he said. "It sounds simple enough, but nothing was simple or straightforward. This was a huge undertaking."
The fiber team designed a new pathway inside the hospital to move the necessary connections out of the external conduits. Cache Valley Electric Co. pulled the new fiber and electrical cables. Once all the cabling was in, Goodale's teams switched old to new connections one-by-one in conjunction with UIT's Network Team, avoiding any interruption to hospital operations (most of this was weekend work). Bio-Med IT Manager Danny Stott coordinated with nursing staff, UIT Project Manager Earl Lewis, and Fiber Team Technical Supervisor Destry Mulleneaux to make certain that each individual connection was not in use as it was switched.
At this point, UIT's Voice Systems Team came in to install digital cross-connect systems (DACS), telecommunication-specific circuit-switching devices used to route voice/data pathways. The Copper Team led by Technical Supervisor Dennis Johnson helped with additional punch-downs (electrical connections used in telephony).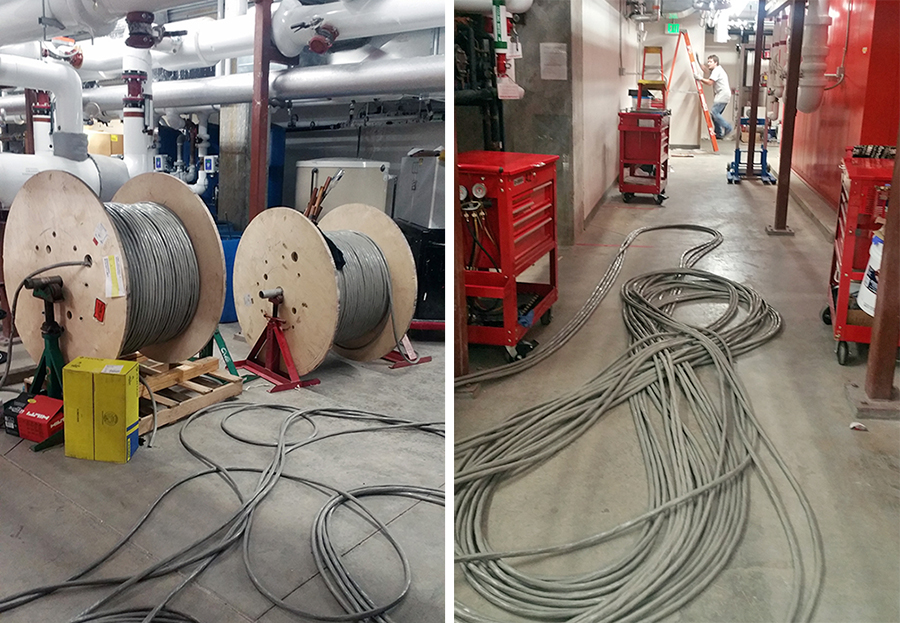 Heaps of credit goes to the Fiber Team (Goodale, Mulleneaux and Fiber Techs Zach Adams, Brayden Ashton, Nick Pringle, and Zack Gutierrez), with support from Mike Tyler on the Copper Team. They all took point on getting the overall pathway installed, including all engineering designs.
The east feed project, including the relocation of the unanticipated conduits, wrapped up in early September. Goodale said the focus now shifts to the west feed, set to begin at the end of the month and completed as soon as possible (an estimated 4 to 5 weeks).
With the new east feed, and west feed starting up, the ACC will ultimately have physical pathway redundancies – duplicate feeds – so should a connection be lost on one side, it will roll over to the other, and vice versa.
"It's impossible to overstate the importance of redundancies in our infrastructure," Goodale said. "It used to be if power went out in building, people went home. But now with so many people working on laptops and other mobile devices, it's only when the network goes out that they go home."
Node 4
Our monthly newsletter includes news from UIT and other campus/ University of Utah Health IT organizations, features about UIT employees, IT governance news, and various announcements and updates.
Categories