UIT Leadership Spotlight: Lisa Kuhn, Chief Financial Officer for UIT/UETN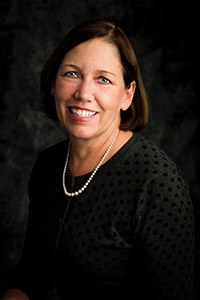 Where are you from originally?
Houston, Texas. My family and I lived in Houston, then Illinois, and then moved to Utah. I've lived here since I was 14 or 15. This is my home.
What post-secondary degree(s) do you have, in what subject(s), and from which school(s)?
I graduated from the University of Utah and have a bachelor's degree in accounting, and then I went on to receive my CPA (certified public accountant) license. I've maintained my license ever since.
What led you to the University of Utah?
I started working here part-time as an accountant, and I was continually promoted from within, because people believed in what I did. I gradually increased my hours per week as my kids got older. Eventually, I went on to oversee the financial departments for UEN and UIT. The university was flexible with my family, and for me, it was worth it. You appreciate someone working with you and with your family, and that's really what happened for me.
Can you describe the path you took to IT leadership?
I'm good at what I do, and my people are very good at what they do. UIT leadership believed in me. I'm a hard worker, and I try to provide information people ask for in a format that is meaningful. It just worked out that I ended up in IT leadership. And I think my team and I do a good job.
How would you describe your leadership style and/or philosophy?
I hope I clearly define what I need from somebody - the end product. I think that most people don't want to be micromanaged at all. I think they want to be told what you need from them, and what the minimum requirements are. If people know what "done" means, and if "done" is accurate - that's what matters. Realizing that people have different styles and methods of getting there, and that that's ok, is important.
At the end, we divide up the work, and everyone has to support each other. It's really a team thing. Most people really want to do a great job. And I'm a believer in that.
What do you enjoy most about your role at the U?
I like working with the people. I'm fortunate because I like the people who work for me, and the people I work with on campus. They're really good people. My team and I appreciate providing the information requested by other people in an accurate format that is understandable and meaningful.
What do you find most challenging about your role?
Getting the information that I need, in a format that I understand and that I feel confident with, and which I can confidently present and say, "I stand behind this 100%."
What are some of your hobbies?
I enjoy being outside. I walk almost every day around my neighborhood with my dog. I go hiking, and I've done quite a bit of traveling. Last year we went to Bali and Tokyo. After my kids got older, I thought, "I want to go see places." So I always try to book a couple trips a year. I also ride my bike a lot. My favorite ride is Emigration Canyon.
Is there a fun fact about yourself that you'd like to share?
I have five kids - they're all grown. My oldest is 32, and my youngest is 27. One lives in Tokyo, one lives in Chicago, another is graduating from medical school and moving to Miami, and I have two more kids who live here in Salt Lake.
Is there anything else you think readers would like to know about you?
I really and truly enjoy working at the U. I love the U. It's been very good to me, and I enjoy it. I like coming into work, and I like working with the people here. I think I'm very lucky.
---
Other UIT Leadership Spotlights: Ken Pink and Tom Cheatham.

Node 4
Our monthly newsletter includes news from UIT and other campus/ University of Utah Health IT organizations, features about UIT employees, IT governance news, and various announcements and updates.
Categories