UIT Leadership Spotlight: Steve Hess, Chief Information Officer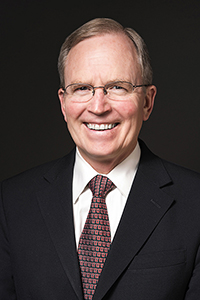 Where are you from originally?
Farmington, but I've lived in Bountiful for the past 42 years.
What post-secondary degree(s) do you have, in what subjects, and from which school(s)?
I received my bachelor's degree from the University of Utah, with a major in history and a minor in psychology. I also earned a secondary teaching certificate and media technology endorsement, and leadership endorsement for secondary schools. I went on to obtain a master's degree in educational systems and learning resources, and Ph.D. in educational administration for higher education with an emphasis in technology leadership [from the U].
What led you to the University of Utah?
While a graduate student, I was hired on as a graduate assistant and teaching assistant for the College of Education. I was then hired as director of the Education Media Center. Later, I was given responsibility for Instructional Media Services, University of Utah Press, and KUED and KUER, and became associate vice president for University and Student Relations. Then I became the founding director of the Utah Education Network and helped with the Eccles Broadcast Center and addition. I was CIO from 2007 until I retired in 2011, but came back in 2014 to work for the university's Procure to Pay project and later assumed my old job.
How would you describe your leadership style and/or philosophy?
My leadership style is collaborative. I believe in bringing the group together as a whole, to make sure they have some kind of say in what we plan to do. I want the people who work with me to enjoy and have a fulfilling job. I like to make sure that we have a plan going forward and that everybody knows which bus they're on, what seat they're in, and what their responsibility is. It's important that people are properly trained in order to go forward and be successful in their job. Then I delegate, parse out the assignments and get things done … but it's always collaborative. We always work together, and to me, it is all about serving the customer.
What do you enjoy most about your role at the U?
I really want to empower students and faculty to have the very best experience. I know that technology provides us with video games, movies, and TV for entertainment, but my driving influence is to provide technology services where kids get a better, more affordable education. That's my motivation and why I've spent my whole career here.
What do you find most challenging about your job?
The most challenging aspect is also the most exciting — getting people to work together toward a common goal. I like to make sure we're all pulling in the same direction and that we're aligned with the university's direction, like the four strategic goals. I meet with the deans all the time, and they trust us. That means a lot to me.
What are some of your hobbies?
I run every day, three miles. I've run some 10Ks and 5Ks, but I don't do it often. I just like getting out and running. I read while I run on a treadmill — I've perfected that. Or I'll have headphones in with an audiobook. My other hobby is helping my kids with remodeling jobs, electrical, plumbing, framing, and sheetrock. I've remodeled five basements. That kind of thing is very satisfying to me.
Is there a fun fact about yourself that you'd like to share?
I managed the food department at Lagoon for many years as I worked myself through school. And I helped start Utah Food Services, a Lagoon company. I worked at Lagoon in the summer and catered and went to school in the fall, winter, and spring. When I travel and I'm near an amusement park, I'll stop and ride the roller coasters. I love roller coasters.
Is there anything else you think readers would like to know about you?
I just care about this place and the people I work with. I've been here 43 years now, not counting the time that I went to school. The University of Utah is a fantastic place to work, and for me, it's all about running an excellent service for faculty and students, making sure that they're taken care of and have the very best technology support for school.
---
Two recent UIT Leadership Spotlights: Tom Cheatham and Lisa Kuhn.
Node 4
Our monthly newsletter includes news from UIT and other campus/ University of Utah Health IT organizations, features about UIT employees, IT governance news, and various announcements and updates.
Categories