UIT Leadership Spotlight: Ken Pink, Deputy CIO
This month we're introducing a new feature article for Node 4: UIT Leadership Spotlight. On a regular basis, we'll interview a member of the UIT Leadership team and post the questions and answers here.
---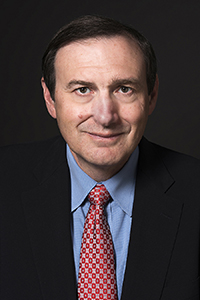 Where are you from originally?
I am originally from New York City - The Bronx. My family and I moved out to Queens, and then Long Island, New York where I lived until I joined the service in 1975 at age 19. I moved to Texas, then Colorado, and then to Utah in 1976.
What post-secondary degree(s) do you have, in what subject(s), and from which school(s)?
I have a Bachelor of Science in Finance and Computer Science from the University of Utah, and a Masters in Business Administration from Utah State University.
What led you to the University of Utah?
I spent most of my career in the private sector in IT and business operations. I wanted an opportunity to see how that could translate into the public sector and to contribute to the education and advancement of our youth.
Can you describe the path you took to IT leadership?
I started as a C programmer many years ago. I recognized that I was not a great programmer, so I switched to being a Network Engineer. At one point, I ran all the networks for a Fortune 50 company across the entire country, installing some 150 networks in our divisions and customer sites. As that number grew, I had to hire engineers and set up support structure, so I got into management. That led to a director position, then an AVP position, and finally, I became a CIO at three different companies. I always believed that to be a great IT leader, you needed to understand the business you were in - that led to several COO, President, and CEO roles that were operations-based. I always came back to my passion of technology.
How would you describe your leadership style and/or philosophy?
I would describe my leadership style as collaborative and empowering. I want the people who are managers and directors to work towards goals. I help them understand what we need on a big-picture basis and then let them accomplish those goals in a manner that works best for them. I try to mentor them in their approach and then smooth out roadblocks without doing their jobs for them. I think that helps build independence and accountability.
I help make the hard decisions when necessary, but try to direct them to get to the place that is in the best interest of the institution and the people that we are trying to serve. I am also very customer-focused and try to make sure the goals we are trying to attain are consistent with the organization and take care of our customers' needs.
What do you enjoy most about your role at the U?
I enjoy building teams and mentoring managers and directors to learn to work with their own style to accomplish our goals. Are the things we are doing now satisfying needs? How will that change in the next 1, 3, or 5 years? What are we doing to prepare to meet those needs? I enjoy helping our associates and managers understand that and build out the plan to make it successful.
What do you find most challenging about your role?
Every job has the same challenges: it is easy to make changes, and it is difficult to consistently implement them and remain actively on the course. Mentoring people is both fun and challenging; some people want to actively own their careers, and others just want to work so they have enough money, and then all those in between. Everyone needs to be treated in a way to maximize their potential, and we are all different.
What are some of your hobbies?
Woodworking, home improvement projects, bicycle riding, and helping my daughter run our UPS stores. Golf and tennis are also hobbies I enjoy. My past professions include construction, picture framing, professional photographer, and bowling alley mechanic.
Is there a fun fact about yourself that you'd like to share?
Maybe that I played and lost a tennis match against John McEnroe in the second round of the USTA tournament, or that I was part of a panel at Comdex that included Steve Jobs, Bill Gates, and Phillipe Kahn (Borland). Also, I was in the top 75 in the US for table tennis and played in the US Open twice. Finally, I was recognized by the PPFA (Professional Picture Framers Association) Guild for a paper on the care of works of art on paper.
Is there anything else you think readers would like to know about you?
My family and I have lived in Utah since 1976 with two stopovers for careers in other places. I have three children: Angie, who is married to Jaime Loredo, runs our six UPS stores, and has our two grandkids Adrian and Samuel; Jennifer and her husband, Brett; and Michael, who is a student here at the University, majoring in Math. I got three amazing kids out of life.
I started my first business at 15 - cleaning offices at night. When I was working at Harmons, we won the Retail Technology Chain of the year (competing against Wal-Mart, Target, and Kroger, among others). I also wrote a column for RetailTech Magazine for three years while at Fleming and Harmons.
Other UIT Leadership Spotlights: Lisa Kuhn and Tom Cheatham.
Node 4
Our monthly newsletter includes news from UIT and other campus/ University of Utah Health IT organizations, features about UIT employees, IT governance news, and various announcements and updates.
Categories