UBenefits portal is now completely paperless
CHRO Herring: "Partnership with UIT was great"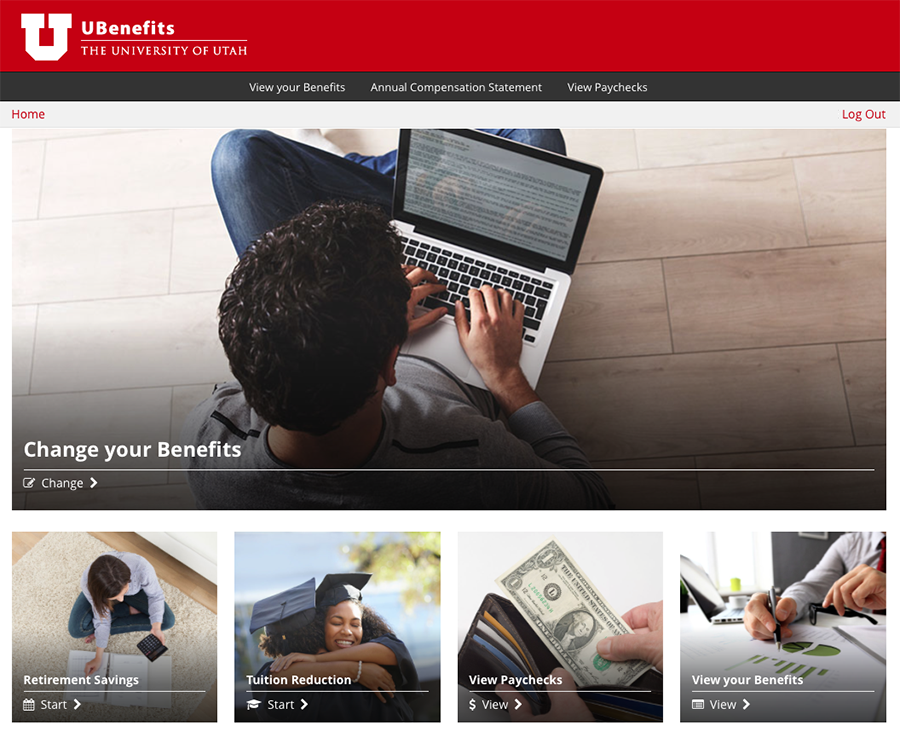 After about two years in development, the UBenefits web portal is now paperless.
Gone are paper forms required of University of Utah staff, faculty, and students for viewing and changing benefits, reallocating investment contributions, applying for tuition reduction, and viewing paychecks – actions now handled by PeopleSoft-integrated web forms within the application. This automates HR processes, eliminates duplicate efforts like data entry, and ends editable PDFs and hand-writing, error-prone practices that were also difficult to obtain data from.
"UBenefits was a top HR project and initiative, and we're excited to engage UIT in helping us develop this functionality," said U Chief Human Resources Officer Jeff Herring, who hosted UIT staff at a thank-you event in December. "Our partnership with UIT was great. The end result has led to a better experience for all of our employees, and more efficient processes for our HR team."
The project – which wrapped up ahead of schedule this past October – comprised many business partners, including UIT Project Management and Product Management, various teams in University Support Services (USS) like Engineering, Quality Assurance, and User Experience/User Interface (UX/UI), and the Business Analysis group in Financial & Business Services. The endeavor was led by UIT's HR web development team in USS and the Division of Human Resources.
"This is a huge step forward in terms of automating and making workflows more responsive, with real-time feedback and checks within the system," said Sr. Business Process Analyst Clay Postma. "It's been a huge effort that makes life easier for both HR and those who are submitting changes."
In addition to his development team, Doug Kenner, HR/Auxiliary manager in UIT, tipped his cap to Postma and Gary Carter, associate director for Product Management/HR, for "keeping the scope to what was agreed to."
The project used an iterative release strategy, rather than what Postma termed a "big bang" approach – deploying all modules at once.
Sr. Web Software Engineer Matt Edgren said that Agile-based approach allowed the rollout to go more smoothly.
"You can validate all of the assumptions that you've made on an every-few-weeks basis," Edgren said. "You don't want to complete everything in phase two only to discover a problem that requires you to go back and rewrite everything."
Helping to validate the process and establish "a tremendous feedback loop," Postma said, was the continuous involvement of end users. Because all employees use the UBenefits application, User Experience Developer Geoff Anderson appealed to employees early and often to test the product and ensure it meets accessibility meets university standards, from intuitive design to accessibility.
Node 4
Our monthly newsletter includes news from UIT and other campus/ University of Utah Health IT organizations, features about UIT employees, IT governance news, and various announcements and updates.
Categories