Meet Your Colleagues: Campus Computer Support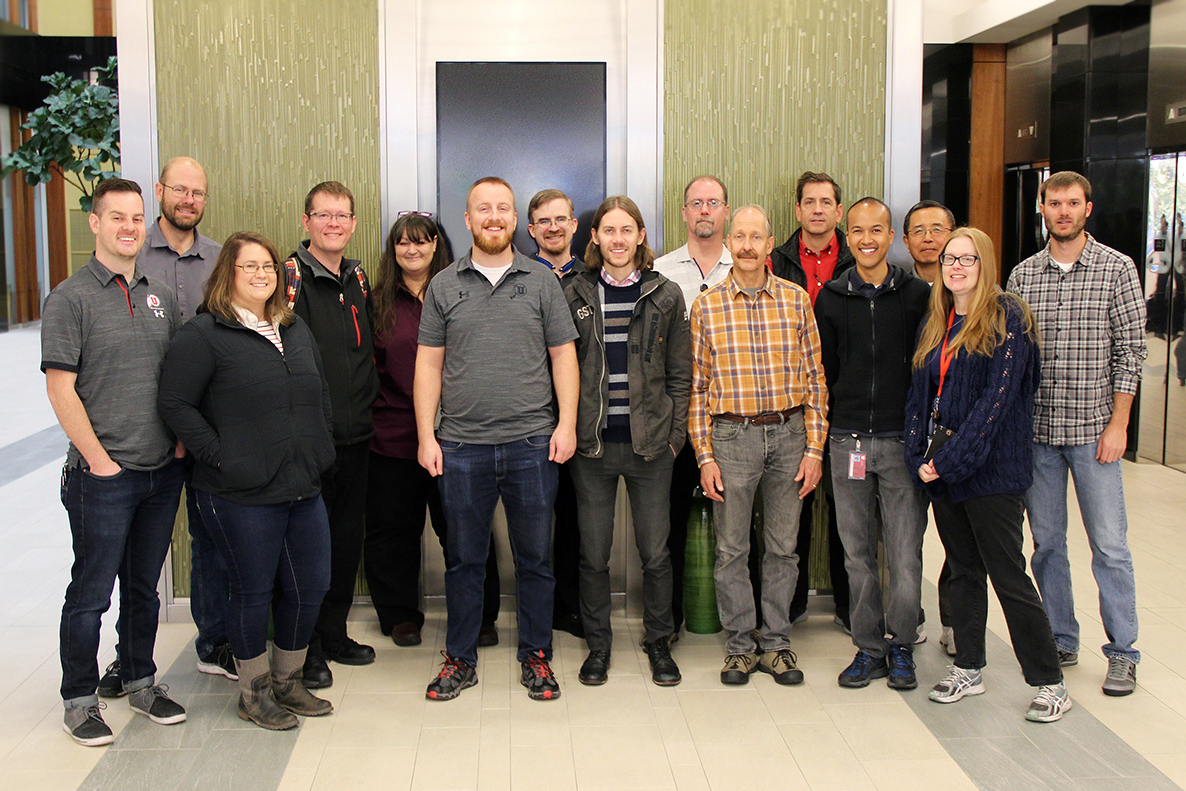 "Have you tried turning it off and on again?"
This generic "IT person" catchphrase, popularized by the TV show "The IT Crowd," is a funny line. But that's TV. In the real world, while it's true that reboots are a useful way to troubleshoot minor system errors, they hardly scratch the surface of what IT support means at an institution the size of the University of Utah.
Manager Stacey Wood said the U's Campus Computer Support team in UIT's Network and Communications Infrastructure unit supports more than 50 embedded and non-embedded organizations across campus and backs up others as needed. The team's focus is essentially three-fold: Customer support and needs planning; streamlining processes, creating standards, and automating processes where feasible; and fostering embedded computing environments that better align with campus infrastructure.
With an "experience spread" among her team members that Wood described as "started yesterday to worked here for 28 years," the team comprises a core support group based in 102 Tower, the downtown office location of many of the U's IT teams, in addition to embedded IT staff in Athletics, Facilities Management, Finance, and College of Mines and Earth Sciences (CMES).
Of all the impossible expectations attached to technology, perhaps the most unrealistic is that systems and devices should never break or slow down. When they inevitably do, the Campus Computer Support team springs into action.
Being pulled in many different directions requires the team to devote enough time to solve a single issue, but also fix it fast. Any time away from the tools necessary for users to do their jobs is a loss of productivity.
"With user support, we will do whatever we can to make their jobs efficient. That is our goal — do our best to find a solution to a problem," said Joey Yang, a core group systems administrator who works in University Support Services, where a software development group requires support for an ever-growing list of applications.
Along with quick, thorough technical repair, the team is committed to attentive customer service.
Core group Systems Administrator Beth Sallay said she enjoys the team's reputation as "fixers" and getting to meet so many different people.
"I feel like I could be embedded in every U organization I work with just because they're so great. Like, sometimes I'll take the long way out of [The Utah Museum of Fine Arts] just to say hi to everyone. We really develop good relationships doing this job."
Added Matt Munro, senior lead of the core group, "People sometimes say, 'I wish we could set aside an office so you can just stay here and work here.'"
Computer support — which core group Systems Administrator Monte Shaw called "the bridge between the customer and the technology" — often entails user education. If, say, user error is found to be the root cause, or if a fix requires training, setting a little time aside to teach some basics is worth it. Not only does this empower end users, it may help avoid the "break-fix" cycle (something breaks, they fix it) in the future. An ounce of prevention, as the saying goes, is worth a pound of cure.
"We try to be as proactive as possible," Wood said. "Our job is to know the ins and outs of every [operating] system and teach end users the best way to achieve their desired result."
So what kinds of services are the team responsible for? A list of core computer support services is shown at right. Embedded team members have their own niches, too. Facilities, for example, uses the geographic information system (GIS) ArcGIS, combined with custom MySQL-based scripting, to operate the U's campus map. In Finance, the data hierarchy of the Fortis payment system requires its own Active Directory structure.
CMES, meanwhile, manages expensive grant-funded devices like magnetometers, electronic microscopes, Faraday cages, and a variety of analytical machines. Specialized computer skills to support these devices go far beyond typical core services.
"What makes it challenging for us is, it might cost $5 million to replace a piece of equipment that only wants to be controlled by Windows XP," said Cooper Cazedessus, a systems engineer embedded in CMES.
Athletics, an area of emerging technology, is a large segment of the university that encompasses 21 organizations and 14 Division I NCAA sports in 13 buildings. A lot of behind-the-scenes work goes into keeping passionate coaches, athletes, and fans happy.
Stephen Nielson, a systems administrator embedded in Athletics, said his team manages all monitoring machines that statisticians use, down to the granular per-player level, which all differ by sport. They make sure that NCAA-required software is functioning properly, statisticians are getting data they can use, and all of this information is communicating properly with the scoreboard. Their IT support extends to national audiences, too. ESPN's sports ticker, for example, receives real-time information on Utes games from data transmitted from a local FTP server.
Supporting the technology needs for a nonbuilding-based sport like Track & Field is especially difficult.
"With track, we set up and run all the technology, cameras, and network applications to different locations," said Kirk Barlow, systems administrator embedded in Athletics. "There is no existing infrastructure, so we have to set everything up. That always makes for a long day."
Ultimately, campus computer support comes down to two things: one, making systems and applications run as smoothly as possible; two, helping end users to more do their jobs more efficiently.
"Learning new technologies is fun and helping end users is fulfilling. It's really rewarding in education, because you're helping someone who is helping society," said Christian Rawlings, a systems administrator embedded in Finance.
Campus Computer Support services
Note: This list represents core services and is not exhaustive
Hardware and software installation and support
Operating system installation and configuration (imaging and individual installation)
Software and OS upgrades and patching through manual and automated processes
Server consultation, build, run, manage for specialized server or application needs
Active Directory OU, group policy and group preference management
Connection to file services – through AD mappings, Kumo, Box drive, etc.
Storage management for on premises and UBox
Local and network printer setup and configuration
Email/PDA integration support
DHCP/IP management configuration assistance via Infoblox
Password maintenance
Virus and spyware protection, removal
End user software education
Troubleshooting, problem resolution
End user security audits
Email client support and email alias creation/ maintenance
Campus IT support liaison
Node 4
Our monthly newsletter includes news from UIT and other campus/ University of Utah Health IT organizations, features about UIT employees, IT governance news, and various announcements and updates.
Categories