UIT Leadership Spotlight: Jim Livingston, Chief Technology Officer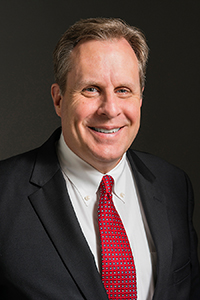 I drive a four-wheel-drive truck, which gets to the heart of who I am on a personal level. I grew up in small-town Utah, specifically Moroni and Mount Pleasant, where I spent countless hours helping my grandfather on his ranch and working for some local cattle ranchers and farmers. I enjoyed every minute of hauling hay, feeding and herding cattle, moving sprinkler pipe, and many other facets of ranch- or farm-related work. I later had the opportunity to work in construction, mostly in carpentry, which led to a love of woodworking — a hobby I spend a lot of time with today. My leisure time was spent in the mountains hunting, fishing or camping. I still love to fish and camp.
I grew up in an environment where family was very important, which is something that has always stuck with me. My wife, who is a retired certified public accountant (CPA), and I have six wonderful, talented children. We have a son who recently finished his Ph.D. in psychology and is doing a post doc; a daughter who is an artist; a son who is a database administrator (DBA); a son who is a martial arts instructor and knows several disciplines; a daughter who just finished her bachelor's in English literature; and a daughter who is a senior in high school and is a very talented piano player and writer. Family get-togethers are very fun and interesting, to say the least. I have an amazing grandson whom I adore and another grandchild on the way.
So how did a farm boy get into computers?
After high school, I moved to Salt Lake City and took a job at First Security Bank's operations center, where I was exposed to mainframe computers. I immediately knew my career path had to involve computers. I moved back to Mount Pleasant, enrolled in computer science at Snow College in Ephraim, bought an Apple IIe and spent every waking hour writing code. I became obsessed with writing code and knew that's what I wanted to do for a career.
I later took a job at First Interstate Bank, which was my first real job as a developer. After a few years, however, I'd had enough of corporate America and took a job as director of IT at Duchesne County Hospital. That job transformed my view on computers and software — I could see the unlimited possibilities of how computers could be used to help people and better our lives. At that point, it became my mission to make a difference through technology.
Twenty-nine years ago, I took a job at the University of Utah Hospitals and Clinics and have been with the U ever since. I've had a diverse career with various director-level and senior leadership roles, including the management of large system implementations like the first electronic medical record system for U hospitals and clinics, and many other exciting and innovative projects. I developed the first data integration engine for connecting disparate information systems that allowed U hospitals and clinics to share information to provide a more complete patient record. Since the integration engine was the communications hub for all of the organization's critical clinical data, I came up with the idea of creating a data warehouse before data warehousing was really a thing. I took the data as they passed through the integration engine and stored them into a central repository (data warehouse) that could be used for research, patient care, financial analysis and clinical operations. Over the years, I grew an amazing team of people with data warehousing expertise, and the data warehouse grew into a nationally recognized resource for research and clinical operations.
After passing the baton to Cheri Hunter, who has taken the data warehouse to amazing new heights, I have focused the past 10 years of my career on infrastructure, most importantly working with the main campus and health-care areas of the university to consolidate infrastructure and teams, which has been very rewarding. As part of infrastructure consolidation, I was fortunate to oversee the efforts to build a state-of-the-art data center to fulfill Steve Hess' vision of a consolidated data center for the U. My current role as CTO for the university has been a wonderful opportunity that has allowed me to tap into my diverse experience in IT and my education, which includes a bachelor's degree in IT and master's degree in business administration.
The highlight of my career, however, has been to work with so many bright and talented people at the U. I hope I have been instrumental on some level with helping people progress in their careers, which is probably the most rewarding aspect of my job.
---
Two recent UIT Leadership Spotlights: Steve Hess and Tom Cheatham.
Node 4
Our monthly newsletter includes news from UIT and other campus/ University of Utah Health IT organizations, features about UIT employees, IT governance news, and various announcements and updates.
Categories