Mapping out the future of GIS technologies at the U
Core GIS administration, development, and support moves to UIT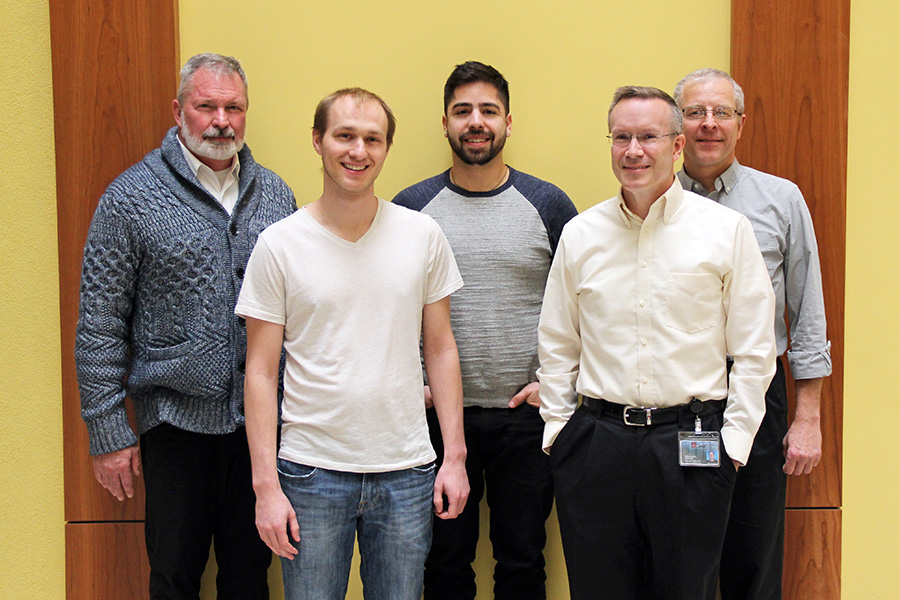 To foster the advancement of geographic information system (GIS) technologies at the University of Utah, core GIS development, system administration, and support responsibilities have transitioned from Facilities Management (FM) to UIT's University Support Services.
"GIS is an IT field. It's a very technical, engineering-based discipline, and it really belongs in a place like this with the resources to do any sort of integration with UIT systems," said Brett Archuleta, GIS systems administrator/developer.
The strategic decision to integrate University GIS (UGIS) into UIT is based on several factors. Quality Assurance (QA) Director Dan Thornley, who is serving a dual role as interim UGIS product manager, said that the demand for GIS services at the U has grown significantly since its inception.
In 2008, FM established a GIS team to collect and maintain utility-related spatial/geographic data about campus buildings. But as requests for university-wide GIS services grew, the burden on FM's financial and staffing resources became unsustainable, leading to an agreement between key university stakeholders in the fall of 2018 to shift back-end support for UGIS to UIT.
Moving technical components and housing GIS staff in UIT, Thornley said, takes advantage of the organization's robust infrastructure, processes, and support capabilities. UIT, Thornley added, is uniquely positioned to maximize the value and availability of existing GIS platforms, licenses, and technology, and enable future expansion of GIS technologies on campus.
Thornley is the chair of a UGIS subcommittee of the university's Architecture and New Technology Committee (ANTC) that will review, prioritize, and strategically guide GIS decision-making at the U. Membership is currently being filled under the direction of ANTC.
GIS, in a nutshell, connects data and geography. It's an IT framework that gathers, analyzes, and displays different layers of spatial information visually, often represented as a map — from navigation in our vehicles to weather modeling to population dynamics on a global scale. GIS incorporates technologies related to GPS, satellite imagery, and remote sensing.
"I look at GIS as Business Intelligence on steroids, because instead of simply collecting data, information and reports, this puts graphics to it and makes it very visible and understandable," Thornley said.
Here's a look at some current and future GIS projects and initiatives at the U.
Ongoing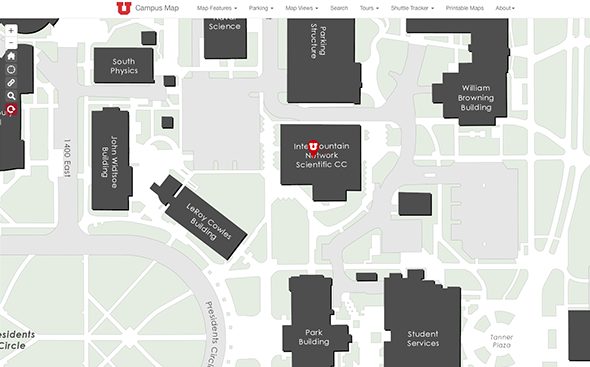 Solving a longtime need, the latest iteration of the online campus map was created in 2014 in a partnership between University Marketing and Communications (UMC) and the FM-GIS team. The campus map remains the U's most utilized GIS application.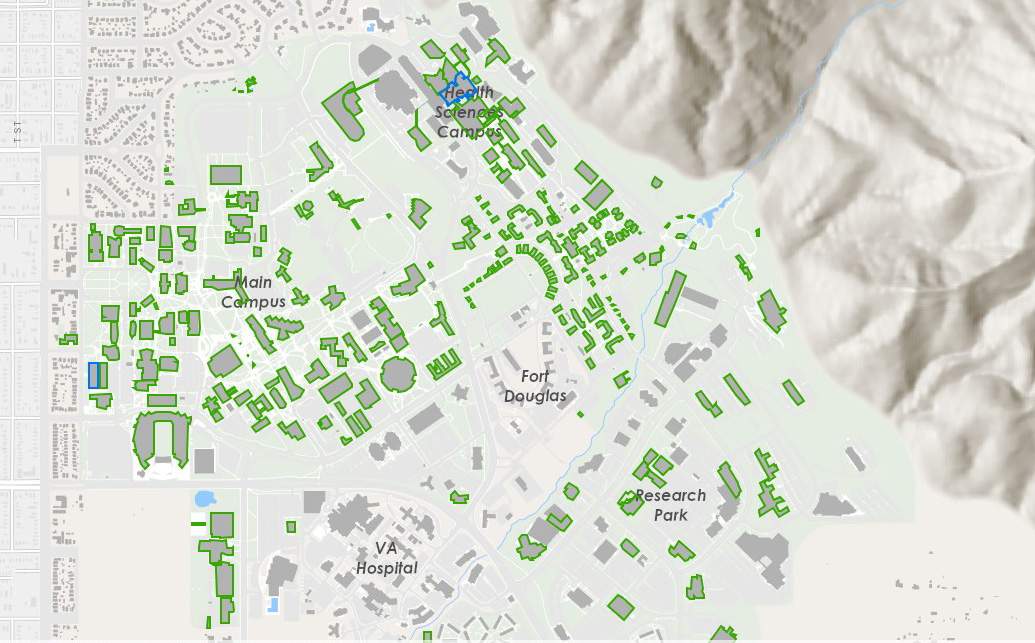 Network map
A collaboration between FM-GIS and UIT, this map features an overlay of network equipment on a campus map, allowing a quick health check of wireless connectivity. UGIS also maintains maps of distributed antenna systems (DAS) and network fiber lines. These applications are not public-facing.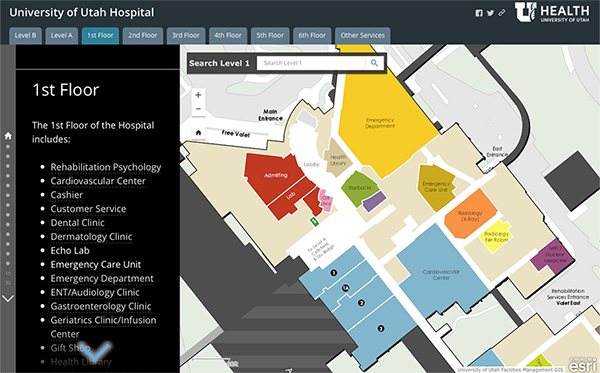 Working with the University Hospital, the FM-GIS team launched an interactive wayfinding application that allows users to pan and zoom into each building level, select features for more information, and view content for various clinics and departments.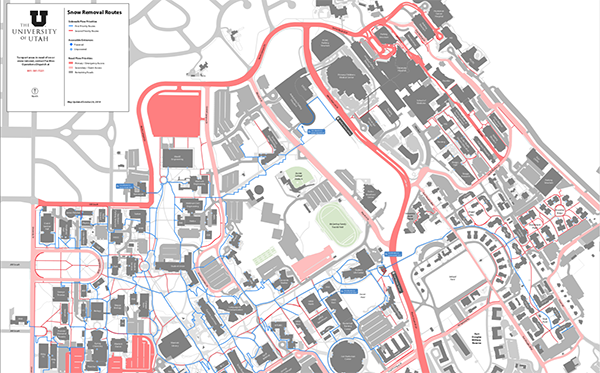 The UGIS team works closely with FM staff to collect information about various campus assets that FM manages, using ArcGIS Online tools like vegetation mapping, plow zones, irrigation data, and district mapping. The map above shows snow removal routes.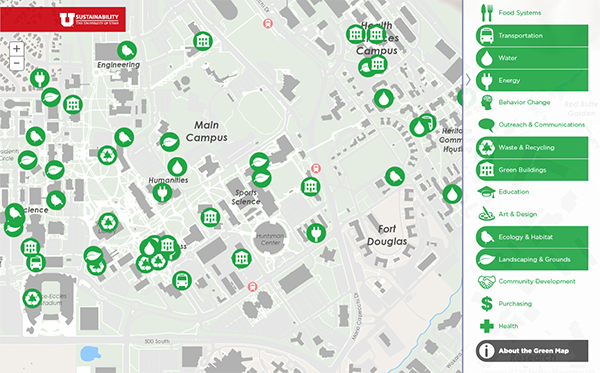 The green map was created through a partnership between the U's Sustainability Resource Center and FM-GIS team. It highlights sustainability projects, installations, and green infrastructure on campus.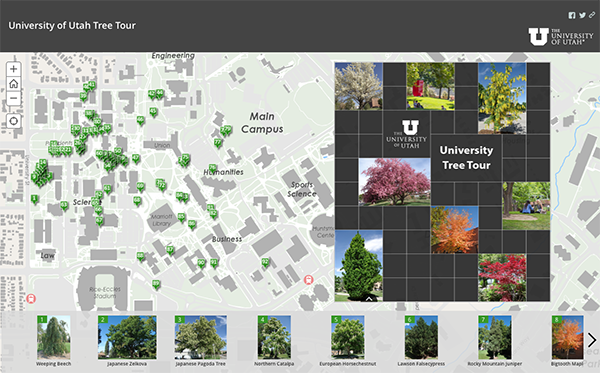 FM-GIS leveraged ArcGIS Online tools to build a series of applications that give grounds crews location and health information for every tree on campus. The app was designed to highlight a handful of the many species and varieties of trees found on campus.
Focus areas for 2019
Modernizing GIS architecture

Archuleta is pushing to modernize GIS architecture with Linux container technologies and distributed computing, as well as make GIS systems more secure.

Campus map support and development

The team's focus will be to maintain, update, and build new features that prioritize campus safety and accessibility into the campus map. Examples include updating the map application programming interface (API) with a new design and integrating information about events on campus. Archuleta imagines a day when the campus map will contain even more granular detail, like allowing users to zoom in and navigate individual floor plans.

Continued GIS support for FM, UIT, and external services

This effort is on maintaining cloud support for FM projects and UIT-specific applications like the network map. UIT will also continue to support public safety on several fronts. Initiatives include emergency assembly points and a campus lighting project, in which students, faculty, and staff are encouraged to report areas on campus they believe are poorly lit or where light bulbs are not functioning. Another public safety project in early development is a Hexagon Geospatial 911 dispatch map designed to assist the Salt Lake Valley Emergency Communications Center (VECC).

To more accurately pinpoint the location of an emergency, Shane Washburn, GIS software engineer and former QA student intern, said that the application would make all layers of the U's mapping resources visible not only to the university's Department of Public Safety, but also the Salt Lake City Police Department, VECC, and in turn, first responders.

"That would better facilitate communication and interaction between firefighters and police, so they could put a pin down at a location on a map and know where to go," Washburn said.

Unified GIS platform for research

This project, Archuleta said, will create a high-performance analytics portal for researchers — which he envisions as a shared resource between labs and the Facilities-based high-performance geographic computing (HPGC) lab. In the Automated Geographic Reference Center, he said, Utah already has one of the best statewide APIs in the nation.

"Adding a high-performance computing group to the state GIS community would be highly attractive for potential students and graduate students who are considering the university over others," he said. "Also, for UIT, it would add a lot of value. UIT will be able to crunch data about the campus on a much larger scale, and we could add some very innovative features to the campus map, like real-time data overlays around campus, and three-dimensional analytics support. This could also serve as a proof of concept for efforts to modernize other architectures in UIT."
Cutting-edge projects like these, Thornley said, make GIS such an exciting field to work in.
"GIS has been around for many years, but it also has a long future ahead of it, especially in a higher education environment," he said.
Added Archuleta, "there's always something changing on campus, always something going on that requires us to simulate it in a map application. It's a dream for any sort of developer to have so many different features to home in on."


The DIGIT Lab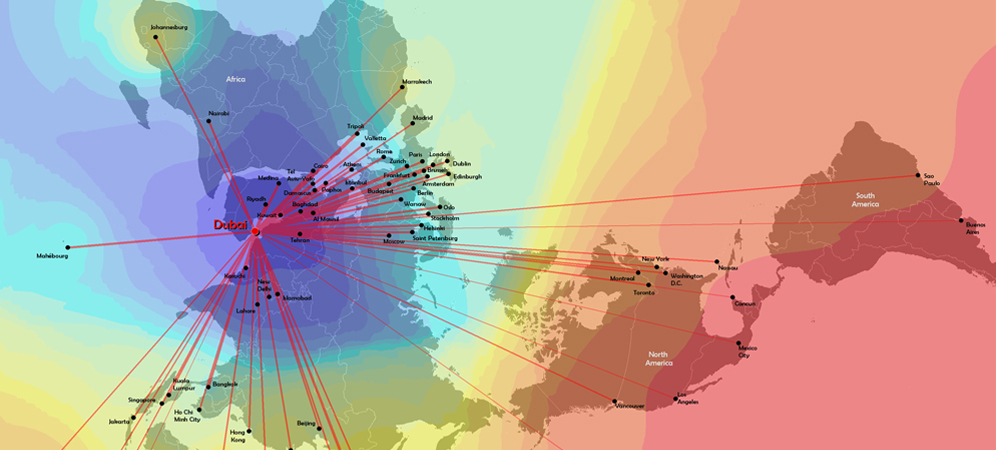 The DIGIT Lab, established in 1987 within the U's Department of Geography, uses a suite of ESRI products like ArcGIS, ArcSDE, and ArcServer to support the U's research community. Learn more about ESRI and GIS training. The DIGIT Lab maintains and distributes campus licenses for Trible software as well.
Beyond the university, the DIGIT Lab provides geospatial database development and analytical services to federal, state and local agencies, and private sector entities on a contract basis. Here are some examples of these interdisciplinary research projects.
View a full list of DIGIT Lab services and areas of specialization.
Node 4
Our monthly newsletter includes news from UIT and other campus/ University of Utah Health IT organizations, features about UIT employees, IT governance news, and various announcements and updates.
Categories