Intern Insights: Tamara Oniani, Content Management & Usability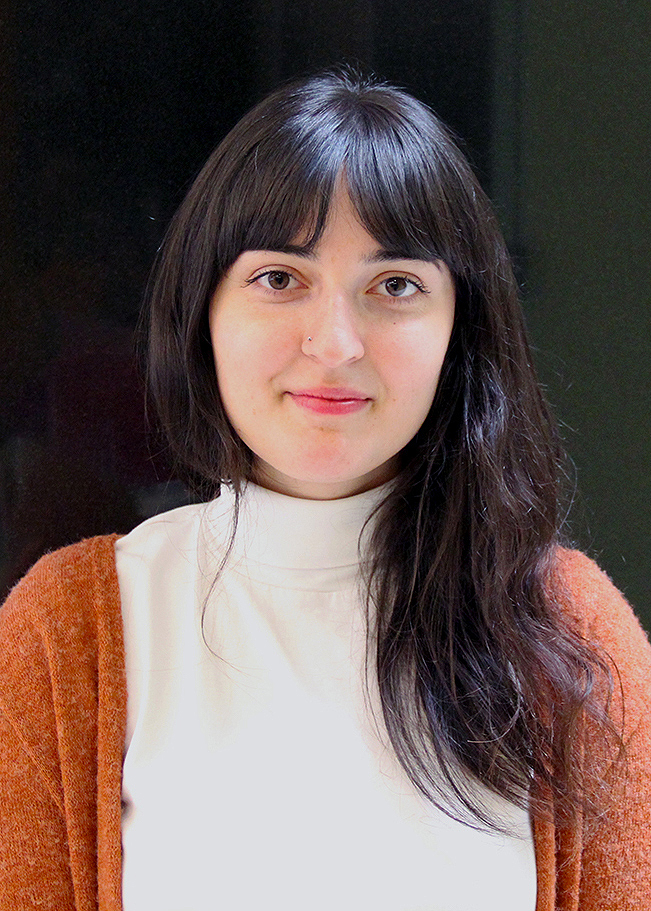 What brought you to the University of Utah?
Six years ago, I moved to Utah from the republic of Georgia. Not knowing the career path I wanted to take, I started exploring general classes at Salt Lake Community College. I became passionate about utilizing digital tools for creative processes and decided to pursue a degree in digital product design. The University of Utah has one of the best design programs that combines digital and physical product design, so, once I was done with my general classes at SLCC, I transferred to the U.
How did you find out about UIT's student internship program, and what attracted you to it?
I heard about this opportunity from a professor in the Multi-Disciplinary Design Program. At the time, I was a junior and eager to get some experience in the design field. UIT offers a paid internship and a very flexible schedule, which is exactly what I was looking for.
What's the focus of your internship?
I'm part of the Content Management & Usability team. I get to work with an amazing group of smart and creative people! I help with website redesigns, migrations, customer requests, usability testing, and various other tasks as needed.
What's day-to-day life like as a UIT student intern?
My typical workday starts with getting coffee and checking emails. I come in at 8:00 a.m. and leave for classes at 1:00 p.m. My team has stand-up meetings every morning in which we go around the room and talk about our individual projects. If I have a bigger project I've been working on for a few days, I give the progress update; otherwise, I am assigned a new task for the day. Usually, my tasks vary from customer support to template updates to data visualization. Being able to work on a variety of projects not only keeps this job fun and exciting but also provides the sense of accomplishment.
What's challenging about the internship program or your position?
This is my first internship, so it took a little bit of time and effort to figure out my values and what I want to get out of this experience. I had to learn to ask questions, listen actively, and be open to feedback.
How does your major complement what you're doing in the internship program?
As a design major, I'm constantly learning and applying design principles and tools to the work I do. Often, my academic knowledge helps me bring new perspectives to the team. Additionally, my classes provide me with the necessary knowledge of terminology, methods, and digital tools to create user-centered, clean, and accessible web pages. One thing that being in the design program has taught me is to never sacrifice functionality for the aesthetic, but rather try to find the balance between form and function. I find this so important when designing for the web! No matter how visually appealing a website is, if it's not simple and intuitive, the user won't have a good experience navigating it.
How do you expect to use the experience you're getting from the internship program?
One of the biggest benefits of this internship is that it introduces students to real-life experiences and challenges. Interns are exposed to a creative environment that is quite different from a studio at school. I've learned a great deal in the past months about how decisions are made in team settings, how tasks and responsibilities are distributed within a team, and how to ask for help when I need it. More importantly, I learned how to play "Jeopardy!"
What advice would you give other UIT student interns, or prospective applicants?
To current UIT interns, take advantage of every opportunity that comes your way and remember, there are no dumb questions! Moreover, people like to be asked questions, so don't be shy. Also, try to find other interns. It's much more fun when you have someone to share your experience with while standing in the coffee line together.
To prospective applicants, you're on the right track. The fact that you're thinking about applying already puts you further ahead of those who aren't. Don't be intimidated by the interview process or the responsibilities you're offered — embrace them! This internship is an awesome opportunity to meet like-minded people and explore your passions. And it will look good on your resume!
What's been your favorite part of being a UIT student intern?
I like to do usability testing — where we survey students and analyze data afterward. This practice really brings out the human element of my job and reminds me that work we do directly affects University of Utah students.
I also love company parties. Honestly, UIT knows how to party! I love all the fun activities and free food. It brings people together and allows me to connect with the co-workers I don't see much in my day-to-day life.
About this series
Intern Insights is a Node 4 series about students in UIT's internship program. The paid internship provides University of Utah students real-world work experience to augment their degrees and often is a stepping stone to full-time positions in a relevant field.
Node 4
Our monthly newsletter includes news from UIT and other campus/ University of Utah Health IT organizations, features about UIT employees, IT governance news, and various announcements and updates.
Categories