Meet Your Colleagues: UIT Accounting Team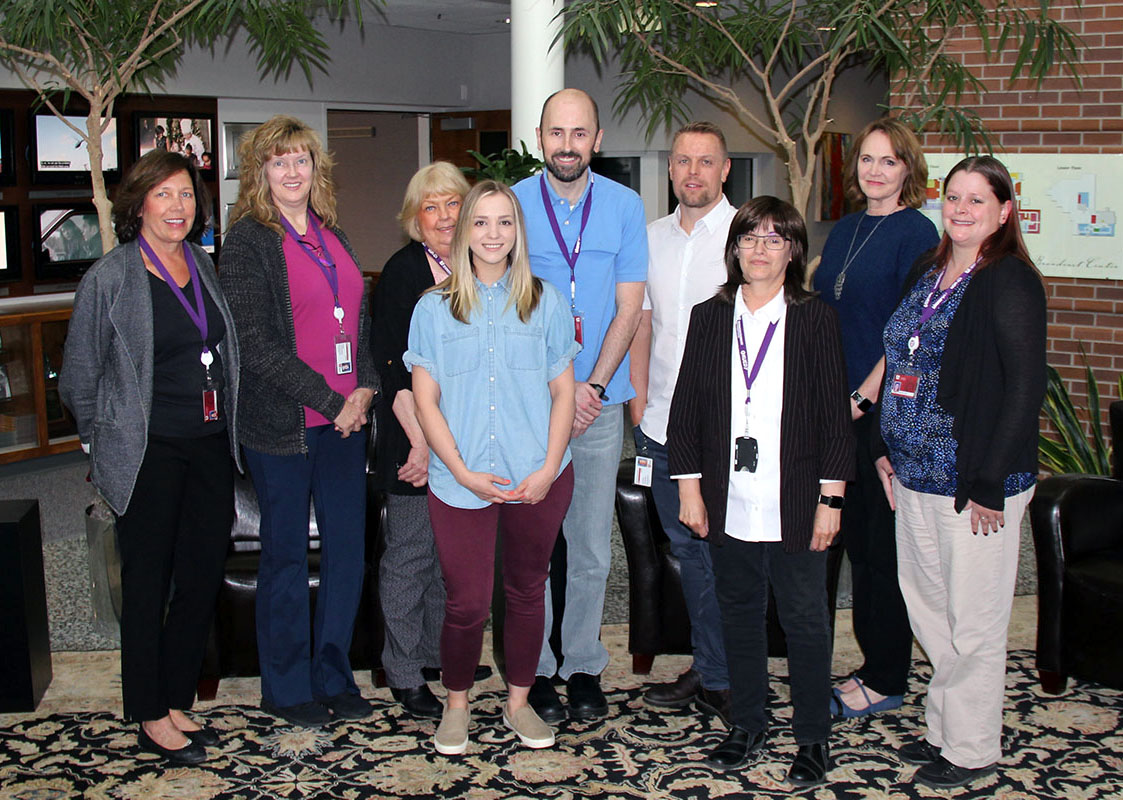 What historically defined accounting — number crunching — inadequately describes the profession today.
"We're heavy into customer service," said UIT Finance Manager Brandon Zimmerman. "There's a lot of face-to-face interaction. We really like it when budget managers are comfortable coming to us with questions, even with they're worried they made mistakes."
Added Director/Chief Financial Officer Lisa Kuhn, "People are always looking for confirmation that they are doing things the right way."
UIT's Finance Department plans and manages all financial activities for UIT and the Utah Education and Telehealth Network (UETN). Finance also comprises the U's Office of Software Licensing (OSL), and the Inventory team that administers the flow of materials at the Eccles Broadcast Center (EBC) and Downtown Data Center (DDC) warehouses.
To facilitate interaction with budget managers, Financial Analysts Susan Shult and Matt Timpson, and Accountants Cathy Burbidge and Melissa Ulfich split their time between EBC and 102 Tower, the downtown location for a number of UIT employees. Sr. Accountant Jeanne Krogen, who oversees accounts for UIT's Teaching & Learning Technologies (TLT) with support from TLT Executive Secretary Cindy Hanson, works out of Marriott Library.
Accounting team members administer accounts for various units, generally divvied up based on functional area. They also lead different projects. Accountant Melissa Ulfich, for example, prepares and "trues up" annual Microsoft/Adobe user counts for OSL.
Alijana Kahriman sees the job as "problem-solving for 400 people." In addition to serving as administrative officer in University Support Services, she serves a dual accounting support role for three units in the UIT organization.
They all share the workload (see just some of their ongoing and daily projects, at right). Among these things is helping employees fill out their Kronos time cards and get paid, which is pretty important. In fact, to ensure business continuity, paying people promptly after a catastrophic event is a top priority in disaster recovery (DR) planning at the university.
Where finance involves budgets and transactions, inventory administers the flow of materials. The common link between the two is procurement, or purchasing of items and materials. Purchases in UIT tend to be communication- and infrastructure-related, such as telephones, cable, wireless access points, and servers. Kuhn said part of the Accounting team's role is to enforce university guidelines around procurement.
Inventory Supervisor Elaine Gallegos thanked Burbidge for "always checking to make sure we've received the materials before paying the invoices." The appreciation was clearly mutual. Turning to Gallegos, Burbidge said, "You're my go-to person, too. I couldn't do my job without you."
Note: This list is meant to be broadly representative, not exhaustive.
---
Budget responsibilities
UIT's annual budget

Ambulatory Care Complex (ACC)

project

Avaya, Skype for Business, and Centrex systems

University Television (UTV)

Information Technology Infrastructure Library (ITIL)
Network node hardening
---
Ongoing tasks
Revenue and expenditure
Cost and funding models
Contracts and procurement
Cash management
Reallocate and sign off on Purchasing Card (P-Card) orders, checking all aspects of compliance
Travel/conference expense planning and reimbursements

UIT's personnel database

Pinnacle billing
Capital improvement project purchases
Educause annual reporting
DDC power usage tracking
Higher Education Technology Initiative (HETI) fund management

Evidence of Review (EOR) activities

Allocate student computing fee funds
---
Daily activities
Prepare or approve UShop carts; checking chartfield(s), and ensuring documentation is correct and complete
Pay invoices
Check the status and close out completed purchase orders (POs)
Enter or review prepared electronic purchase requests (ePRs)

Approve Electronic Personnel Action Forms (

EPAFs) for assigned budgets
Prepare sole source requests or assist/write request for proposal (RFP) documentation
Node 4
Our monthly newsletter includes news from UIT and other campus/ University of Utah Health IT organizations, features about UIT employees, IT governance news, and various announcements and updates.
Categories