UIT Leadership Spotlight: Syndi Haywood, Associate Director, Voice Systems and Business Administration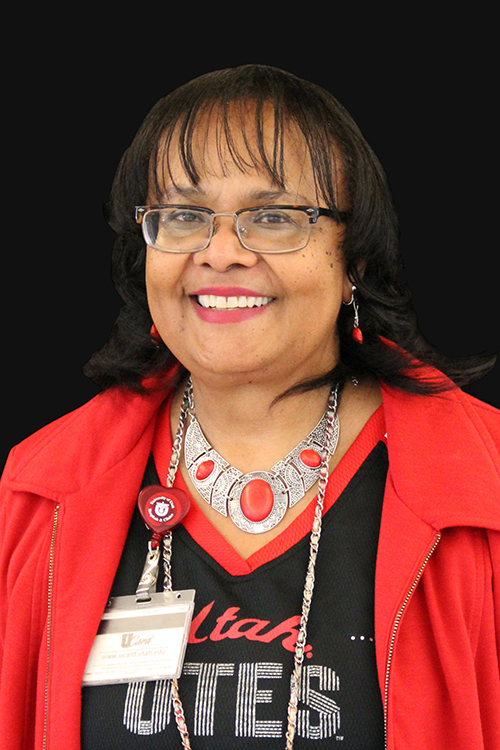 Where are you from originally?
I grew up in Salt Lake City, Utah.
What led you to the University of Utah?
I attended school at the U, then moved to Portland, Oregon, where I lived for five years. I worked in the banking industry as a merchant teller. You don't think of banking as being stressful, but we dealt with large sums of money. Big vendors would typically arrive in the morning, and everybody knew that our tills were going to be full. One day the teller next to me was robbed. After that, I decided that I needed a new line of work.
My sister worked in HR at the U, and she recommended that I apply for a job here in Telecommunications. So I moved back to Salt Lake City. My colleagues were fun and made work really enjoyable. It was so much less stressful than working at the bank. I knew it was the place for me.
Can you describe the path you took to IT leadership?
I started as a trainer and billing accountant in Telecommunications, then worked up to service coordinator. Within a short period, I became one of our first account executives for campus and the hospital until they hired more people. Training was really lacking at that time, so I created a training program for the account executives and service coordinators. Then, with the backing of UIT leadership, I became customer service manager over service coordinators and account executives. During a leadership change, I switched to being a product manager for Voice Services. I helped with the initial deployment of cellular DAS on campus.
The late Kevin Taylor asked me to apply for the associate director of what was then NetCom, over Business Administration and Voice Services.
I enjoy working on new technology and looking for creative ways to use it that benefit our customers. Though its name has changed four times, I have worked in the same department my entire career at the U.
How would you describe your leadership style and/or philosophy?
One person told me that my job is to keep people gainfully employed. That's true, but I try to create an atmosphere where people feel supported and good about coming to work every day. Maybe it's the mom in me, but I try to be a mentor, encouraging them to be responsible and make good choices, so they can be successful in their careers. I try to remove as many obstacles as possible so they can do their jobs and do them well.
What do you enjoy most about your role at the U?
There's never a dull moment. Technology changes so frequently it's critical to keep up to date on everything. There are so many technology disruptors, we don't want to become obsolete. It's always better to be a Netflix than a Blockbuster.
What do you find most challenging about your job?
Keeping good talent within the department is always a challenge.
What are some of your hobbies?
I manage some rental properties, and my husband and I have been remodeling a vacation home in Idaho.
Are there any fun facts about yourself that you'd like to share?
For a while, my husband and I ran a recording studio for young local artists called The Desert Pearl, which focused on making music that did not defame women. I was also part of the Utah Stars drill team and doubled as a cheerleader.
---
Related Articles
Node 4
Our monthly newsletter includes news from UIT and other campus/ University of Utah Health IT organizations, features about UIT employees, IT governance news, and various announcements and updates.
Categories