Annual UIT Knowledge Base review moves to ServiceNow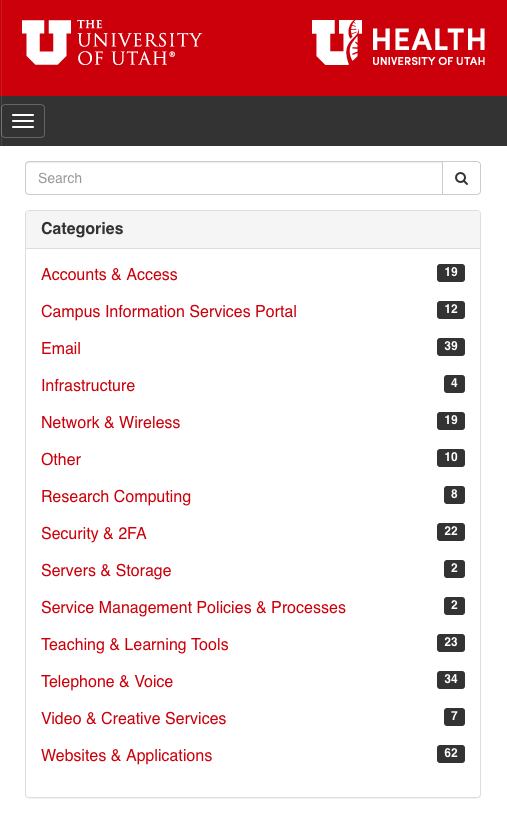 UIT's Knowledge Base (KB) is where users go to find just-in-time, self-service help with university IT systems and services. The KB is an online library that contains hundreds of step-by-step instructions and general information for the U community.
The more accurate the KB is, the less often users need to call or email the UIT Help Desk — especially for routine questions. To keep the KB up-to-date, every year UIT's Strategic Communication group conducts an annual comprehensive review, asking subject matter experts (SMEs) from UIT and other campus organizations to carefully review the articles that fall under their purview.
Many SMEs are accustomed to the process taking place via email and distribution of spreadsheets, but on April 9, 2019, the process shifted to ServiceNow — the service management platform used by UIT and Information Technology Services (ITS).
On a rolling basis, 60 days before an article is due for review, the SME will be emailed a ServiceNow-based request to review an article(s). Each request will contain the content of the article. SMEs are asked to pay special attention to accuracy, links within the article, article views as a consideration to maintain or retire the article, and other articles (if any) that should be included in the Related Articles box located in the upper right of the public-facing page.
As before, SMEs have options to:
Approve an article
Request edits or assistance
Retire an article
Approving an article verifies that changes are not required at this time. Requesting edits or assistance sends the task to StratComm, which will make requested changes or work with SMEs outside of ServiceNow to update the article. Retiring an article will remove it from the KB entirely.
"Without regular feedback from our SMEs, we wouldn't be able to maintain this important resource for faculty, staff, and students," said Cassandra Van Buren, associate director of StratComm. "I extend my thanks to all of our collaborative partners in UIT and colleagues across campus for your suggestions and insights."
As a component of the university's IT Service Portal powered by ServiceNow, integrating the review process into ServiceNow only made sense. The online Service Catalog, which ties in closely to the KB, is where users order central IT services. The service portal also gives users a way to report UIT service issues and view their open and past incident tickets and service requests.
"The Service Management team really did a great job in setting up this new KB article review workflow for us," Van Buren said. "Collaborating with Clay Postma, Remi Sorenson, Kim Fuller, and the others was a pleasure. We're very happy with the new process, and I think that SMEs will be, too."
Have an idea for a new KB article that you think the campus community would appreciate? Email the StratComm team at stratcomm@it.utah.edu.
Note: The information contained in this article and a process chart can be found on this webpage.
Node 4
Our monthly newsletter includes news from UIT and other campus/ University of Utah Health IT organizations, features about UIT employees, IT governance news, and various announcements and updates.
Categories