Photos: 2019 UIT Holiday Luncheon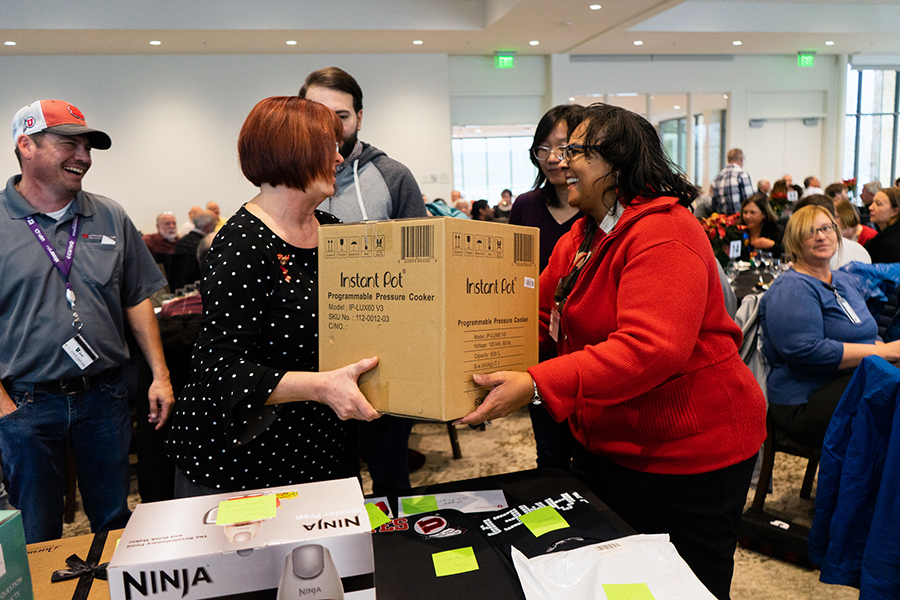 Inside, seasonal music set the mood. Outside, a light rain switched to snow. It was undeniably beginning to look a lot like the holidays.
The Cleone Peterson Eccles Alumni House was the fittingly festive location for this year's UIT Employee Holiday Luncheon and Prize Drawing, held on Thursday, December 5, 2019.
With doorbuster gifts of U-themed roll-up stadium blankets in hand, employees settled in to hear remarks by Chief Information Officer Steve Hess and guest University of Utah Health CIO Jim Turnbull, and enjoy a delicious plated meal by Good Day Catering, along with several rounds of prize giveaways.
More than 90 purchased and donated gifts were given away. Donations came from the following generous university organizations: The College of Fine Arts — including the School of Dance, School of Music, and Department of Theatre — Campus Store, Pioneer Theatre Company, UtahPresents, University Athletics, Campus Recreation Services, Managed Print Services, and the College of Health's Peak Fitness. In addition, UIT event committee volunteers Kirk Barlow, Angelica Chacon, Mike Ekstrom, Aimee Ellett, Alijana Kahriman, Rob Lake, Kelsey Loizos, Trevor Long, Jan Lovett, Roy Schulz, and Stacey Wood received gifts for helping to make sure the luncheon went smoothly. The luncheon was planned and managed by UIT's Strategic Communication group.
UIT Leadership members extend their heartfelt appreciation to UIT's many talented and dedicated employees, wishing them and all of UIT's partners a happy holiday!
Below are photos of the event, courtesy of Alijana Kahriman.
Node 4
Our monthly newsletter includes news from UIT and other campus/ University of Utah Health IT organizations, features about UIT employees, IT governance news, and various announcements and updates.
Categories