UIT Leadership Spotlight: Adam Stewart, Associate Director of Operations, Teaching & Learning Technologies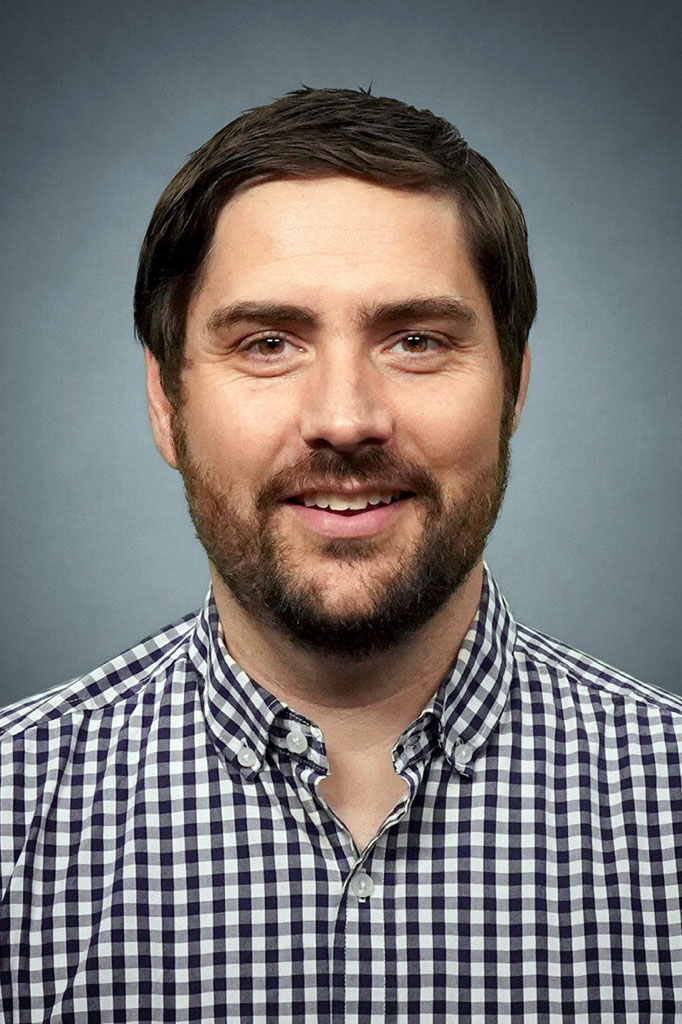 Where are you from originally?
I grew up in Cheyenne, Wyoming and Boise, Idaho. I claim both as my hometowns.
What post-secondary degree(s) do you have, in what subjects, and from which school(s)?
I have a bachelor's degree in Mass Communication/Journalism from Boise State University, and a master's degree in Educational Leadership & Policy from the University of Utah.
What led you to the University of Utah?
My first job out of college was with an independent record label based in Chicago. At the time, this seemed like my dream job, but I soon realized that I couldn't see myself working in the music industry long term.
After a couple of years there, I started to look into other career options related to video and media. I always had higher education work in the back of my mind as a possibility. As a student, I loved the energy, diversity, and creativity of the campus environment, and I really missed it.
My wife accepted a position with the State of Utah in 2005, so when we moved to Salt Lake City I decided to seriously start pursing higher education-related positions. I learned about an open position at Instructional Media Services (IMS) at the U, and thought it would be a great fit for my interests and background. I was very excited to be selected for the position.
Can you describe the path you took to IT leadership?
I started at IMS as their campus video services technical coordinator. After a year and a half, a spot opened up supervising its Audiovisual Distribution operation. I applied, was hired into that position, and seven months later was selected to fill the classroom services manager position, which oversaw IMS's video, portable equipment and service desk operations, as well as some elements of classroom support.
IMS eventually merged with the Technology Assisted Curriculum Center to form Teaching & Learning Technologies, and in 2015, I was encouraged to apply for an associate director position that had opened up. As TLT's associate director of Operations, I have the pleasure of overseeing our Video Services, Portable Equipment Services, A/V Service Desk, Install Services, and Systems Support teams.
How would you describe your leadership style and/or philosophy?
I always try to set up the teams I work with for success, and continually support them in the work they're doing. I focus on developing the right resources, processes, training, communication, and tools with them, so that they can do their jobs with as few obstacles as possible.
What do you enjoy most about your role at the U?
I really enjoy getting the opportunity to help faculty and students directly. It's very gratifying to help an instructor implement a new technology in the classroom or help them solve a problem. I also love that I get to work with A/V and other teaching technologies as part of my job. It's a lot of fun!
What do you find most challenging about your job?
Working within the vast mix of decentralized and central units that make up the university environment can be challenging. When working on a project or goal, it's critical to make sure all the right key players are in on the discussion, which can be difficult at times when there are so many moving parts at play within various organizations. However, we're always able to come together to make projects happen, and we all benefit greatly from the various experience, expertise, and ideas that are brought to the table.
What are some of your hobbies?
I've always been pretty involved in music, whether it be playing music, listening to music, or going to shows. I currently play drums with a local band, and occasionally get to play live and on recordings. My 5-year-old daughter is starting to show some interest in drums, so I'm looking forward to teaching her to play if that continues. I also enjoy listening to podcasts and occasionally working on personal media projects.
Is there a fun fact about yourself that you'd like to share?
I spent a summer traveling on the Vans Warped Tour in 2004, running a promotions booth for the company I worked for. I shared a bus with two bands over the course of the summer, and had to be up at sunrise every morning to set up my booth. We hit 48 different cities over the two-month tour. It was a grueling trip, but also an amazing experience!
Is there anything else that you think our readers would like to know about you?
I was recently elected to serve as president of the Consortium of College and University Media Centers. I'm excited to represent the U during my term, which begins next July.
Node 4
Our monthly newsletter includes news from UIT and other campus/ University of Utah Health IT organizations, features about UIT employees, IT governance news, and various announcements and updates.
Categories