Wi-Fi updates: improving campus coverage, expanding eduroam in Utah
Compared to the dark ages of dial-up, a slow internet connection today still seems light speeds ahead. But when you've become accustomed to browsing or streaming at hundreds of megabytes per second, even a hint of delay or lack of coverage can elicit groans of frustration.
The UIT Network Services team understands.

To prevent network issues and keep up with industry standards, the network team constantly makes improvements to the university's wired and wireless networks. It's a never-ending job.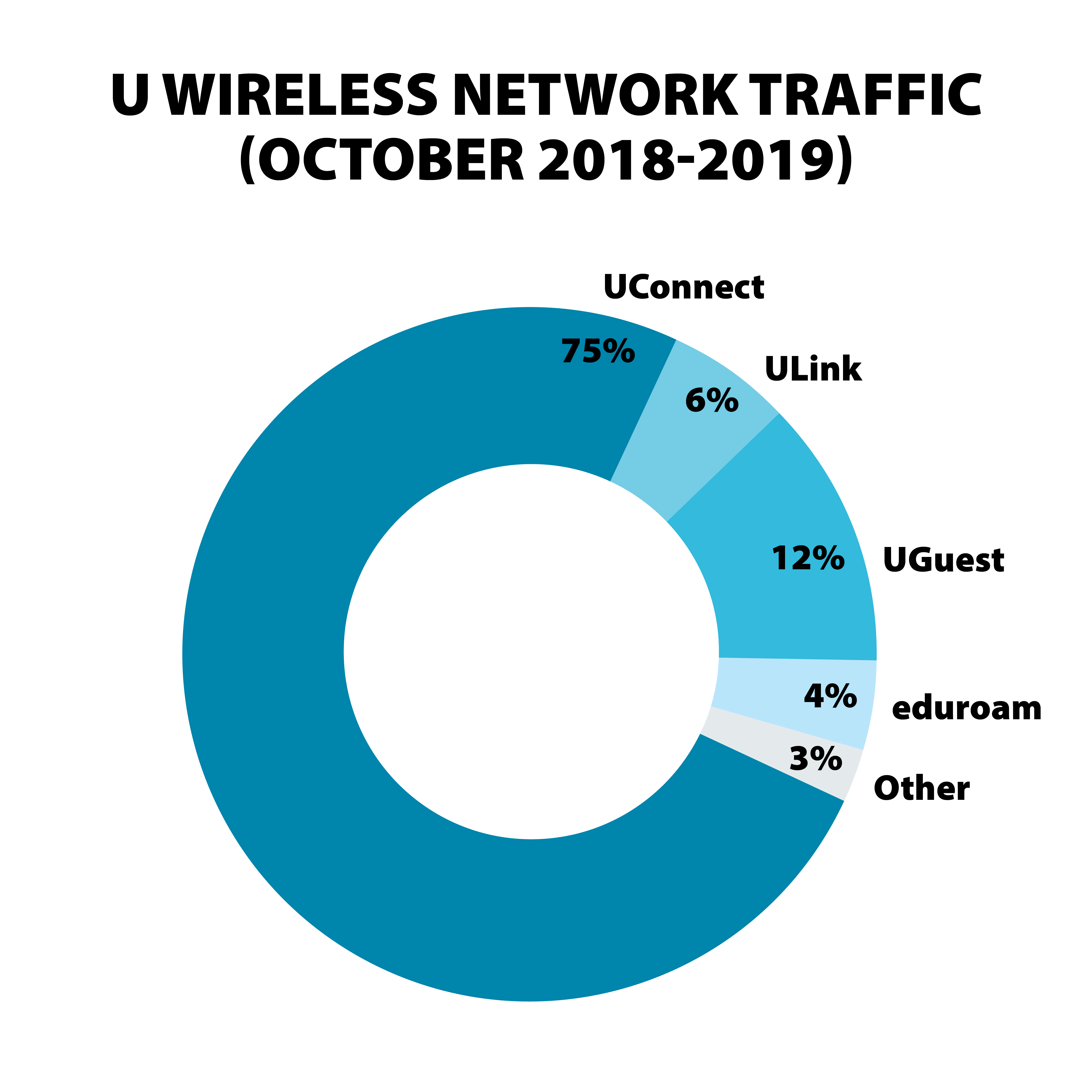 For the past year, the Network Services team has been updating the Wi-Fi designs in campus and University of Utah Health buildings to support new use cases — primarily mobile devices that support Wi-Fi voice calls. The updates include adding more access points, sometimes doubling or tripling them in a single building, and transitioning UConnect from 2.4GHz to 5GHz.
As of December 2019, the network team had installed about 585 new access points in campus buildings and 840 new access points in hospital buildings, according to Rosalia Villegas, a business data analyst in Network Services. Since the project began, the network team has finished the wireless updates in 37 campus and hospital buildings and is in the process of wrapping up upgrades at the Merrill Engineering Building, Kingsbury Hall, Browning Building, and Sutton Building.
"We're just trying to get more spectrum and more coverage in more places," said Curtis Larsen, a network engineer in Network Services. "… In years past, when these networks were first installed, they were primarily for laptops and in conference rooms, and they were kind of ancillary. And now they're mainstream to everything we do and integrated into every process that you can think of, whether that's in the hospital, with patients, doctors, and nurses with barcode scanning, or in student housing with Wi-Fi calling, trying to connect to media devices, or streaming on gaming consoles."
While the updates improve the overall user experience, U community members and visitors also can ensure the best performance by understanding and using the network(s) most appropriate for their roles and devices, and following Wi-Fi best practices.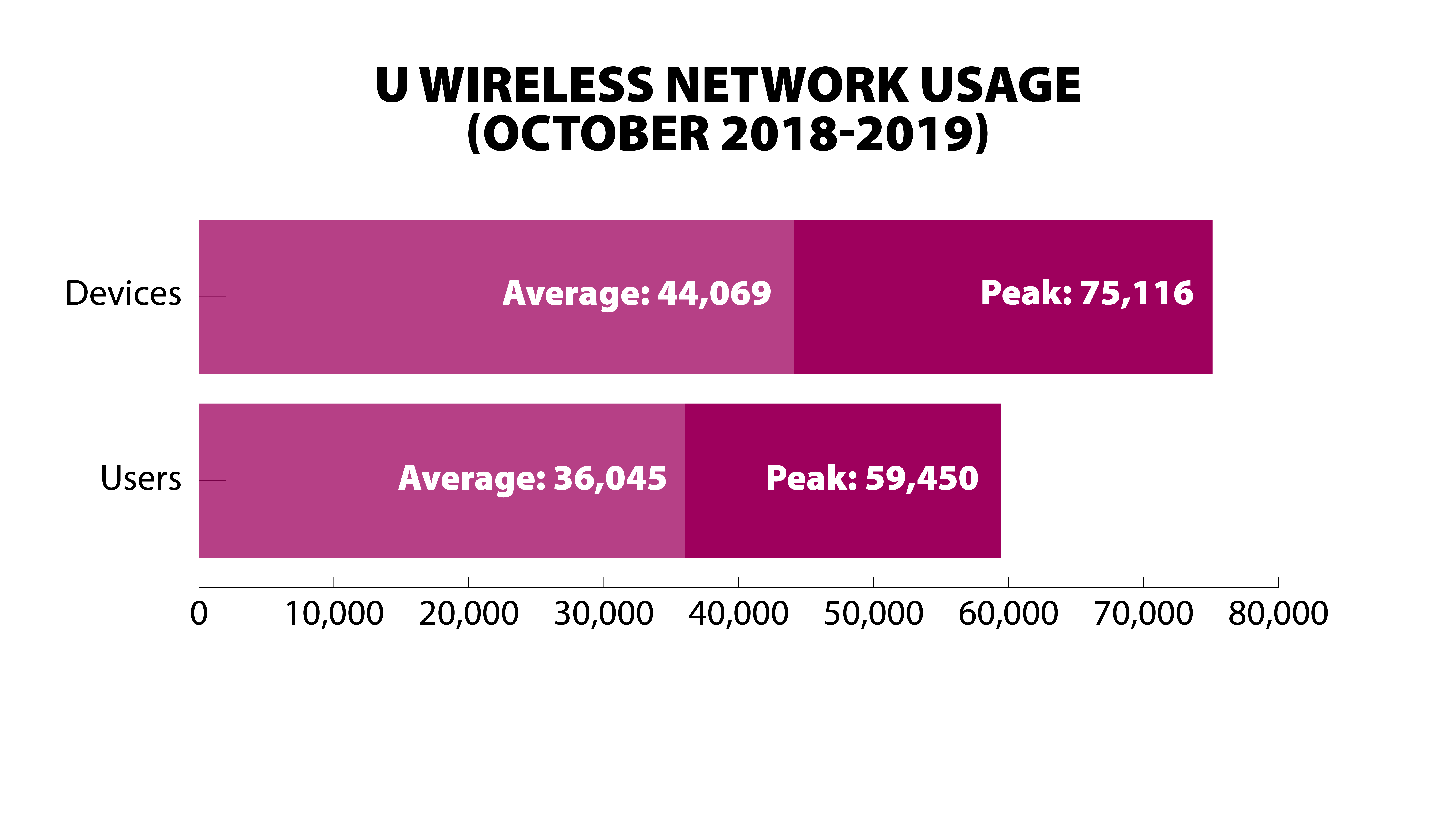 Here's a basic guide, as well as some other updates about the U's wireless networks.
UConnect
U students, faculty, and staff should use UConnect — the fastest and most secure U wireless network — for their laptops, cellphones, tablets, and other non-Internet of Things (IoT) devices.
Last year, UIT started applying a 5GHz-only configuration for UConnect, improving coverage and increasing the capacity to support a surge of new Wi-Fi devices. To give you an idea of scale, UConnect averaged 34,819 devices per day from October 2018 to October 2019, with a peak of 60,748 devices.
The 5GHz band also reduces interference from common 2.4GHz devices like microwave ovens, video cameras, and Bluetooth devices, as well as provides greater frequency reuse and lower channel utilization. Since implementing the 5GHz configuration, UIT assessments have shown higher quality connections overall.
Still, connectivity issues can and will arise.
For instance, Larsen said signal strength could vary, depending on the number of people connecting to the same access point, the user's proximity to the access point, and the obstacles between the user and the access point. See our Wi-Fi best practices knowledge article for more information about choosing the right connection and troubleshooting potential interference from other devices.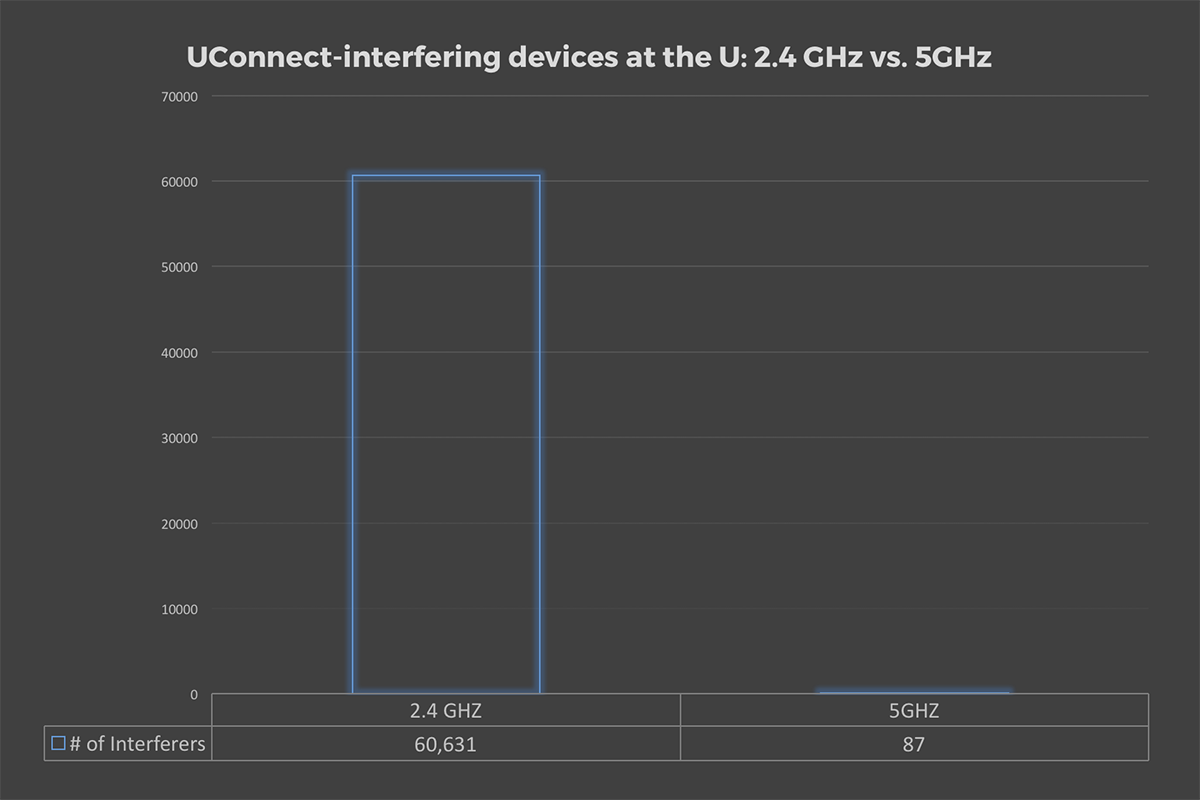 ULink
ULink is a wireless network for IoT devices, such as media players, smart TVs, and gaming consoles.
The network, which launched last year, is meant to divert device-based traffic from other university wireless networks, improve security for users and the U, and discourage the use of personal wireless routers, which interfere with the university network.
Although the network averaged 1,192 devices per day from October 2018 to October 2019, with a peak use of 1,812 devices, it hasn't deterred the use of routers, or rogue access points (APs). From March 2018 to October 2019, the number of rogue APs increased from 157 to 162.
The industry standard for stationary devices, Larsen noted, is a wired connection. So if you live in student housing and your devices consume a lot of bandwidth, you're better off plugging in.
Some people have suggested that ULink and UConnect are interchangeable, since both are 5GHz networks. Network Engineer Trent Cutler, however, said there is a difference between the two. ULink, he said, is not meant for common, capable devices like iPhones.
And you really might not be getting a better connection after all.
"UConnect and ULink are equal in terms of speed; however, because UConnect is 5GHz only, you'll get a cleaner spectrum and a better portion of the spectrum on that network," Larsen said. "Whereas with ULink, you could end up on 2.4GHz, especially if you're contending with personal Wi-Fi devices, microwaves, baby monitors, video cameras, gaming controllers, or Bluetooth devices, which are all in that 2.4GHz spectrum."
UGuest
UGuest provides university and hospital visitors with basic, unencrypted internet access.
Although fewer people connect to UGuest — the network saw an average of 5,947 devices per day from October 2018 to October 2019 — users will experience a slower connection. That's because UGuest is rate limited and UConnect is not.
eduroam
If you're a U student or employee, you may or may not already be familiar with eduroam. If you're not, definitely take a few minutes to set it up — it could come in handy when you're off-campus and in need of secure Wi-Fi.
The roaming wireless service partners with universities, museums, libraries, public transportation authorities, governments, and other organizations around the world to offer free access to secure Wi-Fi. As long as you have configured eduroam on your device using your U credentials (uNID@utah.edu and password), you should automatically be connected when you visit an eduroam-capable location.
At the U, an average of 2,523 devices connect to eduroam every day. Many of those users come from other Utah colleges, Larsen said.
"We see a lot of people from Salt Lake Community College, BYU, Utah State, Weber State, and all over the world," he noted.
The Utah Education and Telehealth Network (UETN), which hosts the U's network backbone, is working with Internet2 InCommon to expand the number of sponsored sites across the state. Utah is the first state to deploy eduroam within all its K-12 schools, according to Barry Bryson, associate director for Network Planning and Technical Advocacy at UETN.
"UEN has a goal to connect as many of the 1,700 locations we have up to eduroam as we can," Bryson said during the August IT Professionals Forum meeting.
One big win for commuter students and staff: Utah Transit Authority (UTA) recently added eduroam to its FrontRunner trains and is in the process of rolling out the wireless service to its buses, Bryson said via email.
In 2020, UEN hopes to bring eduroam sites online at the Salt Lake City International Airport, Capital Building, Intermountain Healthcare, and the Salt Lake County Library system, to name a few locations. So when U students and staff visit, they can use eduroam to connect to the internet securely, instead of risking their data and devices on free public Wi-Fi.
You can learn more about the UETN eduroam project at www.uen.org/tech/eduroam/.
Campus VPN
When you're off-campus and do not have access to eduroam, the campus virtual private network (VPN) is the best way to securely connect to the internet via public Wi-Fi. Information and passwords sent via standard, unencrypted Wi-Fi (most public access wireless is unencrypted) are especially easy for criminals to intercept.
The VPN and AnyConnect client are available to the U community at no cost.
Additionally, you should check your Wi-Fi preferences and/or settings to make sure your devices aren't set up to auto-connect to any wireless network they detect. Auto-connecting to unknown networks could put your device and data at risk.
---
Help desks
If you experience issues with any of the U's wireless networks, or have any questions, please contact your respective help desk:
Campus Help Desk:
801-581-4000, option 1
Hospital Service Desk: 801-587-6000
Node 4
Our monthly newsletter includes news from UIT and other campus/ University of Utah Health IT organizations, features about UIT employees, IT governance news, and various announcements and updates.
Categories