Guide gives a high-level look at UIT services and resources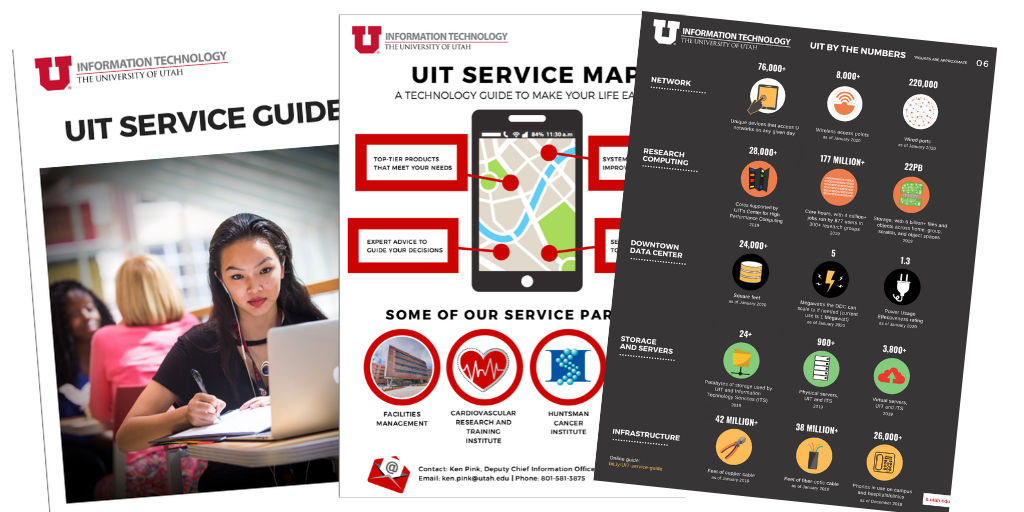 Though UIT provides a host of news and information resources for the U community, non-technical stakeholders don't always know where to find basic information about UIT services.
To that end, UIT developed a UIT Service Guide, now available for download as a PDF.
The guide is not meant to be exhaustive. It presents a broadly representative summary of UIT services in a user-friendly format, and highlights how the organization supports its partners.
The project began in parallel to improvements to the UIT Service Catalog and addresses a request from the Strategic Information Technology Committee (SITC) to make more general information about UIT services available to the U community.
The document also serves as a point-of-contact tool that may be printed or distributed digitally. As a printed packet, individual pages help facilitate in-person discussions with prospective and longtime campus and University of Utah Health partner organizations. Contact information appears in the footer of every page. Sent electronically, the PDF contains hyperlinks to relevant websites and contact email addresses.
We hope you find the guide useful and informative. If you have any questions or suggestions, please email UIT's Strategic Communication group at stratcomm@it.utah.edu
Node 4
Our monthly newsletter includes news from UIT and other campus/ University of Utah Health IT organizations, features about UIT employees, IT governance news, and various announcements and updates.
Categories