Meet Your Colleagues: UIT Account Executives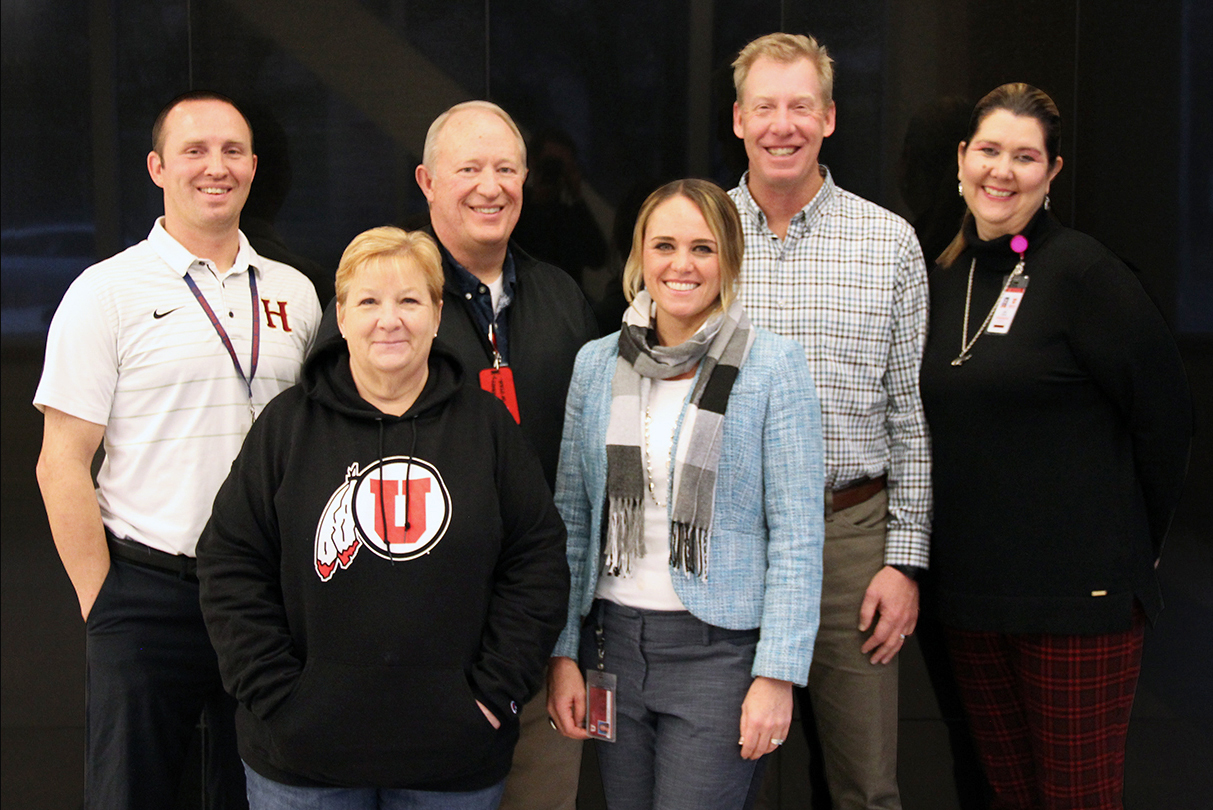 There's knowing what people need to do their jobs, and there's understanding how to actually perform those jobs.
When Eric Jensen oversees a network cable installation, he talks the talk because he's walked the walk — the UIT account executive (AE) was an installer for 14 years.
"I met a lot of people across the university during that time, so when I'm out there, I know them and they know me," said Jensen, who advanced to service coordinator in 2015, and transitioned to the AE team in 2018.
Breadth of experience is a big asset when building customer relationships.
"It's really nice bringing people up through the organization. There's a huge benefit that comes with the institutional knowledge that rolls up with them," said Bryan Morris, IT supervisor of the AE team.
Lisa Osborne and Information Coordinator Teri Pearson are long-serving members of the team. Amy Talbot started in 2015, Todd Smith came aboard in 2017, and Morris joined the group in 2018.
So what exactly is an account executive? In the business world, it essentially means a salesperson. In IT, Talbot said an AE is more of a customer advocate.
"We have more of an advisory role. ... We don't really sell. We steer them where they should go," she said. "We take information from the customer and assess what product best meets their needs."
Generally speaking, AEs handle the IT aspects of readying a remodeled building for use, while UIT's Project Management Office (PMO) coordinates IT activities around new construction building projects. In the latter's case, AEs handle phone installations and other items only as needed.
One example of an AE-led project is University of Utah Health's Autism Spectrum Disorder Clinic and Neurobehavior HOME Program, which in 2019 moved from Research Park to two floors in an existing building in South Salt Lake. The AE's role, Osborne said, was to understand the customer's requirements, coordinate with CenturyLink to bring in a new network circuit, coordinate wiring and fiber-optic cabling, engage the network team and order network switches, ensure phones were ordered and installed, Wi-Fi was available, and that pharmaceutical distribution systems were ready to go.
The team is currently juggling more than 60 projects, Morris said, which can take anywhere from a few months to more than a year, depending on scope.
"Many consider a project complete when the last piece of equipment is installed and configured. We take it a step further by only considering it complete after the project is completely billed. We need that fiscal discipline if we're going to be successful in the long run." Morris said.
Because AEs manage multiple client accounts, they must track and execute deliverables across a project's lifecycle. There's a budget to follow, which makes accurate data entry and billing vital. That's where Pearson comes in. Morris said the ever-humble Pearson "keeps us on track" by reconciling all charges to what's billed, and Osborne called her "the glue that holds the account executives together."
There are a lot of moving parts. Beyond consultations, AEs attend owner-architect-contract (OAC) meetings, go on building walkthroughs, provide infrastructure location maps to wire and cable installers, are on-site for installs, and provide training, as needed. They often work in concert with Voice Systems and Business Administration staff, Network Services, and Cable Plant personnel.
"It's not the same thing every day. I like to be busy, and this job keeps you busy," Osborne said.
There's some overlap when it comes to customer accounts, which are assigned based on function, geography, even professional pasts or personal preferences. Talbot, for example, tends to take more "sciencey" accounts that reflect her background as a genetics laboratory technician at the U. Jensen, who coaches football at Herriman High School, is always happy to handle accounts that involve U Athletics.
It all comes down to providing a positive experience for clients.
"This is a really satisfying line of work. You feel like you make a difference," Talbot said. "When something is broken, and you step in and help them fix it, there's always that little twinkle in someone's eye."
Node 4
Our monthly newsletter includes news from UIT and other campus/ University of Utah Health IT organizations, features about UIT employees, IT governance news, and various announcements and updates.
Categories