POWDER-RENEW Mobile and Wireless Week recap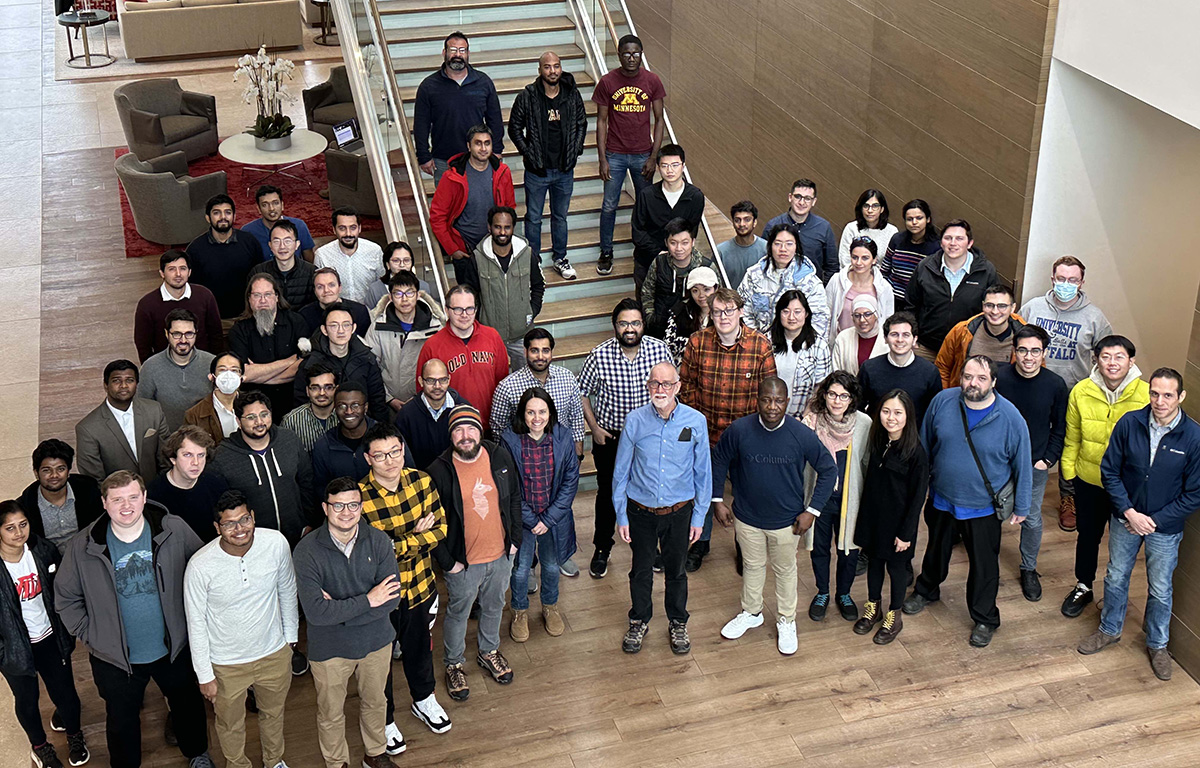 If you've ever brushed snow off a satellite dish, you know that bad weather can get in the way of good reception.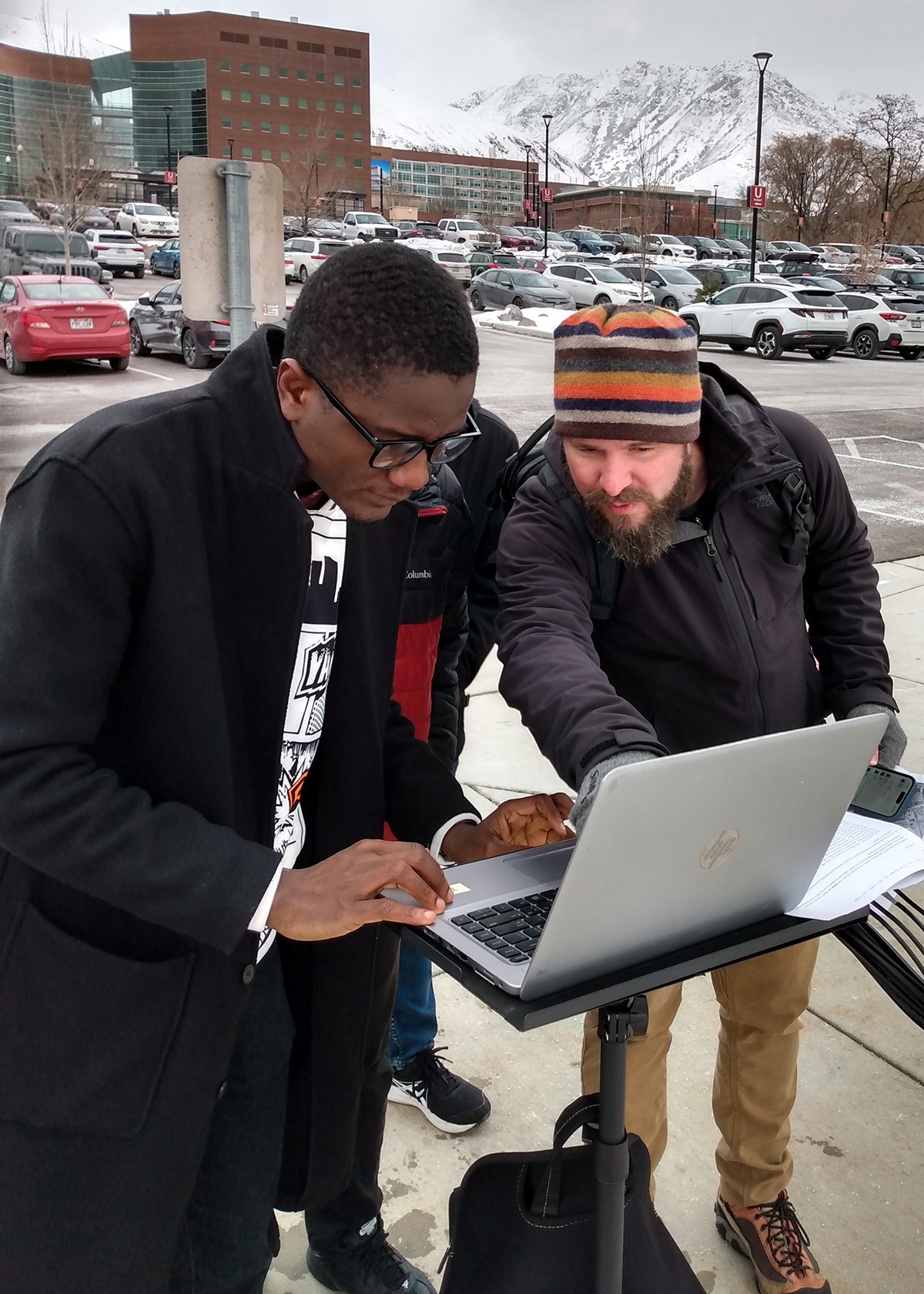 Liquid or vapor can also be problematic. Water in these states — especially if it contains impurities — conducts electricity, which reflects or refracts radio waves on frequencies used by wireless networks. Downpours, thick fog, or even sunny days with high humidity can introduce noise and impede throughput, a phenomenon engineers call "propagation delay." This condition is especially worrying when critical applications, like those related to emergency services, are delayed in the process.
Prioritizing access to critical applications during inclement weather through a process called network slicing was the subject of a research experiment conducted at the second POWDER-RENEW Mobile and Wireless Week (MWW-2023), held January 23-27, 2023, at the University of Utah. "Dynamic slice allocation to ensure promised quality of service," one of 22 "mini project presentations," was the work of Syed Ali Nawazish, a Ph.D. student in the U's computer science program; Muhammad Basit Iqbal, a graduate assistant in the U's Kahlert School of Computing; and Raja Hasnain Anwar, a Ph.D. student in management information systems at the University of Arizona.
Dr. Kobus Van der Merwe, POWDER's principal investigator and an associate professor in the School of Computing, said more than 60 industrial researchers and graduate students from dozens of universities attended the week's events, which featured lectures and in-person exploration related to wireless and mobile networks — specifically, capabilities of the Platform for Open Wireless Data-driven Experimental Research (POWDER).
POWDER is a federally funded project to create a city-scale, remotely accessible, software-defined, end-to-end platform for research on mobile wireless networks. Van der Merwe said that 38 experiments that involve more than 1,000 users are currently tied into the testbed, some of which center around open radio access networks (Open RAN) and spectrum sharing.
POWDER contact information
"We think of it as sort of a LEGO building block-based approach — hardware and software building blocks that can be combined to do research development," Van der Merwe said during a recent Light Reading podcast. "… Even if you're doing [5G and beyond] research, it's not like you start with a clean slate — you extend that, modify this, fine-tune that — and open source is critical to that whole process. We try to make use of open-source stacks that are available in that space and try to make that work in the infrastructure that we have."
It's been nearly five years since the University of Utah was selected to create and operate a "living laboratory" for mobile and wireless technologies that will eventually span more than 6 miles of Salt Lake City — the downtown area, U campus, and a residential neighborhood — all overseen by academic researchers and private industry and government partners.
"What we see in our interactions with vendors is they need a place that is realistic, where you have buildings with glass and buses going around," Van der Merwe said. "They may do a test and make a change in a software and say, 'Now what does it do?' What we have is a real-world lab in a sense, and to some extent, that allows for repeatability."
The POWDER platform is being built by the U in partnership with Salt Lake City and the Utah Education and Telehealth Network, and is funded by the National Science Foundation (NSF) and Platforms for Advanced Wireless Research (PAWR), a public-private partnership of the NSF and a 30-company industry consortium managed by US Ignite and Northeastern University's College of Engineering.
In addition to off-the-shelf equipment, the POWDER team is installing open-source software and hardware for the world's first fully programmable and observable wireless radio network developed by Rice University's Reconfigurable Eco-system for Next-generation End-to-end Wireless (RENEW) team.
Van der Merwe said hands-on activities during MWW-2023 were designed to educate participants on POWDER building blocks, including over-the-air capabilities and use of the world's first fully programmable, open-source massive multiple-input multiple-output (mMIMO) deployment created in partnership with Rice U's RENEW team and Skylark Wireless. POWDER's mMIMO deployment, Van der Merwe said, uses RENEW-developed software frameworks and POWDER dense deployments, specifically, citizens broadband radio service (CRBS)-based radio frequency (RF) front ends that are in development. Access this RENEW Wiki for more information about the mMIMO deployment on the roof of the U's Merrill Engineering Building.
Node 4
Our monthly newsletter includes news from UIT and other campus/ University of Utah Health IT organizations, features about UIT employees, IT governance news, and various announcements and updates.
Categories
Featured Posts