Note: This column is part of a new semi-regular feature that highlights current events in UIT's network operations group.
Network News: UIT hits milestone in ACC project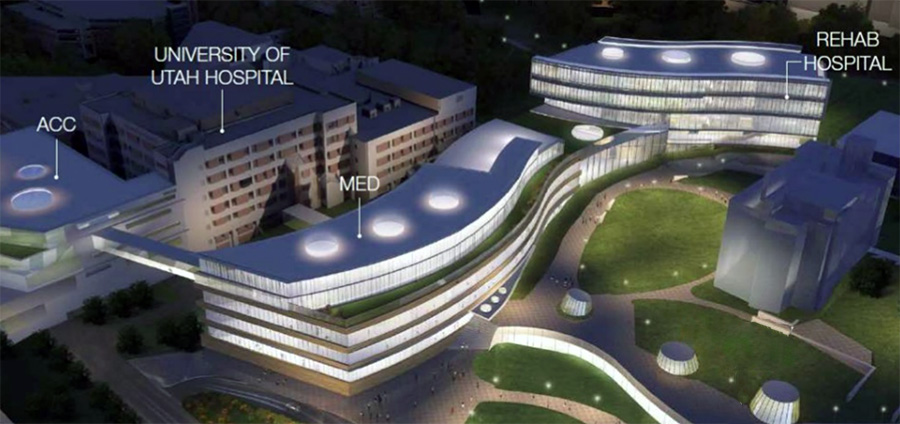 Scores of UIT employees are breathing a sigh of relief after successfully relocating hundreds of fiber optic cables that provide network services to the University of Utah's health sciences campus.
On June 30, 2017, the University broke ground on the first of these buildings – the Ambulatory Care Complex (ACC). The $132 million project represents the first phase of a larger plan to construct three new world-class facilities on the health sciences campus within the next five years. The other buildings in scope are a new Rehabilitation Hospital and School of Medicine.
The ACC sits directly over a major "backbone" of the U's fiber optic network infrastructure, along with electrical, water, sewer and other utility services, which had to be relocated before full-scale construction of the building could begin.
For its part, UIT completed a series of carefully coordinated cut-overs to new fiber optic pathways. UIT hit a major milestone on July 12 when all fiber cutovers in the construction zone were completed, and the contractor was given the thumbs up to begin excavation.
"The speed at which they moved all those fiber connections was astounding," said Network Edge Engineer Nate Eldridge.
Because the vast majority of the U's network has redundant connections – thanks to a new Campus Backbone Network – work was accomplished without significant service disruption.
"As far as hospital operations, there were no major impacts the entire time," said Project Manager Earl Lewis.
"A lot of people maybe don't realize it happened, and that's a good thing," said Network Core Engineer Brad Zumbrunnen. "We were working really hard behind the scenes to make sure that people weren't negatively affected."
Network Edge Engineer Christian Johnson worked previously as a UIT fiber technician and brought considerable knowledge of the U's fiber "map" to the project. He noted that "timing was definitely critical" in minimizing disruptions.
"We performed a fair amount of work after hours and on weekends," he said.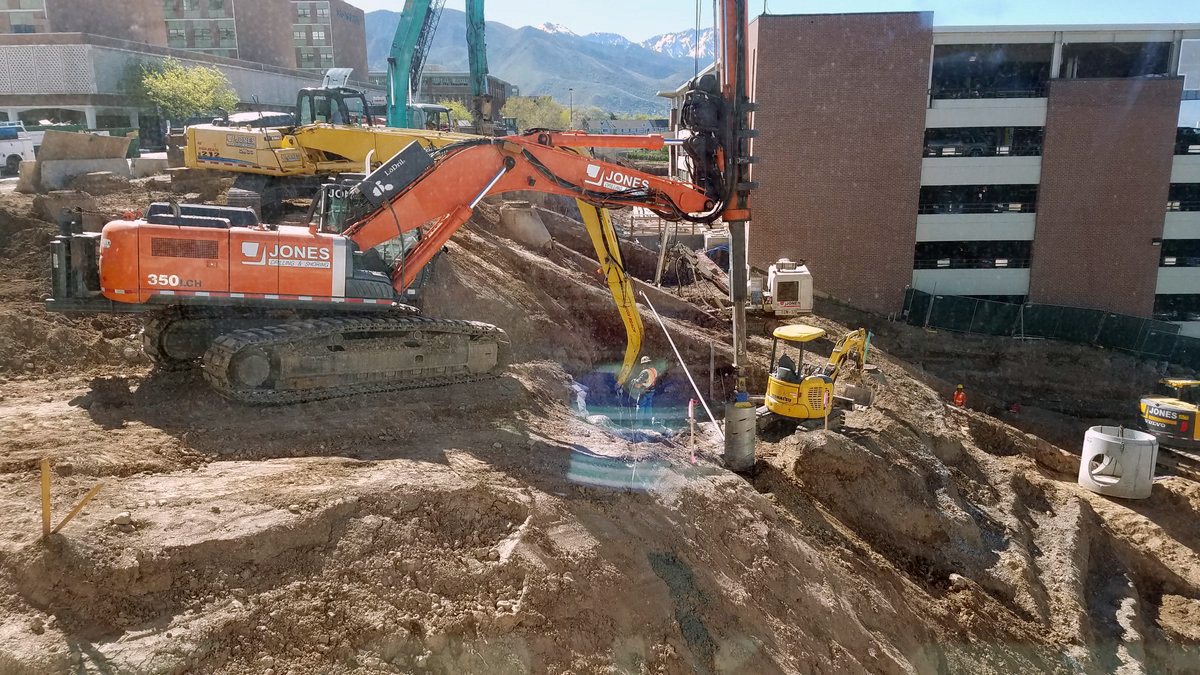 The ACC project has been a vast, collaborative undertaking – involving senior IT leadership, account executives in UC Customer Engagement, Voice Systems personnel (voice engineers, service coordinators, database administrators, and field techs responsible for moving 5,000 phone lines), project managers, inventory managers, warehouse personnel, the Network Operations Center (NOC), UMail Team, Facilities Management, communications staff, vendor partners, and the list goes on – all rolling up their sleeves to get the work done in a timely fashion. See the sidebar at right for more about the remarkable work of UIT's Voice Systems Team.
"There were people looking at it like it couldn't be done," Zumbrunnen said. "From the beginning, we viewed it almost as an insurmountable thing, like how are we going to get this done? Somehow, we figured it out."
"… and we did it on schedule," Lewis added.
That's the overall story, but in UIT Network & Core, it was a tale of two groups: engineers making telephone connections and engineers moving fiber pathways (in simple terms, network voice and fiber). While both happened in concert, and colleagues certainly crossed paths, they were distinctly different endeavors.
Despite meeting the construction deadline, not everything went off without a hitch.
On the fiber side, Tim Goodale, senior product manager in Pathway Engineering, noted that certain requirements weren't defined in the initial project scope, such as the original bid not accounting for enough patch cords, which "compressed our time schedule, shortening the amount of time we had to get everything in."
The voice side, meanwhile, documented "lessons learned" – things that didn't work, worked well, and could be improved.
Examples of what didn't work were on-the-fly changes, human resource constraints, and poor supply-side planning (e.g., greater demand for digital Voice Over IP phones than anticipated). Things that worked well were the use of scalable technologies, quick turnaround on inventory orders, account executives quick to provide guidance to vendors, teamwork, and dedication. Opportunities for improvement included things like the need for more vendor engagement with suppliers, clearer roles and responsibilities at the leadership level, process improvements, and better inventory management (ensuring the right tools are on hand before work begins).
Despite the challenges, "everybody came together to get the work done," said Project Manager Jayci Minjares, noting good communication between herself and Lewis, both from the Project Management Office. "It was a good collaborative effort."
Zumbrunnen noted that it was a "learning environment in some ways."
Network Edge Engineer Rick Titus agreed.
"As the project got bigger and bigger, you'd have wiring staff, phone [technicians], network staff, all working together and educating each another on different aspects of their jobs."
Titus is especially appreciative of Facilities Management for stepping in to help with garbage removal, clean-up, and disposal of old phone sets.
Remaining work by UIT on the ACC project includes relocating fiber and copper between the hospital and West Pavilion, installing fiber on the west feed into the hospital, moving half of the connections from hospital's east to west side, and invariably the last item on the project punch-list – documentation.
The ACC project is expected to wrap up in summer of 2019, with all three facilities on track for completion by January 2022.
---
2 months, 5,000 phones moved
By Jesse Drake
Syndi Haywood, associate director of Voice Systems and Business Administration, likens her teams' Herculean accomplishment – moving approximately 5,000 phones in two months as part of the ACC project – to the Ferrari F1 pit crew.
"They are the freakishly fast tire changers of the car racing industry. Each member of the crew knows their tasks and flawlessly executes them on time to get the driver back out on the road," she said.
Wait for it ...
This display of lightning-quick skill – getting in and out without sparing precision – is an apt description of the Voice Systems side of the ACC equation.
"The delicate ballet that happened between the teams, even when it seemed chaotic, met our end goal to get the phones changed from the old technology to newer technology in record time," Haywood said. "Coordinated, assembly line-like hand-offs between teams is crucial in our industry."
The men and women involved put in long hours, from ordering and receiving hardware sometimes delivered the next day, while consulting with end users and deployment staff – all accomplished with minimal disruption to end users' daily work.
"We did all of this without calls to leadership about our shortfalls," Haywood said. "Yes, we had stumbles and blunders throughout the process, but our customers were never the wiser. In fact, we received compliments from customers telling us that they'd never experienced a better install and were happy with the newer functionality."
UIT moved 3,868 phones in short order, an increase of 47 from the original bid. There are 811 phones remaining to move (e.g., emergency phones, elevator phones, and patient room phones), which are staying on CenturyLink copper until the vendor installs new copper for these phones.
Haywood would like to thank the following individuals for their tireless efforts:
Voice Systems Service Coordinators Eric Jensen, Samantha Lankford, Cory Hale
UC Customer Engagement Information Coordinator Teri Pearson
Voice Systems Field Techs Fernando Ferrer, Lance Davis, Jason Lawes, Corey Hayes
Voice Systems Engineers Tony Jess, Doug Johnson, Brent Ridgeway, Vijay Kammili, Desirae Allen
Account Executives Lisa Osborne, Amy Talbot, Clarke Headlee
UMail Team staff Corey Winn, Steve Maloy
Project Managers Jayci Minjares, Jody Sluder, Earl Lewis
Network Team members Rick Titus, Nate Eldridge
Honorable mentions: Voice Systems Database Administrator Dave Griffin; UMail Team staff Amir Masood, Dylan Pocock, and Roy Schulz; and Network Edge support staff Josh DeGraw
Node 4
Our monthly newsletter includes news from UIT and other campus/ University of Utah Health IT organizations, features about UIT employees, IT governance news, and various announcements and updates.
Categories