UIT infrastructure updates: new U of U Health clinic, residence hall
If it seems like there's always construction on University of Utah properties, well, there is — much of which is necessary to keep up with the needs and goals of the university and its systems.
For these projects, UIT is responsible for coordinating the design, construction, and implementation of IT infrastructure in each building. The goal, Project Manager Kevin Buchan said, is to bring network connectivity into campus and health facilities and ensure user needs are being met, while fulfilling the requirements of the university and the state.
"If you think of networking as the plumbing, that's all that it is. It's just getting things from A to B," Buchan said. "Network is just the plumbing of the internet."
To do that, various UIT groups are involved, including the Network team, Account Executives, Cable Team, Voice Systems, and the Project Management Office.
Here's a short update on two new construction projects, South Campus Housing & Dining and Sugar House Health Center.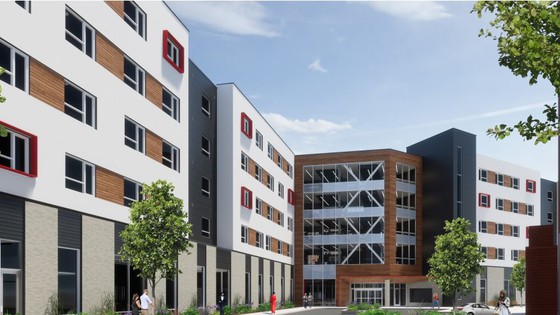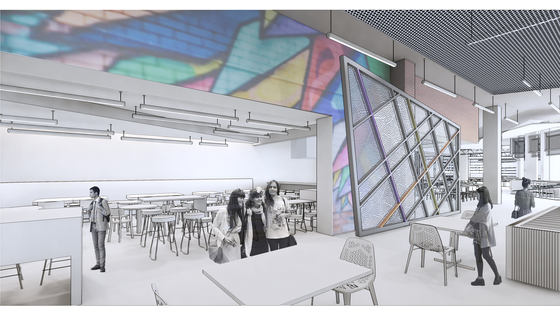 The residential and dining complex will house about two dozen Living Learning Communities and Themed Communities, including University of Utah Health-Health & Wellness, Technology Initiatives, Community Engagement, and first-year Honors College communities. Each community, Buchan said, will support groups of about 40 students.
At five stories tall and 360,000 square feet, the building will be one of the biggest facilities on campus. The dining center will include 650 seats, while three residential wings will house 992 beds.
"To get 1,000 more first-year students on this campus is a big deal, because right now, we have more than 4,000 freshmen enrolled but only enough space to house about 3,500 students total," Buchan said. "So, if you bump up the number of facilities they can live in, it's a good thing."
Major milestones: Old utilities located under where teams needed to dig the foundation have been rerouted. UIT also has received approval for the services it will deliver, including cabling, placement of wireless access points, and the type of wireless access.
In progress: UIT needs to order all the hardware, connect the buildings, ensure the wireless works, and set up phones. Basically, anything that runs on UIT infrastructure still needs to be installed and turned on.
Timeline: Everything should be done by the target date of June 2020, before the final push, cleanup, and installation of everything in July 2020. The complex is scheduled to open in August 2020.
Fun fact: With the phase-out of Internet Protocol television (IPTV), dorms will no longer have a TV connection and will instead use a wireless streaming service.
The five-story, 170,000 square foot U of U Health clinic, which will replace an existing facility, will offer a variety of services, including primary, preventive, and urgent care, as well as outpatient and specialized services.
Major mIlestone: The building shell — consisting of the foundation, windows, and masonry — will be completed in early spring.
In progress: The sheet rock should be done by the end of March, a milestone because that means all the rough in — in-the-wall electrical boxes and conduits for various connections for structured network cabling — should be complete as well. The network should be active by the end of July. As U of U Health employees prepare to move in, Buchan said, Account Executive Amy Talbot will coordinate the phone migration, including setting up new phone numbers and services.
In addition, Buchan said, Senior Product Manager Caprice Post has been working on the distributed antenna system (DAS), a critical component for public safety.
Timeline: The facility is scheduled to open October 1.
Fun fact: U of U Health plans to use a robot to count prescription pills.
---
Related articles: Network News: UIT hits milestone with ACC project and Network News: ACC pt. 2 — Pathway engineers work their magic
Node 4
Our monthly newsletter includes news from UIT and other campus/ University of Utah Health IT organizations, features about UIT employees, IT governance news, and various announcements and updates.
Categories