IT Professionals Forum welcomes new members
The IT Professionals Forum Board of Directors recently reelected Steven Harper as board president and welcomed two new board members — Kim Antry and Jon Rusho. The three were nominated to serve by members of the IT Pros community.
In addition to Harper, Antry, and Rusho, the board includes members Barry Bryson, Joel Hsia, and Matt Irsik, and UIT liaison to the board, Cassandra Van Buren. The nomination and election process is held each April, and board terms are two years.
---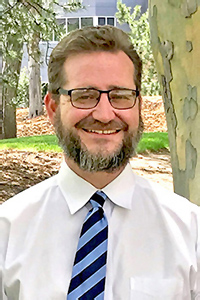 Steven Harper, IT Pros President and Center for High Performance Computing (UIT)
Steven Harper has worked as a systems administrator in one form or another at the university for more than 20 years, and is completing the end of his first term as president of the IT Professionals Board.
Harper said he's grateful for the support of the community these past few years as the board has had to adapt to funding challenges, and now even more challenging circumstances that put the very idea of large group meetings on uncertain footing. He is excited to see what adaptations can be made to keep supplying the IT Professionals community with interesting topics, vendor presentations, and a forum for collaboration in these challenging times.
Harper enjoys spending time with his family, canyoneering in the San Rafael Swell, and home improvement.
---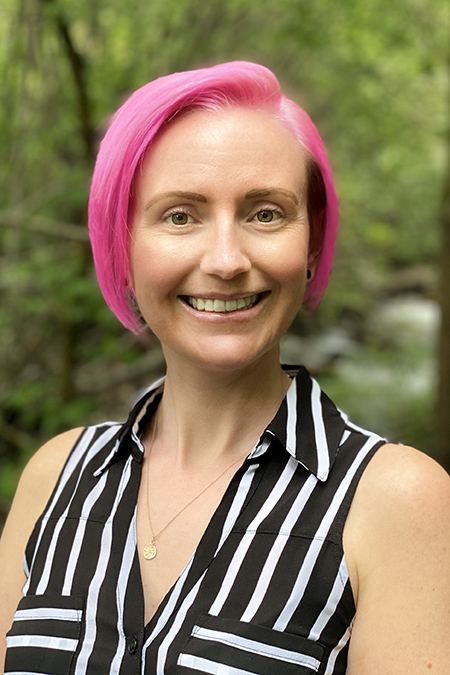 Kim Antry, Departments of Pathology and Biochemistry
Antry is the IT manager for Path-IT, supporting the departments of Pathology and Biochemistry. She has a Bachelor of Science in business administration, with an emphasis on management, and has been with the U since 2008. Through the years, Antry has actively combined learning from her degree in business management with inherent technical skills to become a strong IT leader.
Key achievements in her current role include streamlining operations for Path-IT by introducing an organized structure and increasing documentation of standardized processes. Antry has established strong working relationships with UIT, Huntsman Cancer Institute IT, and ARUP Laboratory IT teams. These relationships allow her team to successfully navigate one of its biggest challenge — ensuring their customers can consume services offered by multiple disparate entities. She is also a member of the U's Security Champs team and contributes to Architecture & New Technology Committee (ANTC), Enterprise Web Advisory Council (EWAC), and Strategic Information Technology Committee (SITC) meetings.
While she does love working with her team and customers, Antry also enjoys quite a few hobbies: traveling the world, yoga, hiking, singing, playing violin, and cooking. You'll often find her sporting a fun new hair color to keep you on your toes.
---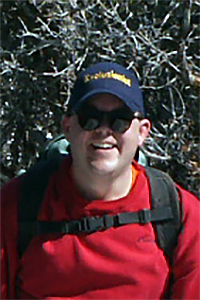 Jon Rusho, Seismograph Stations, College of Mines and Earth Sciences
Rusho first started playing with computers in grade school, with an Apple II and TRS-80, and the occasional field trip to the U to play games on printing terminals, but it wasn't until high school when he started working with UNIX, which would become a central part of his career.
Rusho's first computer job was stringing network and cable and serial lines in the Department of Chemistry at the U. After a short diversion to get a master's degree in computational chemistry, he then came back to the U to manage the department's network and computers.
In the dotcom boom, Rusho jumped to Excite@Home as a UNIX administrator. He said of the venture: "We did some crazy stuff back then, including driving computers from Utah to California to move to a new data center just before the dotcom bust."
After a few other IT adventures, he came back to the U to help manage the earthquake monitoring networks for the state of Utah and Yellowstone Volcano Observatory.
"For 14 years now, it's been a crazy ride — hiking mountains, fixing radios, climbing towers, digging ditches, installing seismometers, and disaster recovery and continuity planning," he said. "When I started, all data came straight to the U campus to our machines on the seventh floor of WBB. If the network went down, or we lost power, we were dark and couldn't report earthquakes to the government and the public."
Partnering with other universities, Rusho said the team installed servers around the state to aggregate data and an always-on backup site in Richfield. They then added computers on mountain tops for data that radioed there.
"The result was a hardened network that could tolerate outages at the U and still function," he said. "Of course, it's become a more complicated network with over 150 Linux servers and embedded systems."
Rusho became a scuba instructor and scuba instructor trainer. He currently works with Dive Utah in Holladay. He also earned his amateur radio license and helped form a group of operators to help the U's emergency management team with communications in emergencies.
Rusho currently serves on the ANTC, College of Mines & Earth Sciences (CMES) IT committee, and the CMES Safety committee.
Node 4
Our monthly newsletter includes news from UIT and other campus/ University of Utah Health IT organizations, features about UIT employees, IT governance news, and various announcements and updates.
Categories