Microsoft Teams update: New meeting experience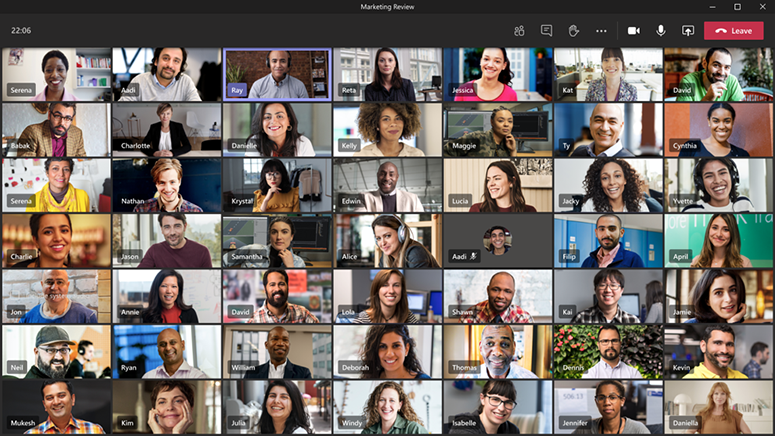 Microsoft has released new opt-in meeting features available to anyone who uses the University of Utah's instance of Teams on desktop clients. These features are not currently available on the Teams mobile application.
New features
Pop-outs: Calls and meetings open in a separate window
Meeting controls: Mute/unmute, camera on/off, chat, and leave meeting are moved to the top of the meeting screen
Meeting notes: Meeting notes are taken directly on the Meeting notes tab in the main Teams window
Large gallery view: Available when 10 or more participants share video, large gallery view allows access up to 49 video streams at once
Together mode: Available when five or more participants share video, together mode places a live head-and-shoulders avatar of participants' video feeds into a virtual space, similar to being seated in an auditorium
Focus mode: Available when content is shared, focus mode will display content without the distraction of other participants' video feeds
"Enabling these features allows for a richer meeting experience by giving people more control over how they engage. The more options people have, the better," said Clayton Norlen, product manager in UIT Product Management (CTO Office), who noted that some of his colleagues spend upward of six hours in a single virtual meeting.
Turn on the new meeting experience
Launch Microsoft Teams
In the top-right corner of any Teams window, select your avatar or initials icon
In the new dropdown menu, select Settings
With General still highlighted, select the checkbox next to Turn on new meeting experience option (shown below)




In the top-right corner, select the "x" icon to close the settings window
Quit Teams
Relaunch Teams
Subsequent Teams meetings will open in a separate window and new controls will appear in the top-right corner of the screen. Large gallery view, together mode, and focus mode will display as options, if applicable.
For more information, please visit this vendor support web page.
Note: All current members of the U community, including affiliates with uNIDs, may use the U's instance of Teams. Access this UIT Knowledge Base article for desktop and mobile installation instructions.
Node 4
Our monthly newsletter includes news from UIT and other campus/ University of Utah Health IT organizations, features about UIT employees, IT governance news, and various announcements and updates.
Categories