'U Rising': CIO Hess on keeping Utahns digitally connected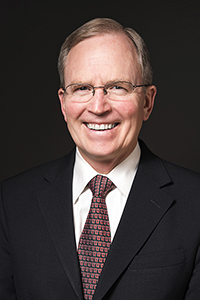 Access the full episode
Listen to the latest "U Rising" episode with President Ruth Watkins, CIO Steve Hess, and other guests. A transcript of the podcast also is available.
On the most recent episode of the "U Rising" podcast, President Ruth Watkins invited Steve Hess, chief information officer for the University of Utah and Utah Board of Higher Education, to discuss the U's role in providing a statewide network infrastructure and other digital tools, and the initiative to enhance both last year.
Watkins, of course, referred to the Utah Education and Telehealth Network (UETN), a department at the U with an independent board.
"[UETN's] purpose is to connect people and technologies to improve education and health in Utah," explained Hess, who was joined on the podcast by Utah Education Network Executive Director Ray Timothy and state Sen. Jerry Stevenson.
Hess said UETN now provides robust infrastructure and applications that support not only education and telehealth, but Utah families and commerce, too.
"It became a vital lifeline to everything we do," he said.
As of 2020, UETN connected 658,000 K-12 students, more than 225,000 higher education students, and more than 77,000 educators and staff, according Hess. The network also connects more than 70 hospitals, clinics, and health departments.
With CARES Act funding, UETN last year was able to improve the wireless network, negotiate new software contracts, and purchase loaner laptops and other devices, among other items. Various organizations, including UIT, helped implement the upgrades across the university.
Node 4
Our monthly newsletter includes news from UIT and other campus/ University of Utah Health IT organizations, features about UIT employees, IT governance news, and various announcements and updates.
Categories