Jill Brinton retires after 22 years with the U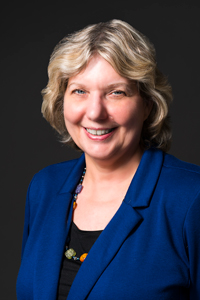 UIT employees this month wished a fond farewell to Jill Brinton, associate director for the Project Management Office (PMO). Brinton served the University of Utah for 22 years and led the PMO for the past four years. Colleagues called the "cat lady" and basketball fan engaging, humorous, intentional, and no-nonsense.
Deputy Chief Information Officer Ken Pink, Brinton's supervisor, said "I have appreciated Jill's passion and excellence in the years she worked for me. She will be sorely missed, and I will personally miss our conversations."
"Jill, I hope you will keep in touch and that you know how much I have appreciated you."
Below, others share their well-wishes for Brinton.
Jill, you are, hands down, one of the best bosses I've ever had, and I look back on the days I worked for you fondly. I've always loved the combination of your casual and funny, yet no-nonsense approach to getting things done. I hope you know how much I appreciate the impact you've had on me professionally and personally, and I wish you all the best in this new chapter of your life. I think you said it best when you said, "This is where the rubber hits the fan." 😂 I will really miss you and your Jill-isms!
— Barb Iannucci
Jill, I really appreciate all you have done for the university. You've made many great contributions. I've particularly I've enjoyed working with you as you led the Project Management Office. Thanks for all you've done to move our project management efforts forward. I wish you the very best!
— Jim Livingston
Congratulations, Jill! Best wishes to you and your feline friends. You will be missed!
— David Huth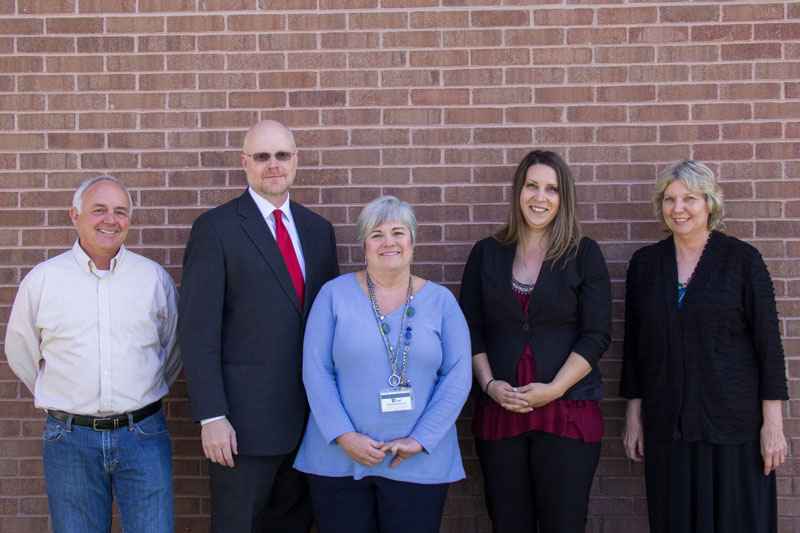 (From left) Earl Lewis, Clay Postma, Jody Sluder, Jayci Minjares, and Jill Brinton formed the Project Management Office in 2016.
Jill, it's been great working with you and for you over the years. Enjoy your retirement. You deserve it.
— Earl Lewis
Jill, I've truly enjoyed working for and with you over the past several years at UIT. Thank you for all that you've done to make the PMO a welcoming, funny, and engaging group to work for. You deserve all the best. Enjoy your retirement!
— Emily Rushton
You are an amazing professional, example, peer, and friend. I wish you the utmost success in this next phase of your life! Thank you for the many times you helped our teams work through complex projects and issues with a sure hand of guidance and wisdom.
— Mike Ekstrom
Thank you for all your support, Jill. I appreciate you and your amazing team for helping the Network engineers with so many impactful projects. We couldn't have done it without your collaborative, engaging, and can-do attitude. Enjoy your retirement.
— Abraham Kololli
It's been a pleasure working with you. Enjoy the retirement!
— Dustin Udy
Jill, I will miss you! I loved working for you, and appreciated your insight and your sense of humor. You were a wonderful boss, and I would work for you again in a heartbeat. I hope you love retirement and don't miss us at all, haha. Best wishes, and thanks again for all the moral support you gave me! 🙂
— Rachael Sheedy
Thank you for everything you have done. I hope you will have the loveliest of retirements.
— Tina Nguyen
Here are a few retirement quotes I found:
"Often when you think you're at the end of something, you're at the beginning of something else." — Fred Rogers
"How lucky I am to have something that makes saying goodbye so hard." — Winnie-the-Pooh
Fred is on to something. Thanks for your guidance, patience, and mentoring.
— David Craig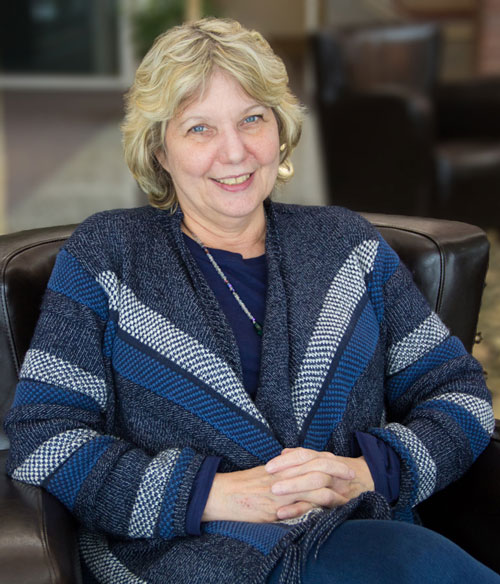 Jill Brinton
I have always enjoyed seeing Jill involved in projects. She is such a personable person who has a lot of wisdom about overpromising and underdelivering. As I was working with her on a project, I kept reflecting on how intentional she was about everything she coordinated and planned. Taught me a lot, though I'm sure I don't emulate her nearly to the degree I hope to someday. Thank you, Jill Brinton! I hope you have the best of retirement adventures!
— Brandon J. Gresham
Jill, I will miss you! Thank you so much for giving me a chance and bringing me into IT, even if I only worked for you for a week. You were instrumental in helping me understand my potential and the importance of the work we do. Working with you on other projects increased my respect and appreciation for you and all that you did for the U. You have been fantastic, and I will miss seeing you around the office. Enjoy your retirement!
— Suzanne Wayment
Like many others, I have enjoyed your fun sense of humor and your no-nonsense commitment to doing a great job. I have enjoyed taking a few minutes now and then to catch up and share a laugh or two. You will be missed, more than you know. I hope your retirement is all you hope it to be. See you now and again at Harmons — keep sending kitty photos.
— Judy Yeates
Jill, I have really enjoyed working with you. I will always think fondly of you as the "cat lady," and I have loved listening to your adventures with your cats. I wish you the best and hope that you enjoy retirement. Keep in touch. When Jody comes back in town, if she does, we will all have to get together and go to lunch or something. Take care.
— Syndi Haywood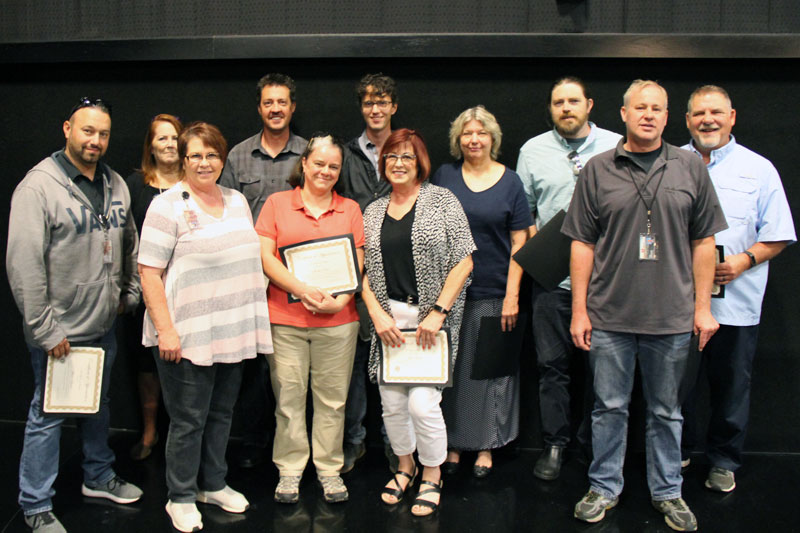 At the 2019 UIT All-Hands Meeting, Jill Brinton (center back) was honored for 20 years of service. Fellow honorees include Jason Lawes (from left), Camille Wintch, Julia Harrison, Shay Frank, Shellie Eide, Robert Curtis, Jan Lovett, CJ McMillan, Brad Zumbrunnen, and Marc Thompson.
Jill, thank you for hiring me almost 22 years ago! Joining the Media Solutions team, working at the U of U for and with you has been life-changing. Wishing you all the best; enjoy retirement!
— Marc Thompson
It's been a tremendous pleasure working with you over the years, Jill, and getting to know you as a friend. I hope you find a lot of joy in retirement!
— Cassandra Van Buren
Jill, it has been a pleasure working with you. I still look back fondly and think of you with all that you did when we worked on the Songdo project together. You were always able to see clearly through all the chaos and could identify where trouble was lurking with the project before anyone else. I'll miss your cat updates. You are welcome to come visit the last cat I adopted anytime. I swear he was raised by dogs when he was a kitten. Wishing you the best in your future plans. And if you ever want a cat that thinks it's a dog, call me.
— Doug Kenner
Node 4
Our monthly newsletter includes news from UIT and other campus/ University of Utah Health IT organizations, features about UIT employees, IT governance news, and various announcements and updates.
Categories